Campaigns & Elections
WFP backs newcomer Samelys López for open South Bronx House seat
The Working Families Party is stiffing some former allies running for Congress.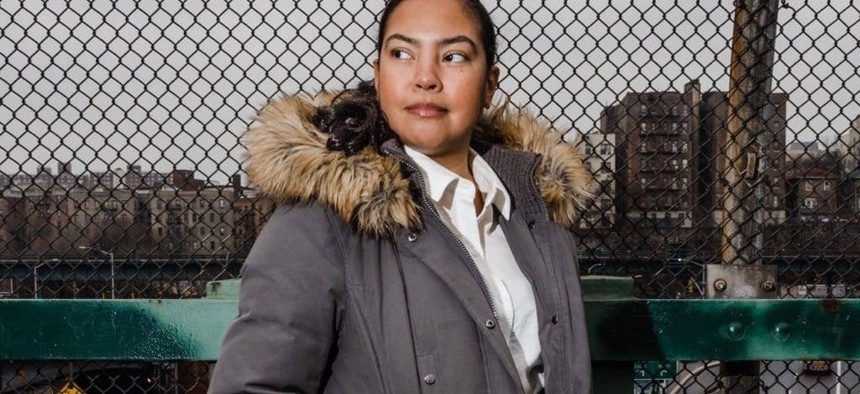 The Working Families Party is stiffing some former allies running for Congress in the Bronx, and instead joining forces with the Democratic Socialists of America to back housing activist Samelys López, who has never held office before, City & State has exclusively learned. 
The stamp of approval from one of New York's most prominent progressive groups could be a major boost for López at a time when she needs one. She's one of at least 10 Democrats running to replace retiring Rep. José E. Serrano, and the field contains a handful of current and former elected officials, including state Sen. Rubén Díaz Sr., Assemblyman Michael Blake, former New York City Council Speaker Melissa Mark-Viverito and current City Council members Ritchie Torres and Ydanis Rodriguez. López trails every single one of them in fundraising. 
Many of the other candidates are WFP allies, who have received the party's backing in previous races. But this time, López beat them out. "It means that we have working-class, grassroots support in the city coalescing behind our campaign," López said of the endorsement. "Hopefully it'll convey to others that we are the true leftist, progressive voice in this race."
López was born in Puerto Rico and raised in the West Bronx, where she experienced bouts of homelessness. She still lives there, in the Mount Eden neighborhood, and before running for office she worked as a project manager with Breaking Ground, a nonprofit providing supportive housing. López has long been involved in local politics, as a founding member of the Bronx Progressives and a member of DSA, she befriended Rep. Alexandria Ocasio-Cortez and volunteered on her winning 2018 congressional campaign. 
Her biography and progressive platform – support for a $15 national minimum wage, establishing a right to housing, abolishing ICE and providing Medicare for All – earned her an endorsement from DSA's New York City chapter in December. And in February, she earned the backing of Ocasio-Cortez's Courage to Change PAC. But the WFP may be the leftist's most mainstream endorsement yet.
The WFP has backed mostly Democratic incumbents in this year's New York primaries, passing over other progressive newcomers. (One of the few exceptions is the WFP's endorsement of middle school principal Jamaal Bowman over Rep. Eliot Engel in a neighboring Bronx-Westchester House district.) In this case, WFP stakeholders and members who live in the Bronx reviewed the candidates' responses to an in-depth questionnaire and conducted endorsement interviews. That group voted to endorse López, as did the regional body of the party and its board of officers. The party's endorsement is also coming with an individual endorsement from Tiffany Cabán, the former candidate for Queens district attorney who became a leftist standard-bearer and now works for the party.
The WFP has always played an odd role in New York's elections, endorsing candidates in Democratic primaries, then providing an additional ballot line in the general election, which usually goes to the Democratic nominee. It has always been careful to avoid playing the spoiler and accidentally helping to elect Republicans.
The organization, which has always served as a left-wing check on the Democratic Party, has shifted even further left in recent years as it has lost support from a number of labor unions over its unwillingness to back pro-labor moderates. This endorsement is just the latest example of its growing affiliation with the insurgent left, rather than mainstream-liberal career politicians such as Torres, Blake, Rodriguez and Mark-Viverito. 
That split is as much over process – in particular, an aversion to large donations – as policy. The WFP is looking for candidates who support its values, explained Sochie Nnaemeka, the party's state director, who took over in December. That includes fully funding education and regarding health care and housing as human rights. "Samelys was the candidate who most held those values," she said. "And who was committed to running a grassroots, small-dollar, community-based campaign."
Torres, who declined to comment for this article, has raised nearly 16 times more money than López. Through March 31, she had raised just over $80,000. 
In the 15th Congressional District, pundits say Diaz Sr. could plausibly win if the other, more progressive Democratic candidates split the vote. Diaz Sr. is a social conservative, with a long track record of anti-gay comments and votes. Torres, who's gay, has made the case that he's the one to beat Diaz Sr., and has brought in nearly $1.3 million to do it. 
Could supporting a lesser-known, weakly funded candidate like López help Díaz win? Nnaemeka brushed off the question. "We're looking at how we can ensure that the people of the district get the best possible candidate," she said. 
López denied it too, insisting that the South Bronx – by one measure, the most Democratic-leaning district in the country – wouldn't elect the socially conservative Diaz. The district "has an incredible revolutionary spirit" and the people are "leftist in our thinking," she said. "There is no space for moderate Democrats to take us a step back … They don't want moderates or Republicans dressed in Democratic clothing to be sent to Washington." 
Even if López loses, the WFP endorsement opens up the possibility of her getting the party's ballot line in November, where she could compete against the Democratic nominee. But it's unlikely that the party would want her to contest the general election, unless the Democratic candidate is Diaz. Neither López nor the WFP has said yet what they would do in that scenario, arguing instead that she can win the primary. "What we need to be doing in this primary," she said, "is making the case to voters and letting them decide."
Correction: López said voters in her district "don't want moderates or Republicans dressed in Democratic clothing to be sent to Washington." The quote was originally transcribed incorrectly.