New York State
State Senate reconvenes next week, sources say
At least one chamber in the state Legislature is looking to get back to the lawmaking.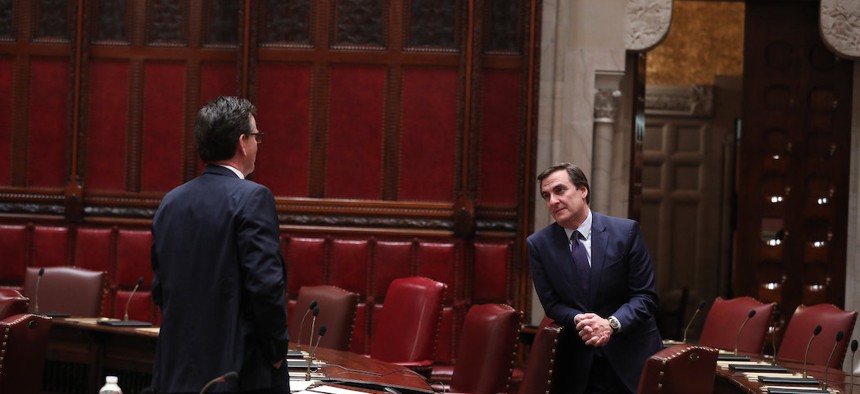 State policymaking has been dominated by the executive decrees of Gov. Andrew Cuomo ever since the coronavirus pandemic began, but that is beginning to change as state lawmakers get ready to reconvene for the first time since they passed the state budget in early April. 
The state Senate plans to meet next Tuesday and Wednesday, state Sen. Julia Salazar and a Senate source who spoke on the condition of anonymity because the source was not authorized to speak on the record, have confirmed to City & State. It remains to be seen whether the Assembly will do the same, but a two-way deal appears to be in the works on a dozen bills intended to mitigate the effects of COVID-19, NY1 reports. 
State lawmakers have only met a handful of times since the pandemic began in early March. While the state budget addressed many issues, the economic damage from COVID-19 means means that many decisions still have to be made on state spending – especially if sweeping budget cuts have to be enacted to deal with an increasingly bleak fiscal situation.
Lawmakers had originally planned to adjourn for the year on June 2 so that members could return to their districts to prepare for the June 23 state legislative primaries. The legislative chambers, however, are always at the call of their respective leaders so additional session days could theoretically be held later in the year, to make up for all the lost legislating over the last two months. 
Rank-and-file lawmakers have proposed plenty of bills in recent weeks, but legislative leaders have yet to officially announce which specific legislation will come up for a vote first. Rent, however, appears to be a top issue, especially with July rent due in less than two weeks, based on the past statements of State Senate Majority Leader Andrea Stewart-Cousins. 
Both chambers passed resolutions in March which allow them to pass bills with just a handful of party leaders on the legislative floors. Though the rules are different for each chamber, most lawmakers would be able to work remotely when one or both of the chambers meets next week. 
Besides passing bills to help renters stay in their homes, streamline the process of absentee voting, change unemployment eligibility and give frontline workers some hazard pay, lawmakers are are also looking to assuage critics who say the state Legislature has been missing in action during the pandemic, especially when it comes to checking the power of the governor. 
The emergency powers approved by state lawmakers in early March gave Cuomo enormous leeway to deal with the pandemic. However, lawmakers can overrule him at any time by passing a concurrent resolution by a majority vote. That does not appear likely to happen next week, but Democrats in the state Senate at least appear eager to demonstrate that they are ready to get back to doing their jobs after purportedly focusing on constituent services for the past six weeks.
In recent weeks, good government groups – and some among the legislative rank-and-file – have repeatedly urged Stewart-Cousins and Heastie to reconvene their chambers sooner rather than later. 
A Tuesday morning press release from Common Cause New York argued state lawmakers should either reconvene or forfeit the second half of the 2020 legislative session. "Why should New Yorkers pay lawmakers $110,000 – in the middle of a budget deficit – to do only half their jobs?" Susan Lerner, executive director of Common Cause New York, said Tuesday, said in the statement, according to Gannett. "If they are so intent on shirking their responsibilities and not resuming session remotely, then their paycheck should reflect that."
Some legislators have chafed at suggestions that they are not earning their keep. And even liberals usually allied with Common Cause pushed back: state Sens. Alessandra Biaggi, Brad Hoylman, James Skoufis, Robert Jackson and Gustavo Rivera, issued a joint statement accusing the group of misleadingly using past statements from them in the Tuesday press release. "The truth is that all our colleagues are working extremely hard to serve their constituents during this crisis," the lawmakers said in a joint statement. "Senate President Stewart-Cousins has made it clear we will be coming back into session imminently." 
State lawmakers have said similar things in past weeks, but they finally appear to be ready to make good on vows to continue the legislative session despite the doubters like the governor.
But before state lawmakers can begin claiming that they are really staging a political comeback of sorts, they still need to place one more piece of the legislative puzzle. Both the state Senate and the Assembly have teamed up in the past week on holding hearings about how the pandemic has affected small businesses and minority communities, but it remains to be seen whether the full Assembly also will meet next week. 
A Heastie representative did not respond by publication time about the speaker's plans. And, in keeping with New York's infamously top-down legislative workflow, the rank-and-file appear to be in the dark, as always. When City & State asked Assemblywoman Yuh-Line Niou, one of many members who have said the time has come for lawmakers to get back to business, if she knew when that might happen, she said, "I literally have no idea."
Powered By
NEXT STORY: Is it safe for Buffalo and Albany to reopen?