Coronavirus
Is it safe for Buffalo and Albany to reopen?
Gov. Andrew Cuomo tweaked the state's reopening guidelines for the Capital Region and Western New York.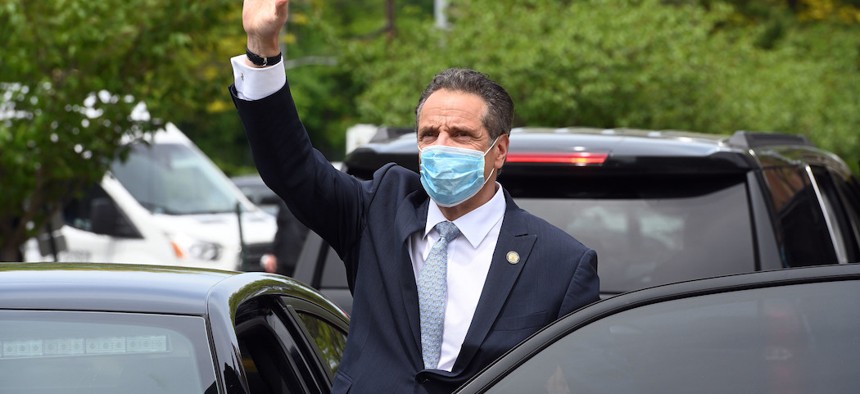 On Tuesday, Gov. Andrew Cuomo announced that the Capitol region of New York, which encompases Albany, can begin to reopen on Wednesday. A day earlier, Cuomo had said that Western New York, the area around Greater Buffalo, will begin reopening on Tuesday. These actions followed the governor tweaking the state's reopening guidelines to make Buffalo and Albany may soon be eligible, but New Yorkers won't know for several weeks at least if reopening increased the spread of COVID-19.
On May 5, Cuomo said that the state will begin allowing regions to start reopening as long as they meet seven metrics that include: a decrease in hospitalizations and deaths over a 14-day period, 30% of hospital and intensive care unit beds available, a decline in new hospitalizations, the capacity to run 30 COVID-19 tests per 1,000 residents and 30 contact tracers for every 100,000 residents. 
Neither the Capital Region nor Western New York met these requirements, as they were 10 days away from reaching the 14-day benchmark and had only seen a small decline in hospitalizations and deaths. Over the weekend, Cuomo changed these restrictions, so that as long as this criteria had been met from May 15 forward, those regions would be able to reopen, provided they identified the required number of contact tracers, which is 30 for every 100,000 residents in the area. On Monday, Western New York reached its goal of 521 tracers, resulting in its ability to reopen. 
The Mid-Hudson region had also hoped to reopen this week, despite having met only five of the state's seven metrics, but it was denied as it was one of the hardest hit regions during the height of the state's COVID-19 outbreak.
As soon as Albany and Buffalo reopen, the only regions still shut down will be New York City and its surrounding suburbs, which contain 70% of the state's population and which were the hardest hit by the virus. All other upstate regions began reopening on May 15. 
While one might wonder whether letting regions reopen before they've met the decreasing caseload criteria is safe, Dr. Robyn Gershon, a clinical professor of epidemiology at New York University's School of Global Public Health, told City & State that she's not concerned, since Western New York and the Capitol Region have seen fewer than 15 hospitalizations and five deaths within a three-day period, she feels meeting the 14-day benchmark is inconsequential. However, Gershon said it will be impossible to know if these metrics helped to contain the virus in the regions that have reopened until weeks from now. "Two, three, four more weeks after (a region has) reopened: what happens then will really tell us how well our measures – our social distancing, our face mask usage – have worked," Gershon said.Cuomo's administration did not respond to a request for comment.
Even the countries that have been praised for their stealthy response and containment of the virus, such as South Korea, Germany and China, saw an uptick in new COVID-19 cases after they began relaxing some restrictions. Public health experts expect that the U.S. will similarly see COVID-19 cases re-emerge in June, as it relaxes its social distancing measures.
Because COVID-19 may take from five to 14 days after transmission for symptoms to appear and some infected with the disease may be asymptomatic, it is difficult to track the number of new coronavirus cases and make sure that lockdowns are reinstated before widespread community transmission has occurred. While certain regions may not see an increase of COVID-19 hospitalizations within a 14-day period, that doesn't mean people are not becoming infected. Many New Yorkers have not even set foot into a hospital unless they're extremely sick, and antibody tests have suggested that many New Yorkers who contracted the virus were never tested, which means that there may be COVID-19 cases in these regions that are not being documented. 
That makes acting with the utmost caution incredibly important. "If you do good things now, you see good results three to six weeks from now," Tara Kirk Sell, a professor at Johns Hopkins Center for Health Security, told The Atlantic. "If you don't do the right things now, then it takes a little while to see those opposite results."
It's also highly likely that the actual number of COVID-19 cases and deaths in New York and across the country are incomplete, due to a lag in data reporting and collection, according to The Atlantic and The New York Times. 
The only way the state would be able to effectively assess how it's doing, and to contain outbreaks, while reopening is with wide-scale testing and contact tracing. But without beefed-up testing capacity, the state doesn't stand a chance at properly executing its contact tracing program. State officials have been asking the federal government to provide it with the funding it needs to ramp up its testing capacity since March. In late April, President Donald Trump agreed to help the state increase its testing capacity to 40,000 tests per day but that number is still far below the amount of tests experts estimate would be needed to safely reopen.
Ultimately, it will take at least three weeks, possibly more like six, to know if reopenings were done in a safe enough way that future COVID-19 outbreaks were prevented, according to the Associated Press. Until then, it would behoove the state to fight its own "quarantine fatigue" and exercise the utmost caution before giving its regions the okay to enter into its first or second phase of reopening.