Campaigns & Elections
The protest primary
The movement against racism and police brutality has reshaped the electoral landscape.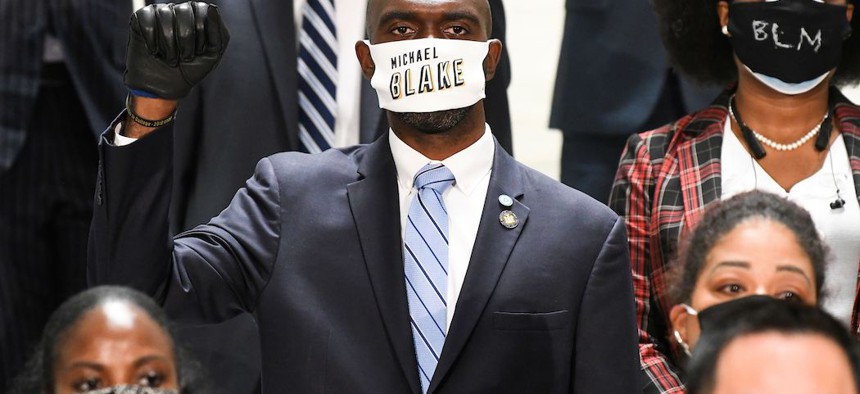 Four years ago, NYPD officers slammed Assemblyman Michael Blake into a gate after he ran up to another arrest that was in progress near the Morris Houses in the South Bronx. The Bronx Democrat said he was then unlawfully detained until on the street, until a higher-up realized they were dealing with an Assembly member. Blake, who is black, sued the NYPD for physical and emotional damages, and got $25,000 in a 2017 settlement. 
Now, Blake is running for Congress in the South Bronx, in an election that's happening amid nationwide protests against police brutality and systemic racism. Blake told City & State that the incident with the police has shaped his politics as he's worked for racial justice as a legislator. It has also given him credibility as a candidate. "I had a constituent walk up on me last week who said I still remember what happened to you years ago over at Morris Houses," he said.
Protesters across New York are demanding immediate legislative changes on police accountability. Among other laws, state legislators have voted to repeal Civil Rights Law Section 50-a, which protected police disciplinary records, and the New York City Council is expected to make it a crime to use a chokehold during an arrest. 
But these protests are also affecting state legislative and congressional Democratic primaries as candidates point to their records on anti-racism and police reform to win over voters – and in some cases, criticize their opponents for being too friendly with the cops. 
The Democratic primaries are on June 23, but in-person early voting starts on June 13, and many voters are already filling out mail-in ballots while daily vigils and protest marches continue. What was going to be the coronavirus primary is now the coronavirus andpolice violence primary. 
So Blake didn't shy away from a direct attack in a Tuesday evening congressional debate hosted by News 12 The Bronx. "We have to be honest," Blake said during an answer about how he'd respond to the protests. "There are people in this race, in particular Ritchie Torres, who have been very inconsistent when it comes to the black community." Blake gave his evidence: Torres "co-endorsed" a white candidate, Zephyr Teachout, for state attorney general in 2018 after initially backing Letitia James, a black woman who was then New York City public advocate.He allowed some concessions on a 2017 police transparency bill known as the Right to Know Act, which enraged some criminal justice reform groups. Torres harshly criticized then-NYCHA Chairwoman Shola Olatoye, a black woman, but not NYCHA general manager Vito Mustaciuolo, a white man. And, maybe most damning in the moment, Blake accused Torres of sending out a mailer that referenced the death of George Floyd in Minneapolis at the hands of the police, "but not standing out with the protests that were happening this weekend."
Torres initially ignored the salvo, but when Blake pressed him to respond, Torres delivered a litany of unrelated criticisms at Blake, including that the assemblyman once consulted for the debt collector Linebarger Goggan Blair & Sampson, a company "that preys upon communities of color, including mothers who have lost their children to police violence," Torres said. "So I don't need to be lectured by Michael."
A May poll conducted by the left-leaning Data for Progress put Torres in second place in the race, at 20%, trailing only New York City Councilman Rubén Díaz Sr., with 22% of likely voters. Blake was tied for third, at 6%, although the poll had a margin of error of 5.7%. Torres sent a lengthy statement to City & State, which included the assertion, "What matters to Michael Blake are not black and brown lives, which take a back seat to his bank account." Torres also said that he has attended protests, and was present at a June 4 march in the South Bronx that resulted in mass arrests.
 "There is a new look at people who've held office, who've held authority and may not have done enough to move the needle in terms of holding police accountable." – Basil Smikle, former state Democratic Party executive director
The fact that Blake, who is black and the son of Jamaican immigrants, felt comfortable attacking Torres, who is Afro-Latino of Puerto Rican descent, for "disrespecting the black community," and that Torres chose to hit back along the same lines says something about the political moment, and about the race. Racial justice was already a major focus in the race to replace the retiring Rep. José Serrano in the 15th Congressional District. One candidate, Chivona Newsome, a co-founder of Black Lives Matter of Greater New York, says she's been "at the forefront of the new civil rights movement." Like Blake, Torres has talked on the virtual campaign trail about being harassed by the police and feeling targeted for the color of his skin. Samelys López, who earned the endorsement of progressive groups such as the Working Families Party, has called for police departments around the country to be defunded and demilitarized. 
One candidate doesn't seem to be aligning himself with the protesters: Díaz, who is a socially conservative Pentecostal minister. Díaz was endorsed by the Police Benevolent Association, the largest NYPD union, before widespread protests began. The PBA has long been opposed to the very police accountability reforms which are now becoming law, and Díaz has not co-sponsored the council bill that would criminalize police chokeholds. While most of his fellow candidates have been outspoken in support of the protests, Díaz's Twitter feed has been all but silent. 
"To accept that (PBA) endorsement, you're pretty much saying you don't care about black and Latino people who are afraid that they could die at the hands of cops," Blake said of Díaz, who is black and Latino. Díaz did not respond to a request for comment. The reverend is considered a top contender for the seat, but experts think the PBA's support could actually hurt his chances. "A lot of voters are going to look at him and see him as being too aligned with interests that don't match the moment," said Basil Smikle, a lecturer at Columbia University and former executive director of the state Democratic Party.
Díaz isn't likely to disavow the support, but many other candidates in Democratic primaries across the state already have. Law enforcement unions have long been a boogeyman for New York's progressive left, but that didn't stop many Democrats from taking their campaign donations. Now, more than a dozen legislators running for re-election are bolstering their criminal justice reform credentials by returning the money, and donating an equivalent amount to reform groups or bail funds. That includes Assemblywoman Aravella Simotas, who is facing Democratic Socialists of America-backed challenger Zohran Mamdani in western Queens, and Assemblyman Jeffrion Aubry, who is running for re-election against former state Sen. Hiram Monserrate, an ex-cop who was previously convicted on corruption charges. 
The recent protests explain the newfound scrutiny of law enforcement union support, but much of the naming-and-shaming was the work of Aaron Narraph Fernando, a Queens-based college student and activist, who compiled a massive spreadsheet of New York law enforcement donations this election cycle. Taking money from law enforcement might keep lawmakers from changing the criminal justice system, Fernando told The Appeal. "How can we trust you to pass [reform] legislation if you're taking this money?"
In response to public pressure from New Yorkers hitting the pavement – and lawmakers' inboxes – the state Legislature is passing long-delayed bills meant to stop police brutality and increase accountability. For some politicians, the timing couldn't be more fortuitous. Take Assemblyman Joe Lentol, the lead sponsor of the Police STAT Act, which requires police departments to report more data on things like deaths in police custody. Though it was introduced more than four years ago, it just passed the Assembly and state Senate this week. Lentol, who is facing a tough re-election battle in North Brooklyn against Emily Gallagher, was happy to take credit for the major win while also putting out a digital ad highlighting Gallagher's 2016 comments in support of increasing police patrols. Gallagher hit back noting that the PBA has always endorsed Lentol. But that too has changed since the protests began. After Lentol responded to the political moment and returned his donations from police unions this cycle, the PBA officially rescinded its endorsement of the Brooklyn Democrat.
In the Central Brooklyn Assembly race between Assemblywoman Diana Richardson and former state Sen. Jesse Hamilton, 911 calls making false claims against people of color have become a major issue. Before Hamilton lost his 2018 re-election bid over his membership in the controversial Independent Democratic Conference, the then-senator had introduced a bill that would make certain false emergency reports a hate crime. It never passed. But Richardson was the lead sponsor of a similar bill that did pass on Tuesday, increasing legal protections for the targets of racist emergency calls. Richardson, who was recently pepper-sprayed at a recent protest against police brutality, got the legislative win Hamilton couldn't, and she is letting voters know. So Hamilton is pushing back, planning a Friday rally in favor of his bill, while asking New Yorkers to sign a petition decrying Richardson's "watered-down" bill.
In another Brooklyn primary, Assemblyman Walter Mosley can take credit for being the lead sponsor of a just-passed bill criminalizing police chokeholds that cause injury or death. Mosley is facing a serious challenge from Phara Souffrant-Forrest, who has the support of the DSA, but Mosley's campaign was able to send out an email this week pointing to a specific legislative win on a hot topic the very week that some of his constituents are filling out ballots. 
Mosley told City & State that despite what some may think, the bill wasn't a "knee-jerk reaction" to the recent protests. In fact, he introduced the bill in 2015. But getting his bill passed during this time "will validate who I am, in terms of my ability to reflect my district's desires and wants and needs."
It isn't clear whether most voters will feel the same way. Elected officials who have a progressive record on criminal justice reform should be able to point to it and win over voters, Smikle said. But, overall, the recent protests would seem to benefit younger candidates and insurgents. "There is a new look at people who've held office, who've held authority and may not have done enough to move the needle in terms of holding police accountable," he said. 
Of course, this year's primaries are harder to predict than usual, given the high level of absentee voting expected, and the way the coronavirus put a total halt on most traditional forms of campaigning. But savvy candidates – insurgents and incumbents alike – have been able to benefit as New Yorkers turn to social media more than ever.
The protests aren't just affecting the races happening this month. According to Smikle, the candidate who has responded best to the moment won't be on the ballot until next year: New York City Public Advocate Jumaane Williams. "I think the last few weeks have launched him into the top tier of mayoral candidates for 2021, should he decide to go that route," Smikle said of Williams, who has previously pledged not to run for mayor. "He's probably shown the most leadership on this issue of anyone in the city and the state."
Clarification: Lentol returned his donations from police unions this cycle.
Powered By
NEXT STORY: 3 candidates of color who could topple longtime white incumbents