MWBEs were hit especially hard by the coronavirus pandemic
Many small businesses may not be able to survive another six months.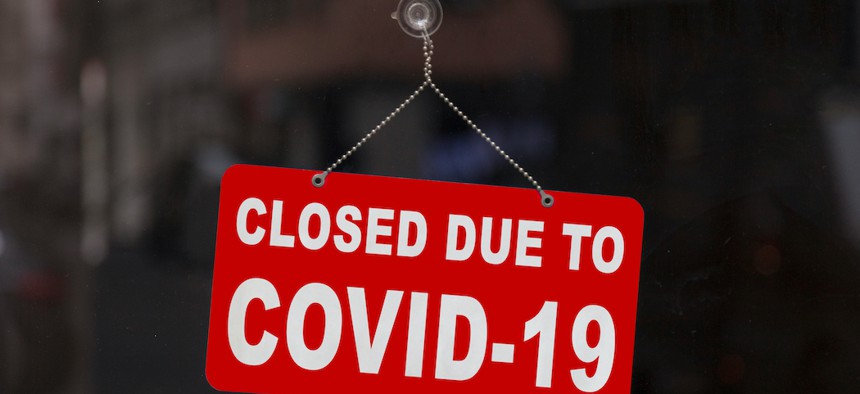 It's not a good time to be a small-business owner in New York. Declining revenues and managing the costs of commercial rent, payroll and other expenses during the coronavirus pandemic have put the existence of many of these businesses at risk. But those challenges are even more acute for businesses owned by people of color and women. Of the 500 businesses certified as minority- and women-owned business enterprises, or MWBEs, surveyed by the New York City comptroller's office in June, 85% reported that they won't be able to survive another six months.
In fact, Black business ownership in New York fell by 70% from February to June, according to a report from the Federal Reserve Bank of New York on Tuesday. There were about 98,600 active Black-owned businesses in New York before the pandemic and there were only 29,479 as of June.
The uncertainty such businesses face has in part been fueled by a lack of access to government contracts, particularly during the early emergency response to the pandemic. Just 5% of New York City's $3.4 billion of coronavirus-related contracts went to minority-owned businesses, according to an analysis by Crain's New York Business, and just 1% went specifically to Black-owned businesses.
"Speed is often at odds with our MWBE and equity goals," said Lindsay Greene, chief strategy officer at the New York City Economic Development Corp., during City & State's webinar on Tuesday. "We don't have enough of the MWBE firms of the size and scope to be able to respond and be reliable and get to that level of immediate execution."
In order to make up for faltering funding earlier during the pandemic, New York City Mayor Bill de Blasio signed an executive order in late July requiring city agencies to appoint a chief diversity officer and use minority- and women-owned businesses for goods and services valued up to $500,000.
"Historically, emergency contracts are not contracts that agencies have set goals on," said Magalie Austin, senior adviser and director of the Mayor's Office of Minority and Women-Owned Business Enterprises. "It's not because they're forbidden from setting goals, it's because it's exempt from the goal-setting process." The new executive order should create a more favorable system for certified MWBEs to participate, she said.
New York City has committed to a goal of having 30% of its contracts go to MWBEs by next year, which the city essentially reached during this past fiscal year when it hit 29.5%. However, there are still disparities within that figure.
"When you're looking at the numbers within that 30%, we're not quite there yet when it pertains to the Black- and Hispanic-owned firms," Austin said.
Jonnel Doris, commissioner of the city Department of Small Business Services, also highlighted the importance of continuing federal aid to keep businesses operated by people of color afloat. The agency has been encouraging small businesses to apply for the remaining funds left in the popular Paycheck Protection Program before the deadline this week.
"We're literally targeting the (Community Development Financial Institutions), the banks, the community institutions that work with our small businesses in order to let everybody know, by the way, Aug. 8 is the deadline," he said.