Campaigns & Elections
How Johnson's exit boosts Stringer in 2021
The council speaker dropped his bid for NYC mayor.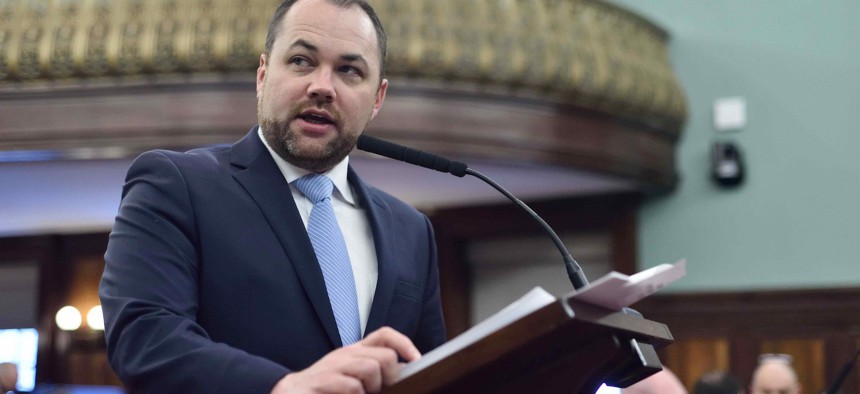 Somewhere in Manhattan, Scott Stringer is smiling. 
That's because the New York City comptroller and 2021 mayoral candidate is perhaps best positioned to benefit from New York City Council Speaker Corey Johnson's announcement that he wouldn't be running for mayor after all.
"Just as I was open about the fact that I was considering a run for Mayor, I now want to be open about the fact that I have made the difficult decision not to run," Johnson said in a statement emailed to reporters on Thursday morning.
The Stringer camp was undoubtedly ecstatic about the news, which now narrows the top tier of Democratic mayoral candidates to just Stringer and Brooklyn Borough President Eric Adams. And Johnson's departure rids Stringer of his chief rival, who had a similar demographic and political profile. Both are white, male political insiders from the West Side of Manhattan who would run on progressive politics and a history of governmental competence. 
Johnson's decision "makes it better for Scott," said Patrick Jenkins, a veteran political consultant based on Queens. "It takes another West Side guy who's a progressive off the chess board for him."
The introduction of ranked choice voting to city elections in 2021 could dull the impact of Johnson's exit somewhat, since candidates won't need to be as concerned about running in "lanes." But it won't change the fact that many supporters and donors who were ready to back Johnson when he jumped in the race might now instead line up behind Stringer. 
Stringer was publicly humble on Thursday, tweeting that Johnson "was a formidable candidate" and "a true public servant." But there's little doubt that Stringer's campaign launch this month played a role in Johnson's announcement. Stringer came out of the gate with endorsements from a racially diverse array of male and female elected officials – an important signal to voters who may be skeptical of supporting yet another straight, white male for mayor.
Johnson may have taken notice, said Jake Dilemani, a political strategist with Mercury. "I think he looked at this field and doesn't see a path forward," Dilemani said. Stringer "is owning the progressive lane, but can also appeal to the more moderate faction of the Democratic electorate." That's thanks in part to Stringer's long history in government and his reluctance to fully embrace democratic socialism, despite aligning himself with members of the Democratic Socialists of America's New York City branch and its causes.
A number of political organizations and elected officials with close ties to both Stringer and were reluctant to take a side in the mayor's race. With Johnson dropping out, more Stringer endorsements are likely to start rolling in. Before Johnson officially announced he would drop out, a consultant working for a City Council member told City & State that "if Corey drops out, (the member) is going to call Scott."
Johnson's decision was a major development, if somewhat expected. For months, the political world had been buzzing that Johnson, who was seen as a top-tier candidate, would not follow through on a bid for mayor. His enthusiasm for campaigning seemed to be flagging, and he had slowed fundraising, before halting it entirely during the coronavirus pandemic. And after two and a half years of relative peace in City Hall, a contentious city budget battle enraged both those who wanted to drastically cut funding for the New York City Police Department and those who feared such cuts would hurt the same New Yorkers they aimed to help. That budget fight led to leftists protesting outside Johnson's home as well as his boyfriend's home, calling for more drastic action against the NYPD. The New York City DSA had previously planned another protest outside Johnson's apartment for Thursday afternoon.
To those reasons, Johnson added another: he was struggling with depression. "I believe it's important to be open about this as well," Johnson wrote.
The Corey Johnson of today is on a very different political trajectory than the Corey Johnson of December 2018, when his friendliness, political acumen and ability to win over skeptics led City & State to ask, "Is Corey Johnson already mayor?" Such is electoral politics, and to be clear, Johnson is not retiring. He is staying as speaker, a position where he's term-limited at the end of 2021. And speculation among the political class continues regarding whether Johnson will seek another office instead, such as Manhattan borough president. Campaign spokesperson Jen Fermino did not respond when asked whether Johnson plans to run for a different office. 
Whether Johnson himself will endorse Stringer remains an open question. Johnson still has a lot of political power in the city, and his endorsement will be one of the most sought after in the race – along with Bronx Borough President Ruben Diaz Jr., who was also a top-tier mayoral candidate before he announced in January that he would not run. Jenkins speculated that Johnson may support Wiley instead, but cautioned that the field is far from set. "I still think it's early," he said. "The presidential race is going to factor into this, and people are going to make decisions based off that."
Adams once said – only partially in jest – that he would "out-white" Scott Stringer for white New Yorkers votes, even though Adams himself is Black. Adams will also try to capitalize off Johnson's departure from the race, though his path to doing so isn't as clear. Like Stringer, Adams publicly praised Johnson on Twitter and thanked him for his openness regarding his mental health. With Adams courting a more moderate electorate than Stringer, it seems less likely that Johnson supporters would shift their money and support to the Brooklyn borough president. 
Other candidates expected to run in the June 2021 Democratic primary include Maya Wiley, former Counsel to Mayor Bill de Blasio; Shaun Donovan, former budget director to President Barack Obama and former top housing official in New York; Dianne Morales, a former nonprofit CEO; Loree Sutton, former city veterans affairs commissioner; and Kathryn Garcia, the former city sanitation commissioner. Any of them could become formidable candidates, but lack the money and campaign infrastructure of Stringer and Adams. 
Yet one consultant told City & State that Thursday's development could allow Adams to frame it as a two-person race for mayor. "The narrative is now going to be that there's two top candidates. And then the also-rans." Johnson, the consultant said, "was a good candidate for a positive time," known for dancing and telling jokes. But when the coronavirus pandemic hit, bringing a massive budget crunch, "it all just fell apart."