New York State
What to know about NY's latest absentee ballot debacle
Voters who received the wrong ballot wonder what to do. We've got some answers.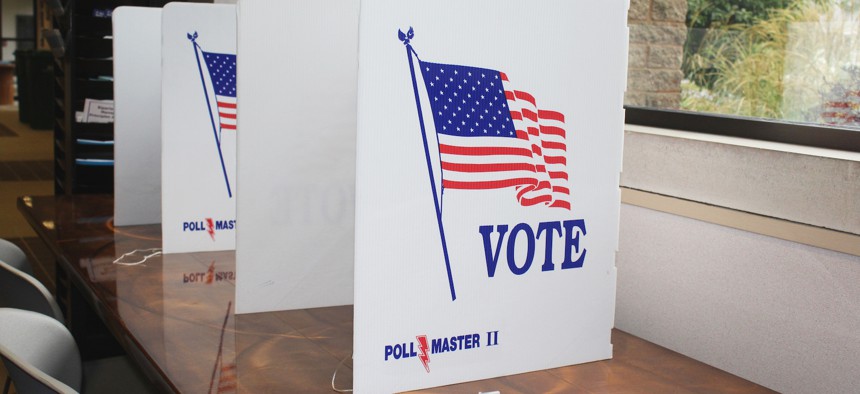 The New York City Board of Elections is at it again.
After causing mass voter disenfranchisement in the June primary, thanks to delays in mailing out absentee ballots to voters who requested them, the BOE has a new problem on its hands: sending voters the wrong ballots. Up to 100,000 residents of Brooklyn received oath envelopes – which voters must sign after enclosing their ballot – with the wrong name and address on them. If the signature does not match the printed name or the signature for that voter file, the vote gets invalidated. The agency has said the mistake came from an outside vendor and that it was an isolated incident. 
Nonetheless, it left voters shaken and worried about whether they can vote absentee to reduce their risk of contracting coronavirus and be sure that their votes will be counted. One Park Slope resident, who preferred their name not be used, told City & State that they received a ballot envelope with someone else's name – City & State senior editor Ben Adler's mother. "I'm very disappointed and worried," the Brooklynite said. "This mishap, coupled with the ongoing worry around USPS, is making me reconsider absentee voting and making me consider voting in person." 
Trish Gilbert, a Prospect Heights resident, had a similar reaction. "My immediate reaction was that I will instead vote early in person," Gilbert told City & State by email. "And, a moment later, it made me even more concerned about how this election will play out." 
Now, the BOE is scrambling as they try to fix the mistake and ensure that every person who wants to vote is able, while voters like Gilbert try to figure out what to do next. Here's what you need to know to make sure your ballot is counted, even if you're the victim of this screw up.
What can I do to get my correct absentee ballot materials?
According to New York City Council Member Justin Brannan, the BOE has said that it will send every person who received an incorrect absentee ballot materials a new ballot, along with a letter explaining the mistake. A spokesperson for the BOE said that as many as 99,447 voters were impacted by the mistake. BOE Executive Director Michael Ryan said that the problem was isolated to one borough and a single print run. If Ryan is correct, that hopefully means this problem will be a fairly easy one to fix. "This is a very clear error, it's very fixable," Susan Lerner, executive director of Common Cause New York, told City & State. "Sending out corrected ballots to the voters in the affected areas is a straightforward thing to do." Lerner added that there is still plenty of time before the election for voters to receive the right materials. The vendor is also footing the bill since the mistake was theirs.
The BOE has also been encouraging all voters who received ballot envelopes with the wrong information to email Apply4Absentee@boe.nyc or to call 1-866-VOTE-NYC (1-866-868-3692). Ryan said that the agency will work to ensure that everyone gets correct, new absentee ballot materials with which to vote, although multiple reports detail long phone queues when calling the number. When City & State called on Tuesday afternoon, there were 74 people on hold.
What happens if I mail back my ballot in an envelope with someone else's name?
Technically, that would mean you cast a vote in that person's name, not yours. But since you would have signed your own name, the signature would not match up with what the BOE has on file for the stranger you voted in the name of, so the agency would deem your vote invalid and throw it out. The only circumstance in which the vote would potentially count is if someone figured out how to masterfully forge the signature of the person whose name is on the ballot envelope. But that is both unlikely and illegal. This mixup by the BOE may be concerning, but the potential for voter fraud is not among experts' worries. "It's not going to lead to widespread voter fraud. It's not going to lead to a lot of other problems," elections lawyer Sarah Steiner said. "But it is something that needs to be addressed by the board." Once you receive the correct ballot materials with your name and address, you can cast your absentee vote.
So if I mailed it back without realizing the name didn't match mine, or if I decide I don't want to vote by mail, can I still vote in person?
Yes. Applying for and receiving an absentee ballot does not mean you are forced to vote that way. Even if you mailed a 100% valid and accurate ballot, you still have the option to vote in person, since absentee ballots don't get opened and counted until about a week after the election. This is different than in many states, where mailing in a ballot then attempting to vote in person can lead to legal issues. In New York, the BOE will simply throw out your absentee ballot once that counting process begins because election workers can see you cast your vote in person. 
If you decide to vote in person, whether on Election Day or any of the nine early voting days from Oct. 24 to Nov. 1, that vote will count. Early polling sites can be found on the BOE website, where you can also search for your assigned polling place. Early voting is considered the safest way to vote in person, as you can go during off hours during the week, and it also ensures that your vote is counted on election night if that is important to you.
I received someone else's envelope, should I deliver it to them, or if the person who received mine brings it to me, can I send it in?
While it might be tempting to send in one's original ballot envelope that went to the wrong person rather than waiting weeks for the BOE to send a replacement, it's a little unnerving to vote that way without confirmation from the BOE that this would not cause any problems. The BOE, of course, should be able to answer this question, but a spokesperson for the agency did not respond to a request for comment on it. 
I still want to vote absentee when I get the right ballot, but I don't trust the post office. What can I do to avoid it?
Unfortunately, New York state does not have secure absentee drop boxes where voters can deliver their ballots while circumventing the post office. However, you can still drop off an absentee ballot at any early polling site in the city on any of the nine early voting days, the main BOE office or any of the borough offices. While this is not quite as convenient as systems like New Jersey, which has drop boxes set up at numerous locations in every county, it still provides an alternative for voters in New York. 
Do I need postage to mail my ballot?
Unlike during this year's primary, absentee ballots do not come with postage-paid return envelopes for the November election. In most cases, a single stamp will suffice, although there have been isolated reports of New Yorkers who said their envelopes were too heavy and required two stamps. The United States Postal Service is required to deliver any election mail regardless of the postage, including if no postmark has been included at all, according to elections and civil rights lawyer Ali Najmi. However, Assembly Member Yuh-Line Niou said she has constituents whose ballots were returned due to insufficient postage, so it's likely better to err on the side of caution in this case.
So I got the correct oath envelope, but my ballot says that it's an "Absentee Military Ballot" and I'm not part of the military. Can I use this, or did I get the wrong ballot?
There is nothing wrong with this ballot, it is valid and you can vote with it no problem. Military personnel get the same ballots as anyone else who requested an absentee. In this instance, the confusion lies with a missing punctuation – normally, ballots are labeled as an "Absentee/Military Ballot." But rest assured, this small typo will not invalidate your vote and the ballot you received is correct.
What does this mean for the election overall?
The biggest concern now is that some people may get disenfranchised if they mail in the wrong ballot. This could happen if they don't receive a replacement ballot in time or if they don't read the letter explaining the situation because they think they already voted. The other big concern in this regard is ensuring that everyone who wants to vote by mail and got an incorrect oath envelope gets the right one in time, so they are not forced to choose between voting in person, potentially putting themselves at risk, and not voting at all. (Some of the people whose ballots were sent to the wrong people are elderly or have health conditions that may make them more vulnerable to the coronavirus.)  
The mixup could also add more fuel to President Donald Trump's efforts to create unwarranted fear among the public about the integrity of mail-in voting, even though this incident is highly unlikely to lead to voter fraud. This summer, Trump repeatedly referenced New York City's delay in getting results and postmarking mistakes as evidence to sow distrust in the November election and its results. "Anything that (Trump) can use to discredit the system, he will," state Sen. Zellnor Myrie told City & State. "And that's why this is also disheartening, because we don't want to be giving the president fodder. But I think, more importantly, the confidence of the voter cannot be shaken."
Correction: New York City voters can return their absentee ballot to any early voting site in the city, not just to their assigned polling site or only to a site in their county. A previous correction incorrectly stated voters were limited to returning their absentee ballot to an early voting site in their county.
Powered By
NEXT STORY: How do you shut down a neighborhood?