New York City
Brooklyn absentee ballot mixup could lead to voter disenfranchisement
Those who mail the wrong ballot materials risk falling through the cracks.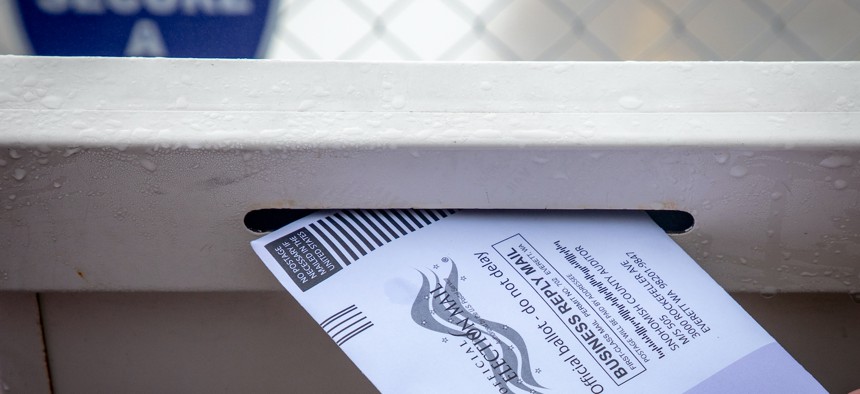 The New York City Board of Elections is officially moving ahead with a plan to send new absentee ballot packages to about 100,000 voters in Brooklyn, after a vendor mistake resulted in potentially all of those people getting return envelopes with the wrong name. But an untold number of people who either already returned their ballot or will in the near future, without being aware of the original problem, still risk getting disenfranchised.
The Board of Elections plans to include a letter of explanation with the new materials at the expense of the vendor and will also reach out to impacted voters by phone or email if that information is on file. That will be in addition to public information through social media. It's unknown how many of the 99,477 potentially impacted voters actually received incorrect envelopes, so the remediation is going to all of them. 
Jarret Berg, founder of the voting rights advocacy group VoteEarlyNY, said it's also imperative for the board to specifically attempt to contact anyone who mails back the original incorrect envelope they received because they did not hear about the mistake or notice the wrong name on the return envelope. "I'm much more concerned with those people who fall in the hole – the people that send something back in the wrong envelope accidentally, and then think they voted," Berg said. "For those voters who think they're doing everything right, and the error is due to the board or its vendor, what remedial action will be available to them?" 
The board website says that anyone who has already mailed the original ballot will be instructed to vote again with the second ballot and envelope after receiving them. But Berg said the board must do more than simply send a new package with a letter to help ensure this group of people don't get disenfranchised. And he said that the vendor should be footing the cost. "Fundamental rights hang in the balance and they need to do more than just pay for the replacement mailer," Berg said. "They should be paying for targeted PSAs in the prevalent languages of the communities impacted to raise awareness."
With the Board of Elections aware of the problem, identifying these erroneous ballots should be fairly simple. If an envelope that arrived from an area known to be impacted by the mistake contains a signature that very clearly belongs to the wrong person, a board worker can set that ballot aside instead of simply voiding it. Thanks to an August executive order from Gov. Andrew Cuomo, boards of elections are able to begin reviewing envelopes before Election Day to help count absentee ballots more quickly. That includes comparing signatures with those on file, so the board can begin identifying ballots from the bad batch immediately. 
The issue lies in actually identifying who sent those ballots. The board is able to contact voters to remedy flaws with their absentee ballots, but in this case, they would be calling the person whose name is on the envelope, not the person who actually mailed it back. While that may alert the other person to the mistake, it does little to help the person who actually mailed back that ballot and thought they cast their vote.
If someone has written a return address on the outer envelope, the Board of Elections can use that information to pull that person's voter registration and send targeted mail, email or phone calls so they are made aware of their specific situation. 
It's more tricky when someone does not include a return address. And trying to match a scribbled signature from an unknown person to registered voter information is an impossible task that Berg is not suggesting. But he said the Board of Elections should be setting aside these ballots while it figures out how to reach those voters. "I'm certainly not implying foul play," Berg said. "But in the fog of war, (the board) should really be going above and beyond to make sure that the people who returned the wrong thing have a fair shot." 
When asked what the Board of Elections is doing to specifically identify those people, a spokesperson said in a statement to City & State that the board is "exploring all options to communicate with voters who may have received an incorrect ballot envelope," including newspaper ads, digital ads, social media, email and calls, but did not address the issue of identifying those who mail back the wrong envelope.
The city just this month implemented a new absentee tracking system that lets voters know if the board received the ballot request, when it has mailed it and whether it has accepted it once counting begins. It's unclear if the board can use that system to help identify where incorrectly signed ballots came from in order to directly contact those who cast bad votes. 
The board said the new ballot packages should arrive "during the week of 10/09/2020," which is next Friday. In a statement posted to its website, it adds that for those who might have already mailed their first ballot in error, it will "ensure that the second ballot will be the only one that is counted." 
"But if they don't wait and they return it, then there should be some effort made to find those people (and) figure out who they are," Berg said.
Powered By
NEXT STORY: How micromanaging cut Cuomo down to size