Campaigns & Elections
Why Max Rose might be upset by Nicole Malliotakis
The Republican Assembly member's "law and order" message resonates on Staten Island.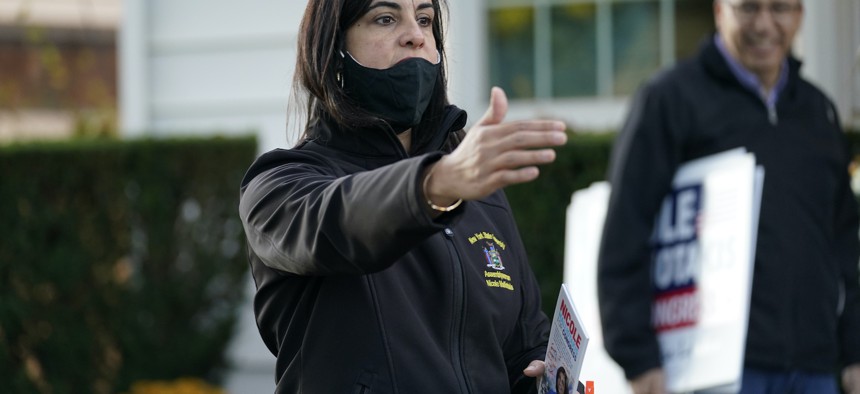 No Democratic member of Congress has won a second term on Staten Island since former Rep. John Murphy ended a nine-term winning streak in 1981.
In 2010, Michael McMahon -- the first Democrat elected to the seat in 2008 since Murphy -- lost his bid for a second term to Republican Michael Grimm. 
Now Rep. Max Rose, the Democratic incumbent representing New York's 11th Congressional District which includes Staten Island and parts of Southern Brooklyn, is poised to make history: win the coveted second-term that has eluded his party. 
As a Democrat representing Staten Island, New York's most conservative borough, Rose is running against well-known and well-funded GOP Assembly Member Nicole Malliotakis. Malliotakis also stands to benefit from Donald Trump's popularity in her Republican-leaning district, which backed the president in 2016. 
Plus, she may have landed an advantage over Rose after he marched alongside anti-racism protesters on Staten Island over the summer.
"He had the election in the bag, (Malliotakis) had no chance," Grimm, who resigned from Congress after pleading guilty to felony tax fraud in 2014, told City & State. "Now, she'll probably win." 
The first public poll for the race, according to an NBC4 New York/Marist poll, showed Rose and Malliotakis neck and neck. He is trailing by two points among likely voters in the district. It also showed that among all registered voters, Rose is leading Malliotakis by just one point, meaning high turnout could help him. 
Rose has cultivated a centrist, maverick persona: He vowed to work with Trump after he ousted Republian incumbent Rep. Dan Donovan in 2018. He followed through on his promise to oppose House Speaker Nancy Pelosi, met with Trump during the 2019 government shutdown to push to reopen federal agencies and distanced himself from New York City Mayor Bill de Blasio and left-leaning members of his party like Alexandria Ocasio-Cortez. He has been relentlessly focused on local issues, including constructing a seawall on the east shore of Staten Island, reinstating split tolling on the Verrazzano-Narrows Bridge and helping bring fast ferry service to Staten Island. 
Rose initially said he would oppose efforts to impeach Trump, but after Pelosi announced a formal impeachment inquiry into the president once it was revealed Trump withheld military aid to Ukraine in exchange for investigating former Vice President Joe Biden's son, he began putting out differing, noncommittal statements on his position. 
He formally announced he would support an inquiry after coming under pressure from both progressive Democrats in his district, upset he wavered on the issue, and Republicans, who disapproved of his position as a Democrat they thought was moderate. 
But political observers don't think the impeachment will cost him the race. Rather, they see Republicans' "law-and-order" rhetoric, after a summer of violence that often followed peaceful protests calling for police reform and Trump's name on top of the ticket, as what will drive Staten Islanders to go to the polls and vote for the GOP across the line. 
Partisan loyalty may also be on Malliotakis' side. For example Grimm, who early on, warned voters about "three reasons Nicole Malliotakis is a terrible idea" for Congress when he was mulling jumping into the primary race, told City & State he plans to vote for Trump and Malliotakis. "I'm voting down the line Republian," he said, pointing out that Malliotakis' campaign "came to life in the last three weeks" and "took good advantage of (Rose's) mistake." 
Being perceived as anti-police in Staten Island, which is home to more than 15,000 civil servants, including police officers and firefighters, is a position that most politicians representing the borough cannot afford to take. 
After Rose marched in peaceful protests against police brutality, the Congressional Leadership Fund, a pro-Republican PAC, released an attack ad tying him to calls for defunding the police, which in fact he opposes. Malliotakis used his participation at the rally to emphasize Republicans' message to restore law and order in New York City after a summer of protests following the death of George Floyd. 
But regardless of Rose's position against defunding police, Grimm said it's the optics of Rose's attendance that is going to sway voters, at least on Staten Island. "People want to argue the merits of what it was, what it wasn't. All that's irrelevant," said Grimm. "Perception is all that matters."
"This is personal to Staten Island, this is not politics. You want to take a shot at the president, and you're going to impeach him, well, that's partisan politics. People expect that but … showing support for a group that's talking about defunding our police, that's not politics … this is a personal attack," Grimm said. 
Despite Grimm's prediction, some progressive groups think Rose marching with anti-racism protesters might persuade more progrssive Democrats, as well as minority voters in areas like the racially diverse North Shore of Staten Island, to vote for him rather than leave their ballot blank for Congress. 
Staten Island activist Donovan Robinson, who helped organize rallies in the borough over the summer with the Young Leaders of Staten Island, including the one Rose attended, said the Congressional Leadership Fund's attack ad likely pushed young voters of color to back Rose. 
"For them to completely target this young group of kids who did nothing except lead the biggest peaceful protest on Staten island, definitely, it might not be an automatic check for Max, but it's definitely an X for Nicole [Malliotakis]," Robinson said. 
Brooklyn Democratic Party Chairwoman Assemblywoman Rodneyse Bichotte thinks voters will ultimately see past that ad. "It was unfairly portrayed," Bichotte said of the ad. "I think the voters who are going to vote for Max Rose will continue to vote for Max Rose, I think the ones who are undecided, are intelligent enough to know Max Rose is a harcore veteran who served the country, who understands uniformed workers and their doings in terms of public safety. I think those voters will understand Max Rose's position."
Rose has called Malliotakis a "first class fraud," and Malliotakis has portrayed Rose as an anti-cop radical close to de Blasio. Rose, sensitive to de Blasio's unpopularity in the district, cut a 15 second ad declaring de Blasio as "the worst mayor in the history of New York City."
In July, Malliotakis led a pro-cop rally in Dyker Heights, Brooklyn which got physical when anti-police brutality protesters showed up to counter their demonstration, Gothamist reported. Some pro-police marchers were seen yelling that they hoped protesters would be raped and called them racist and sexist names. 
The Brooklyn part of the district has a large number of Asians and Hispanics, it still has a strong contingent of white conservatives. Republican state Sen. Marty Golden represented an overlapping Brooklyn district for 15 years, until Democrat Andrew Gounardes ousted him in 2018. In 2016, Donovan lost the Brooklyn section of the district by less than 2,000 votes. 
Sally McMahon of the progressive group Fight Back Bay Ridge, in the Brooklyn part of NY-11, said she thinks the Dyker Heights rally may have been a turning point for undecided voters like herself, who may have not voted for Rose because of his moderate positions 
"I think that that rally in Dyker Heights and those videos of (Malliotakis') supporters being so vile and disgraceful, really turned a lot of people around," McMahon told City & State. "It turned me around, I mean, I had considered doing a write-in because Max is not high on my list, but after seeing who she's representing, and who supports her, there's to me no contest."
In the district's last two congressional races, about 72% of the votes have come from Staten Island and 28% from Brooklyn. 
Winning Staten Island for Rose would likely ensure his victory. However, if he were to lose Staten Island, Rose would have to make up the loss in Brooklyn with 2.5 as many points as Malliotakis secured for the win. 
Richard Flanagan, a political science professor at the College of Staten believes Malliotakis will win on the Staten Island side and Rose on the Brooklyn side, which he won with more than 61% to Donovan's 39% of the vote in 2018, while the vote on Staten Island was essentially a tie last time. "It's really the race between two boroughs, Brooklyn's disadvantaged because it's only a third, but that could be the margin that saves Rose," Flanagan said. "I'd almost think that [Malliotakis] will win Staten Island, the question is will she get a big lead on Staten Island that will carry her loss in Brooklyn ... but if Rose keeps it close on Staten Island, he's going to crush it on the Brooklyn side."
The Staten Island Expressway serves almost as a de facto racial dividing line. North of the expressway are the borough's predominantly Black and Hispanic communities, while communities south of the expressway are overwhelmingly white. This contrasts with the Brooklyn portion of the district, which is more racially mixed.
The NBC4 New York/Marist poll found Malliotakis is favored by white voters, especially white men without college degrees who are 45 or older on the Staten Island side of the district.
But on the Brooklyn side, the poll found Rose "draws strength" from the borough's Latinx population, white women with a college education and voters under the age of 45.
Early voting projections released by the New York City Board of Elections as of Wednesday show 68,938 of Staten Islanders voted on the first five days of early voting. However, it is unclear how many voters turned out at polls in Brooklyn because results have only been released boroughwide. 
Republican Party Chairman Brendan Lantry told City & State this week that early voting numbers have, so far, been highest on the South Shore, which, coupled with low turnout on the North Shore, helped carry Trump to victory in 2016. "We're taking absolutely nothing for granted, we're working very hard to pull out the vote and our efforts to pull out the vote seem to be working because of the high turnout that we've seen so far," Lantry said. 
Rose says the race ultimately boils down to "who will always put country over party and deliver results."
"I'm proud of my record of working across the aisle to get things done, from the 9/11 Victim Compensation Fund, increasing funding to combat the opioid epidemic, or getting a COVID-only hospital set up at the height of the pandemic, we've made real progress -- but our work has just begun" Rose said in a statement. 
In keeping with Malliotakis' appeal to Republican partisanship and her attempt to tie Rose to more liberal Democrats, spokesman Rob Ryan said in a statement: "Max Rose can't be trusted. Whether the issue is bail reform, defunding the police, impeachment, taxes or his support of Nancy Pelosi, Max Rose says one thing to the voters and then acts the opposite way. Right now, the entire New York City Congressional Delegation consists solely of Democrats and like Max Rose, Jerry Nadler and Alexandria Ocasio-Cortez, they lean far left. New York City needs at least one Republican in the delegation so we have someone who can relay the city's needs to Republican elected officials in Washington, whether they are in the House, Senate or White House." 
Rose's ideology is not "far left," by any objective measure, but the party that controls Congress sets the agenda, and Malliotakis clearly believes that Staten Islanders will reject the Democrats as a whole – and, if the polling is to be believed, she may well be right.