New York State
New York GOP is back from the dead
Early results show Republicans outperforming in congressional and state legislative races.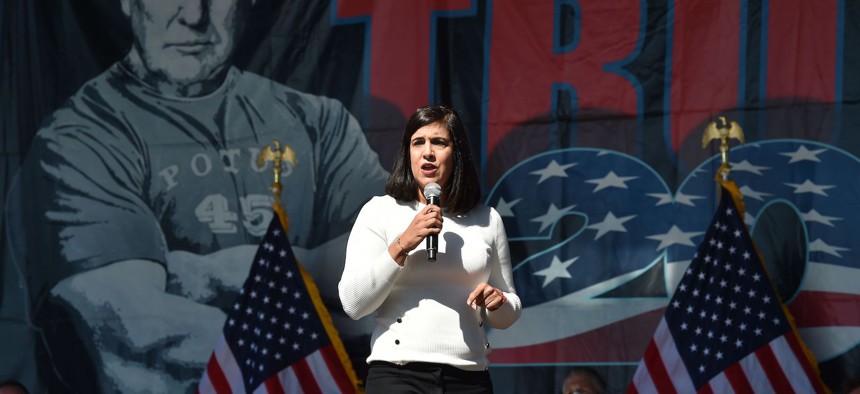 With voting done but millions of mail-in ballots yet to be counted, it's too early to call well over a dozen closely watched races across the state. But this much is clear: the Republican Party is not dead in the state of New York. And hopes for another all-out "blue wave" have been dashed. 
Republicans are poised to make gains in representation in the state's congressional delegation and in both chambers of the state Legislature, as they flip a number of seats from Democratic blue to Republican red. "It was a great night last night for Republicans across New York state, and specifically for Senate Republicans," Senate Minority Leader Rob Ortt, a Republican, said at an Albany press conference Wednesday. "What you saw last night was a repudiation of one-party rule."
Democrats will still control the state Senate, which was held by Republicans before 2018, and will easily hold on to their majority in the Assembly. But Democrats went into election night hoping to win a two-thirds supermajority in the state Senate, which would give them power over redistricting. Instead, they may now be lucky just to avoid losing any seats. Democrats currently hold 40 seats in the 63-member state Senate. As many as 10 seats in the 63-member upper chamber don't have definitive results yet. Democrats still hold a large majority of seats in the state's House of Representatives delegation, as well, but Republicans appear likely to add two seats to their current six out of 27 total. 
By state law, New York will not start tallying absentee ballots in any race until next week, and it will continue accepting ballots postmarked by Election Day until Nov. 10, or Nov. 16 in the case of overseas and military ballots. The state saw a record number of absentee ballots sent out this year, as voters hoped to avoid poll sites in the midst of the coronavirus pandemic. In every hard-fought race across the state, those absentee ballots are expected to break in favor of Democrats, since the party encouraged voting by mail while Republican President Donald Trump cast aspersions on the practice. In some races, Republican leads from in-person vote totals could vanish when all the votes are counted. 
So, Democrats argue, the GOP's strong night might be misleading. "For all of our lives, the Wednesday morning after an election was the day to write a story of 'what does it mean?'" state Senate Deputy Majority Leader Michael Gianaris, a Democrat, told City & State. "We're in a new reality, where Election Day is not the end of the count – it's the beginning of the count. … We told a lot of our candidates months ago: be ready to be down on election night and make it up on the (absentee ballots). And that's exactly the situation we're in."
Gianaris insisted that winning 42 seats – and a Democratic supermajority that would give the party greater control over redistricting – is still possible. But Ortt said he expected to pick up at least four new members, which would mean a 27-36 Democratic majority split. 
One of those flipped seats could be the 22nd Senate district, a southern Brooklyn seat currently held by Democratic state Sen. Andrew Gounardes. With all the in-person votes from Election Day and the nine-day early voting period counted, Republican challenger Vito Bruno leads Gounardes by 6,035 votes, or 8%. The New York City Board of Elections reports that 12,744 yet-to-be-counted mail-in ballots had been sent in as of Election Day. Of those, ballots returned by registered Democrats outnumber those returned by registered Republicans by more than 4-to-1, which means Gounardes could make up Bruno's margin. However, that district, which has a large Democratic registration advantage, has previously seen voters cross party lines to elect a Republican. Before Gounardes defeated him in 2018, the area was represented by GOP state Sen. Marty Golden. 
Results in New York's congressional races follow a similar pattern. In a district that overalls with Gounardes' and also includes Staten Island, Republican Assembly Member Nicole Malliotakis has declared victory over Democratic Rep. Max Rose, likely flipping a seat to the Republicans. And in Central New York, former Republican Rep. Claudia Tenney seems to be on track to unseat Democratic Rep. Anthony Brindisi, who took her out of Congress two years ago. In fact out of eight closely-watched House races statewide, Republican candidates have a lead in six of them. And while Rep. Tom Suozzi's race could hardly be called closely-watched – it wasn't on any prognosticators' radar – the Long Island Democrat was actually trailing his Republican opponent George Santos by more than 4,000 votes after nearly all in-person votes had been counted. 
Suozzi will likely win the overwhelming majority of mail-in votes, and cruise to victory. But Democrats didn't just want to hold on to the 21 seats they currently occupy – many in the party were optimistic that they could beat Republican incumbents, such as Rep. John Katko, who is also well ahead of Democratic challenger Dana Balter. Another long-awaited Democratic pick up on Long Island seemed unlikely, with Republican Assembly Member Andrew Garbarino declaring victory over Democrat Jackie Gordon for the seat currently held by GOP Rep. Peter King, who is retiring.
A similar situation seemed to play out in New York City's northern suburbs, where Democrats have been eyeing Republican state Sen. Sue Serino's seat as a pick-up opportunity. But election night results showed Serino leading Democrat Karen Smythe with a seemingly insurmountable lead of nearly 20,000 votes. 
However there were some bright spots for local Democrats: particularly in Western New York. Democratic Assembly Member Sean Ryan is all but guaranteed to flip a now-vacant state Senate seat previously held by Republican Rep. Chris Jacobs. And two Rochester-area Democrats are also on track to flip Senate seats that are now held by Republicans who chose not to run for reelection. 
Of course, Republicans' apparent success may say more about Tuesday's election results nationally than about New York. Democrats seem unlikely to meet their high expectations in races around the country. The U.S. Senate, which Democrats hoped to flip, seems likely to remain in Republican control, and the Democrats will likely lose seats in the House, while still maintaining a majority. That means Republicans' relative success in New York probably has more to do with their base's boosted turnout in a highly polarized election than with any rightward shift in the local electorate. "I wouldn't draw so many New York-specific conclusions when you had the kind of motivation at the top of the ticket that Donald Trump presents for Republicans," said Neal Kwatra, a Democratic political strategist. "That probably has more to do with what we saw in New York than anything that the New York GOP tried to do."
And while the Republican Party may not be dead in the Empire State, it's not exactly thriving. As Kwatra pointed out, New York is one of 15 states where Democrats control the governorship and the state Legislature – and that number could shrink after other states' election results come in. 
With four more years of divided government on the national level appearing inevitable, Democrats may feel more emboldened to take progressive action on the state level. "You have total one-party control for the Democrats," he said. "A policy laboratory could be possible, given that kind of control."
Correction: This article originally misstated the number of mail-in ballots in the Gounardes-Bruno state Senate race. 
Powered By
NEXT STORY: Lou Puliafito falls short of upsetting Rebecca Seawright