New York State
Our 12 most 2020 COVID-19 stories reveal a year like no other
The pandemic attacked New York state like nowhere else in the country.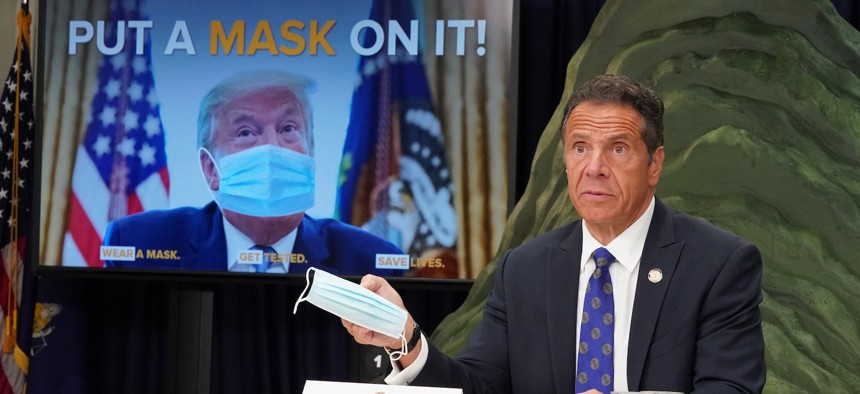 This has been a dramatic year in New York politics. The New Year's Eve arrest of the Republican Assembly leader demonstrated that from day one. Ongoing controversies over bail reform guaranteed that things would stay testy through the first months of the year. Then the first confirmed cases of the coronavirus appeared in the Empire State and things only crazier from there.
There were fears that COVID-19 would overwhelm the hospital system or that an autocratically inclined president would impose martial law on his hometown. Gov. Andrew Cuomo asserted newly won emergency powers that have made him more powerful than any of his predecessors could have ever imagined. His daily press conference became the defining daily TV event for millions of people who worried where things might be headed.
Daily deaths and statewide hospitalizations began dipping below crisis levels as the summer began, but that hardly meant that COVID-19 was going away. Not only did the coronavirus continue to spread across the state and country, but there were also still a myriad of social and economic side effects to be dealt with. This included reopening the economy, addressing widespread hunger and poverty as well as confronting the racial inequities highlighted by the pandemic. If that was not enough, the second wave of COVID-19 cases has yet to reach its apex.
We have compiled a dozen of our best pandemic stories to highlight some of the lessons worth remembering once 2021 begins.
Andrew Cuomo: Master of disaster
City & State was there when the governor assembled agency heads in the state Capitol on March 2 following the first confirmed cases of the coronavirus in the state. Looming shortages of the materials needed to implement mass testing was a big concern, as was the possibility that the federal government would not do much to help. "What if the feds say: 'Sorry, I can't help you?'" Cuomo asked at one point, suggesting the state may be on its own. "Just assume nobody does anything for you except you."
New York's existing plans for pandemics were not enough for the current crisis
Much has been written about how President Donald Trump declined to take advantage of the pandemic plans from past administrations. While Cuomo more faithfully followed the pandemic playbook at the state level, it appears that the strategies developed since the mid-2000s could not be so easily adapted to the novel coronavirus.
Is coronavirus de Blasio's Katrina?
The most famous gym trip in New York City political history went down on a Monday morning in March as the reality of COVID-19 began to take hold. That would hardly be the first time when a misstep by Mayor Bill de Blasio would lead to accusations that he was not up to the task of managing the worst public health crisis to hit the city since the 1918 influenza pandemic. "He has been slow to act, not realizing the seriousness of the situation," one former staffer told City & State. Future mayors are now on notice of the political costs of keeping up appearances.
Why is COVID-19 battering New York so hard?
New York City is the largest and arguably most important city in the nation, but it is hardly the only one that has packed neighborhoods and plenty of connections to the international community. Yet, it was hit so much harder in the first months of the pandemic compared to other global cities like Los Angeles, Chicago and New York. Decisions made by the president, Cuomo, and de Blasio help explain why. 
'The Grapes of Wrath,' coronavirus edition
Remember when Trump was suggesting that the military should cordon off New York City? He was hardly the only elected leader with questionable ideas of keeping New Yorkers out of their states. One upstate county executive was even talking of imposing 14-day quarantine requirements in the Capital Region. This was all unprecedented at the time, but nine months later, travel restrictions have become the norm, even if their effectiveness as a public health tool remains questionable. 
If they can't knock on doors, how do candidates get face time?
The typical campaign playbook simply did not work during a deadly pandemic where candidates could not shake hands and knock on doors like in the before times. But that hardly meant that insurgent candidates and longtime incumbents couldn't find their own ways of adapting to the new normal as the June Democratic Party primaries approached. 
We are now in the 'Between Times'
There was a time when partisan politics were set aside as New Yorkers united against the pandemic, but that comity began to break down in the late spring. That began to change at the end of April as states began considering how best to lift stay-at-home orders. "This is a great success story," Trump said as he pivoted towards his reelection campaign. While we all know how this all worked out over the subsequent months, it is worth remembering this critical juncture in the politicization of the public health emergency. 
How state lawmakers seized the moment
May 25 was a pivotal day in 2020. Minneapolis police killed George Floyd that day just hours after a white woman named Amy Cooper called the police on a Black birdwatcher whom she fraudulently claimed was threatening her. No one can ever conclusively prove how the pandemic contributed to the protests that followed, but within two weeks, New York state lawmakers passed a package of police reforms that would have seemed inconceivable before COVID-19 demonstrated just how much the seemingly impossible can become real.
Robert Mujica is calling the shots
The pandemic has thrust Albany insiders like Secretary to the Governor Melissa DeRosa into the national limelight alongside the governor they serve. While State Budget Director Robert Mujica has not graced the covers of many magazines, a May 31 cover story in City & State highlighted just how powerful the longtime Capitol insider has become in recent months. 
After months in the political limelight, his sky-high popularity began to experience a drop-off. A self-designed poster, a book, and an Emmy award have attracted criticism in recent months, but it was the mockery that followed the unveiling of his self-designed "COVID Mountain" that really illustrated just how much he might have jumped the shark while indulging his artistic side during the pandemic.
I'm sorry but in addition to this being indescribably embarrassing this strikes me as also tempting really, really bad fate. You're gonna be so sad you showed off this 5th grade vinegar-baking-soda volcano project in two months if numbers go back up. https://t.co/sJrSyMakwI

— Rebecca Traister (@rtraister) June 29, 2020
Meet NYC's first elected COVID-19 'long-hauler'
Elected officials are sometimes accused of being out of touch with ordinary people. New York City Council Member Costa Constantinides, however, has first-hand experience with how COVID-19 can result in debilitating symptoms for months, if not years. "There's no rhyme or reason to long-hauling," he said in an interview. "I just kept waiting for it to be over and it never was." 
Some still hope that the new normal means much-needed changes to how society and government function. Municipal broadband, single-payer health care, 15-minute neighborhoods, guaranteed income and the end of exclusionary zoning are five concrete examples of how the future could be what New Yorkers choose to make it.
Powered By
NEXT STORY: How does ranked-choice voting work?