Campaigns & Elections
Burning questions for the District 24 special election
And more coverage of key 2021 races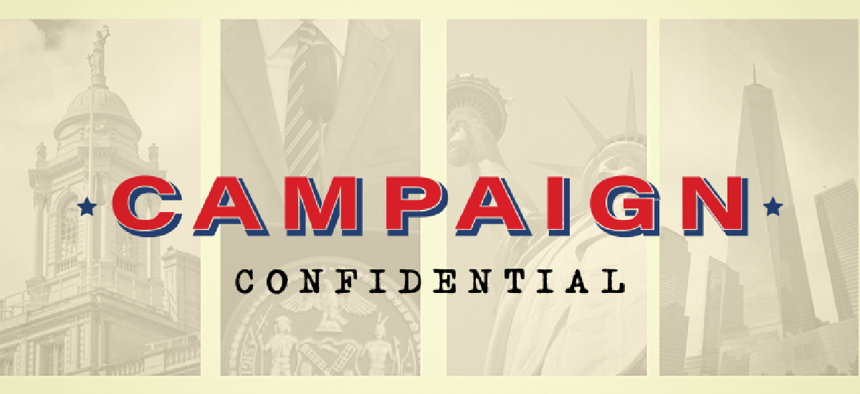 Welcome to City & State's Campaign Confidential newsletter, where Senior Reporter Jeff Coltin is covering the run-up to New York City's hugely consequential 2021 municipal elections for mayor, City Council and more.
Weekly, on Tuesdays. Sign up here.
4 months and 3 weeks until the 2021 Democratic primaries
Did a friend, colleague or rival forward you this email? Make sure you get Campaign Confidential in your inbox next week by subscribing here.
Five things to watch in the District 24 special
It's finally here – the first New York City election of 2021 and the first of the ranked-choice voting era – and even if you've never heard the word Pomonok, the Council District 24 special election in Eastern Queens could set the tone for this whole season. Here are five burning questions we'll be looking to answer once the polls close at 9 p.m.
How many voters will rank?
In San Francisco's first ranked-choice voting election in 2004, nearly a quarter of voters said they only voted for one candidate and didn't rank – and that was after an $800,000 outreach campaign. Conventional wisdom says that fewer voters ranking would be good news for James Gennaro, the one white candidate, since six of his competitors of South Asian descent might be targeting the same voters. Another question – given the snow and the cold and the lackluster early voting numbers – is how many people will vote at all.
Can a returner win?
Gennaro represented the district from 2002 through 2013, and for that alone he'd be considered a front-runner to win the seat now. Returners are nothing new – Council Member Karen Koslowitz is finishing up her second stint in a neighboring district – but there are a handful of old pros hoping to make the same move this year, including Sal Albanese, Tony Avella, Charles Barron, Gale Brewer and Darlene Mealy. Will voters be kind a second time, or do they want new blood?
DSA can win. Can it win there?
We've asked that before – but this will be the first test of '21. Moumita Ahmed hasn't been endorsed by the Democratic Socialists of America, but she's been a member for four years and, on Monday, was endorsed by U.S. Sen. Bernie Sanders. Voters in the district don't have a history of supporting democratic socialist candidates – Melinda Katz beat Tiffany Cabán handily in the 2019 Queens district attorney primary – but the many other people supporting Ahmed will be watching closely.
How much influence is Common Sense NYC having?
Common Sense NYC is certainly taking Ahmed seriously, having spent more than $95,000 on mailers and ads that say she'll raise your taxes. The independent expenditure committee funded primarily by billionaire developer Stephen Ross wants business-friendly moderates on the council, not democratic socialists, and Common Sense's success or failure in this race could determine its playbook for the council's other 50 seats.
Who will be back for the primary?
Gennaro supporters think he'll win the special election so handily that it will scare off anybody from trying to take him down in the June primary. But the special election is nonpartisan, so candidates to Gennaro's left (all of them, probably) will surely be tempted to try again in June, when only Democrats can vote.
By the Numbers
270
The number of valid signatures New York City Council candidates will need to gather to make the ballot under a new law signed by Gov. Andrew Cuomo on Thursday. That's down from the usual 450 (but smart candidates know you should aim to gather about three times that number). Mayoral candidates now need 2,250, down from 3,750. And petitioning has been pushed back a week and will start March 2. This is all meant to lower the burden during the coronavirus pandemic, but nearly 100 council candidates had called for petitioning to be canceled altogether. Now some are hinting they might sue to stop it.
Who's buying Kevin Riley sweatshirts?
Billionaire real estate developer Stephen Ross' Common Sense NYC has gotten a fair amount of attention for its $221,140 spent influencing the District 24 special election, but nobody seemed to notice the mysterious independent expenditure group that dropped $70,165 on mailers, radio ads and even sweatshirts supporting Council Member Kevin Riley in the District 12 December special election. It's called "Voters of NYC" – an odd name, considering it was funded by two shadowy holding companies located in Park City, Utah, and Miami Beach, Florida. The one name attached to "Ancel Holding Group Inc." on the New York City Campaign Finance Board website was Brian Cooper, but with that relatively common name, it wasn't immediately clear who that is. The one name behind "LRI HoldCo LLC." was J. Randall Waterfield, board chair and CEO of Waterfield Holdings that, among other things, sells glass bottles of water sourced from a remote spring in the Andes. What's their interest in a small Bronx council race? I'd like to know. But it could just be an offshoot of Ross' committee. Both groups share a treasurer in political consultant Jeff Leb.
Solidarity, for now
Last Labor Day we wondered: Would labor unions stick with establishment candidates in 2021? We're closer to an answer after the #LaborStrong coalition of 32BJ SEIU, CWA, DC 37, HTC and NYSNA released its list of 31 council endorsements – about as good of a list of the city's front-runners as you'll get, at this point. And results are mixed. The unions endorsed two NYC-DSA-backed candidates in Tiffany Cabán and Alexa Avilés, and notably stayed out of the other four races where DSA candidates are running. A knowledgeable candidate said it's because Big Labor was sensitive to appearing too anti-DSA. But keep an eye on District 29 in Queens, where labor-endorsed Lynn Schulman is running against Working Families Party-backed Aleda Gagarin.
Pool season
Some mayoral candidates seemed to be jealous of the press coverage Andrew Yang was receiving after his announcement, so the past month has seen some traffic jams in journalists' inboxes. Shaun Donovan has put out a daily schedule, even on some days without a public event, and Ray McGuire's campaign has even set up a press pool so reporters can get some color on events without watching hours of Zooms. The first reports came from The New York Times' Katie Glueck, who did her share of pool duty on Joe Biden's presidential campaign. Of course, we still want more info on candidates' whereabouts, so if you're attending a forum, let us know – even if your schedule isn't FOILable yet.
Endorsement Watch
New York City Council Member Margaret Chin and Gigi Li, her chief of staff who's running for council in District 1, both endorsed Andrew Yang for mayor … Yang also hung out this week with Bronx Assembly Member Kenny Burgos … The New York State Public Employees Federation endorsed Eric Adams for mayor … Adams also got support from 170 members of the clergy, including Bishop Hezekiah Walker … rapper and actor LL Cool J endorsed Ray McGuire for mayor … Assembly Member Rebecca Seawright endorsed Scott Stringer for mayor – don't put her in charge of petitioning! … Gwen Carr, activist and mother of the late Eric Garner, is supporting Alvin Bragg for Manhattan district attorney … Council Member Alicka Ampry-Samuel is supporting Khari Edwards for Brooklyn borough president over her three fellow council members … The New York City Sergeants Benevolent Association is supporting Fernando Cabrera for Bronx borough president … Rep. Ritchie Torres has endorsed Eric Dinowitz in the Council District 11 special election … Vote Mama PAC is supporting Ischia Bravo in the District 15 special … Queens Borough President Donovan Richards is endorsing Selvena Brooks-Powers in the District 31 special over his former chief of staff Manny Silva … Silva announced his own ranked endorsements for the Feb. 23 special: 1. Himself, 2. Sherwyn James, 3. Nancy Martinez, 4. LaToya Benjamin.
Poll Sight
There's no public polling yet for the Manhattan district attorney primary (though we did get tipped that one of the candidates was running a phone poll last week). But a left-leaning group called the Five Boro Defenders was happy to place all eight candidates on a spectrum of most to least harmful to defendants. Unsurprisingly, the one public defender in the race, Eliza Orlins, was rated least harmful. Liz Crotty, a former assistant district attorney, was considered most harmful. A related group of progressive organizations under the banner of The People's Coalition for Manhattan DA Accountability also published a detailed candidate comparison last week – and it's a must-skim for any voters. Take a look at the more than 90 points of comparison here.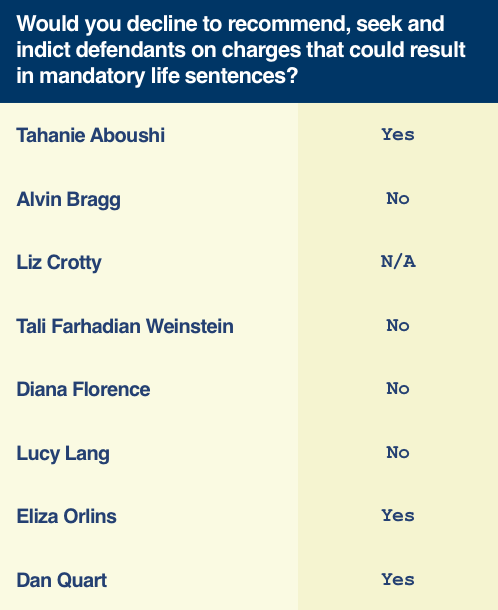 Staffing Up
A trio of former Biden presidential campaign staffers have joined Shaun Donovan's mayoral campaign: Brendan McPhillips is campaign manager, Rameera Robbalaa is organizing director and Jeremy Edwards is press secretary … Arielle Confino is campaign manager for Michelle Caruso-Cabrera's comptroller campaign … and Hank Sheinkopf, who worked on Caruso-Cabrera's 2020 House campaign, is now campaign strategist for Terri Liftin's comptroller campaign … Sam Goldsmith has joined Zach Iscol's comptroller campaign … Emily Fernandez has joined Mark Levine's Manhattan borough president campaign as deputy field director … Liz McKenna is campaign manager and Jonah Nelson is communications director for Victoria Cambranes' District 33 council campaign in Brooklyn.
Got tips? Email JColtin@CityandStateNY.com or DM me @JCColtin
District Data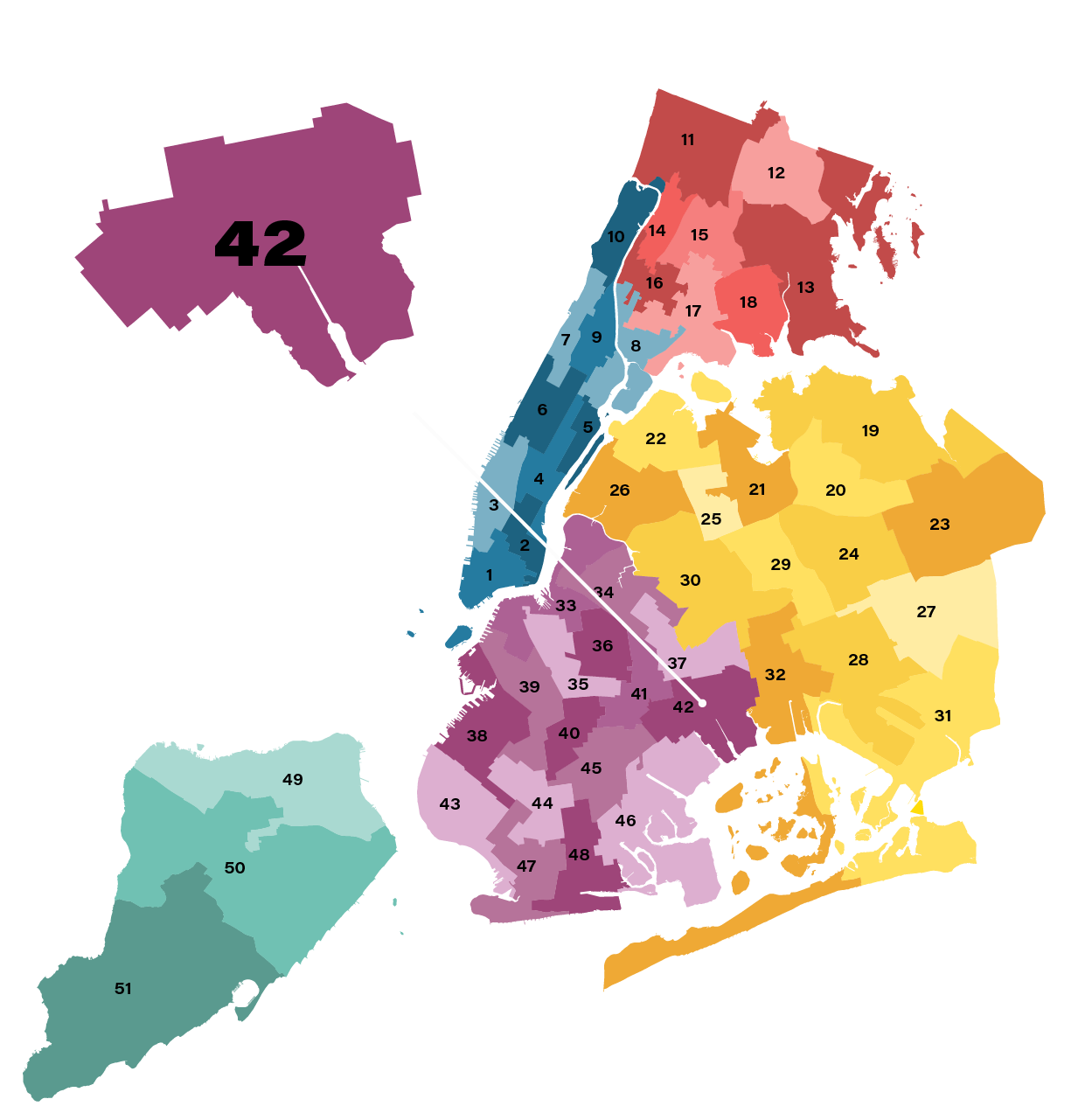 City Council District 42 in eastern Brooklyn, covering neighborhoods including East New York and Starrett City
Current council member: Inez Barron, since 2014, who's term-limited at the end of 2021
2010 census demographics: 72.9% Black, 19.2% Hispanic, 3.9% white, 2.0% Asian
Housing: 77.9% renter-occupied, 22.1% owner-occupied
2013 primary election results: Inez Barron: 43.2%, Christopher Banks: 24.7%, Regina Powell: 8.7%, John Whitehead: 7.6%, Nikki Lucas: 6.7%, Sean Henry: 6%, Prince Lewis: 3.2%
2017 primary election results: Inez Barron: 83.5%, Mawuli Hormeku: 16.2%
Who's running: Charles Barron, Wilfredo Florentino, Nikki Lucas, Marlon Powell and Gena Watson. Assembly Member Charles Barron is the obvious favorite as he attempts to win back the seat he held from 2002 through 2013, now occupied by his wife, Inez. Nikki Lucas has lost to the Barrons many times before, but the former district leader is working hard to reverse her fortunes, with strong fundraising and an endorsement from a fellow Barron foe, Rep. Hakeem Jeffries. Wilfredo Florentino, an NAACP staffer and a founding member of the New Kings Democrats, is also well connected politically.
Twitter Posting 
Sometime when I run for office I am going to name my committee "viewers like you, thank you."

-----------------------------------------
| Paid for by viewers like you, thank you. |
-----------------------------------------

This is allowed per @NYCCFB rules

— Emilia Decaudin (@EmiliaDecaudin) January 30, 2021
Powered By
NEXT STORY: Cuomo's New Year's blues