Campaigns & Elections
Corey runs citywide, take two
And more coverage of key 2021 races.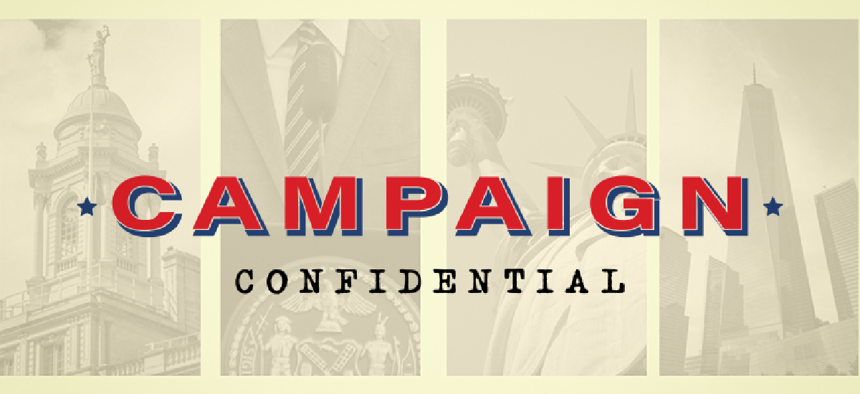 Will Corey break the speaker curse?
One might say that Corey Johnson already fell victim to the City Council speaker curse. After all, his run for mayor ended before it began, when he closed his fledgling campaign in September and became the latest speaker to unsuccessfully seek higher office after leading the city's legislative body. Three of the four speakers before him ran for mayor and lost in the Democratic primary. The other, Melissa Mark-Viverito, ran for both public advocate, then Congress, and lost in both primaries.
Now six months after opting out of the 2021 elections, Johnson is opting back in. He officially kicked off his campaign for New York City comptroller Tuesday with a press conference in Manhattan's Madison Square Park. And with that, he'll get a second shot at becoming the first speaker in the modern era to extend his life in electoral politics.
"Anyone who's been speaker and run for citywide office, it's clearly known it comes with difficulties," said Camille Rivera, a political strategist who worked on Mark-Viverito's 2020 congressional campaign. "You're coming from a place where compromise is the name of the game. You've got 51 members … with different priorities."
[Read more about Johnson's chances – and what a past speaker thinks of "the curse."]
With that comes difficult decisions under a spotlight that borough presidents or even the city comptroller rarely have to deal with. They can release statements about the city budget, but it's the speaker who is held accountable, like we saw in last year's budget battle over reducing NYPD funding that was thought to have damaged Johnson politically.
The job of speaker could also be deceptively powerful when it comes to electoral politics. "The reality is that the speaker position is not a citywide election position," since they're chosen by members, and not the public, Mark-Viverito told City & State. To win higher office, she said, "You have to be able to break beyond your district and make the pitch to a larger population in a multiracial, multilingual city."
But does Mark-Viverito believe the job is cursed? "I think that's overstating it," she said.
Curse or not, Johnson seems to have a good chance at winning the race for comptroller. Other leading candidates like City Council Member Brad Lander, state Sen. Brian Benjamin and Assembly Member David Weprin have already accumulated a ton of endorsements and support before Johnson entered the race and have been actively campaigning for months. But Johnson should be able to catch up quickly. Thanks to the fundraising for his abandoned mayoral campaign, Johnson will actually enter the race having raised more private funds than any of his opponents, as of the last filing deadline on Jan. 15. And Johnson picked up some major endorsements on the first day of his campaign, from a longtime labor ally, the New York Hotel and Motel Trades Council, and current and former council colleagues, including Rep. Ritchie Torres and Council Members Vanessa Gibson and Helen Rosenthal. 
In a statement, Johnson acknowledged past speakers' poor record of success. "Being speaker is an incredible opportunity and I have a lot of respect for my predecessors, but I know this job doesn't guarantee success in a citywide race," he said. "That's why we're taking nothing for granted and fighting to earn every last vote."
And at his launch event, Johnson explained how being speaker prepared him to be comptroller, as "someone who knows the city's budget" with a "proven track record of taking on city agencies and holding their feet to the fire." Time will tell if that record is more a blessing or a curse.
By the Numbers
5
The number of major mayoral candidates who have called for Gov. Andrew Cuomo to resign over the past two weeks in the wake of multiple accusations of sexual harassment and inappropriate behavior. The candidates who have called for his resignation are Dianne Morales, Carlos Menchaca, Kathryn Garcia, Maya Wiley and Scott Stringer. Among other candidates, Andrew Yang, Eric Adams and Shaun Donovan support an independent investigation, but did not mention resignation, while Ray McGuire has said that if the allegations are substantiated, Cuomo should resign. Just last month, the big question was which candidate would be able to work with Cuomo. Now there's speculation that some of these candidates, if they lose, could run for governor next year.
Late entrants
In 2013, former Gov. Eliot Spitzer launched his campaign for New York City comptroller the very week that petitions were due, just 64 days before the primary. So by that measure, Corey Johnson's campaign is early. But with petitions due this year on March 25, a handful of candidates are pulling a Spitzer and joining the race really late. Exhibit A, The City reported that Council Member Bill Perkins, who everyone had expected to retire due to health problems, is gathering signatures to run for reelection – though he still hasn't filed with the Campaign Finance Board. Former Council Member Ruben Wills filed to run on Feb. 26 against Council Member Adrienne Adams, hoping to restore his name after his 2017 fraud conviction was overturned. And also on Feb. 26, Mark Szuszkiewicz, the apparent QAnon conspiracy believer who came surprisingly close to winning a southern Brooklyn Assembly seat last year filed to run in Council District 47. Rajesh Ranot, who filed last week to run for Council District 25 in Queens, may also face a tough path after being charged in a 2014 child abuse case. Ranot's wife is still behind bars, but he told City & State the case against him was dismissed. "I lost everything in my life," he said. "I want to get the chance to stand for my community and my people."
¿Y el futuro?
Asked for her thoughts on Puerto Rico's status Friday, mayoral candidate Maya Wiley responded as you might expect from a #Resistance Twitter star excited about the possibility of more blue seats in the U.S. Senate. "I grew up in Washington, D.C. We understand firsthand the importance of statehood for Puerto Rico. … I stand for statehood." Problem was, Wiley had just been endorsed by Rep. Nydia Velázquez, and the Puerto Rico-born member of Congress has strictly opposed simply granting the island statehood and has advocated for self-determination through a sort of Puerto Rican constitutional convention to choose among independence, statehood or the status quo. So Wiley backtracked after the press conference, tweeting that she misspoke, and aligning herself with Velázquez's position. Since New York City is home to nearly 700,000 people of Puerto Rican descent, City & State reached out to the other leading mayoral candidates to see where they stand. Scott Stringer, Dianne Morales and Shaun Donovan all support "self-determination" without endorsing a specific result, while Kathryn Garcia said that she believes Puerto Rico should have statehood but that "they should be able to make that determination for themselves." Andrew Yang, however, is aligned with his campaign co-chair, Rep. Ritchie Torres, who supports statehood. "Puerto Ricans have consistently overwhelmingly voted in favor of statehood, most recently in the 2020 elections, and the US government should act on the will of the Puerto Rican electorate," Yang wrote in a statement. Eric Adams' and Ray McGuire's campaigns did not respond to a request for comment.
Conservatives kick the habit
The Conservative Party organizations in all five boroughs chewed it over and endorsed talk show host John Tabacco for comptroller on Feb. 23, all but guaranteeing him a spot on the ballot in November. But party leaders quickly rescinded his endorsement – apparently because regulators in 1997 permanently barred him from the securities industries and fined him $50,000 for making unauthorized trades. Tabacco, a registered Republican from Staten Island, told City & State the 24-year-old ruling "has no effect on (being comptroller) whatsoever" because he's only prohibited from selling stocks to retail investors. Tabacco added that there were no criminal charges or allegations, and that he paid everything back. "I would just ask people to look at my track record since then." Tabacco claimed the split was mutual, and the Conservative Party, which didn't respond to a request for comment, has since endorsed Paul Rodriguez, a candidate for whom no information was apparently available online. Tabacco said he maintained the endorsements of the Brooklyn and Staten Island Republican parties, and anticipated a primary against the other boroughs' pick, Wall Streeter Daby Carreras, who has yet to formally file to run for office.
Endorsement Watch
In a Campaign Confidential exclusive, No IDC NY, which helped defeat six former Independent Democratic Conference state senators in 2018, is endorsing Scott Stringer for mayor. He was a relatively early endorser of much of the anti-IDC slate, and three of them have already endorsed his mayoral campaign … Rep. Nydia Velázquez endorsed Maya Wiley, whose brother works for Velázquez, for mayor … Eric Adams was endorsed by former Rep. Charles Rangel, Assembly Member Inez Dickens and the Martin Luther King Jr. Democratic Club and – separately – by Mets legend "Doc" Gooden and boxer Larry Holmes and various other sporting types … mayoral candidate Dianne Morales was endorsed by Rockaway Revolution and shared cross-endorsements with three council candidates: Elisa Crespo in District 15 in the Bronx, Angela Fernandezin District 10 in Manhattan and Kristin Richardson Jordan in District 9 in Manhattan … famed 92-year-old sex therapist Dr. Ruth seems to be supporting Mark Levine for Manhattan borough president, or at least in favor of putting him on the ballot … new City Council Member James Gennaro and City Council candidate Austin Shafrancross-endorsed, stymieing Gennaro's former Queens council colleague Tony Avella, who's running against Shafran in District 19 … Voters for Animal Rights has released a slate of endorsements, including Christopher Marte in Council District 1 in Manhattan … the young folks at New York City chapter of the Sunrise Movement released a slate of council endorsements, including Kristin Richardson Jordan in District 9 in Manhattan … the New York City Police Benevolent Association endorsed five council candidates, including Neng Wang as the top choice and Dao Yin as the second choice in District 20 in Queens … in the District 15 special election in the Bronx, Progressive Women of New York endorsed Elisa Crespo first, Latchmi Gopal second and Ischia Bravo third … in the same race, a coalition of The Jewish Vote, state Sen. Gustavo Rivera and Council Member Brad Lander endorsed Crespo first and Bravo second … and in the District 11 special election, The Jewish Vote and Rivera backed Mino Lora first and Jessica Haller second … while Transport Workers Union Local 100 backed Eric Dinowitz in that race, where early voting starts on Saturday. 
Poll Sight
Never take any one poll seriously – it's all about the trends. But even if fourth-place Stringerworld is complaining about the WPIX-TV/NewsNation/Emerson College poll released Monday (in short, they don't like the voter sample), this one generally fits with what the other polls have been saying. Andrew Yang is in a very comfortable first place. Eric Adams is solidly in second. And everyone else is somewhere below that, with lots of candidates jumbled within the poll's 3.8% margin of error. Maya Wiley's team is fundraising off her third-place result ahead of the March 11 disclosure deadline, saying "Maya is in one of the top spots." The Yang Camp, meanwhile, is playing it cool: "The only poll that matters is the one on Election Day."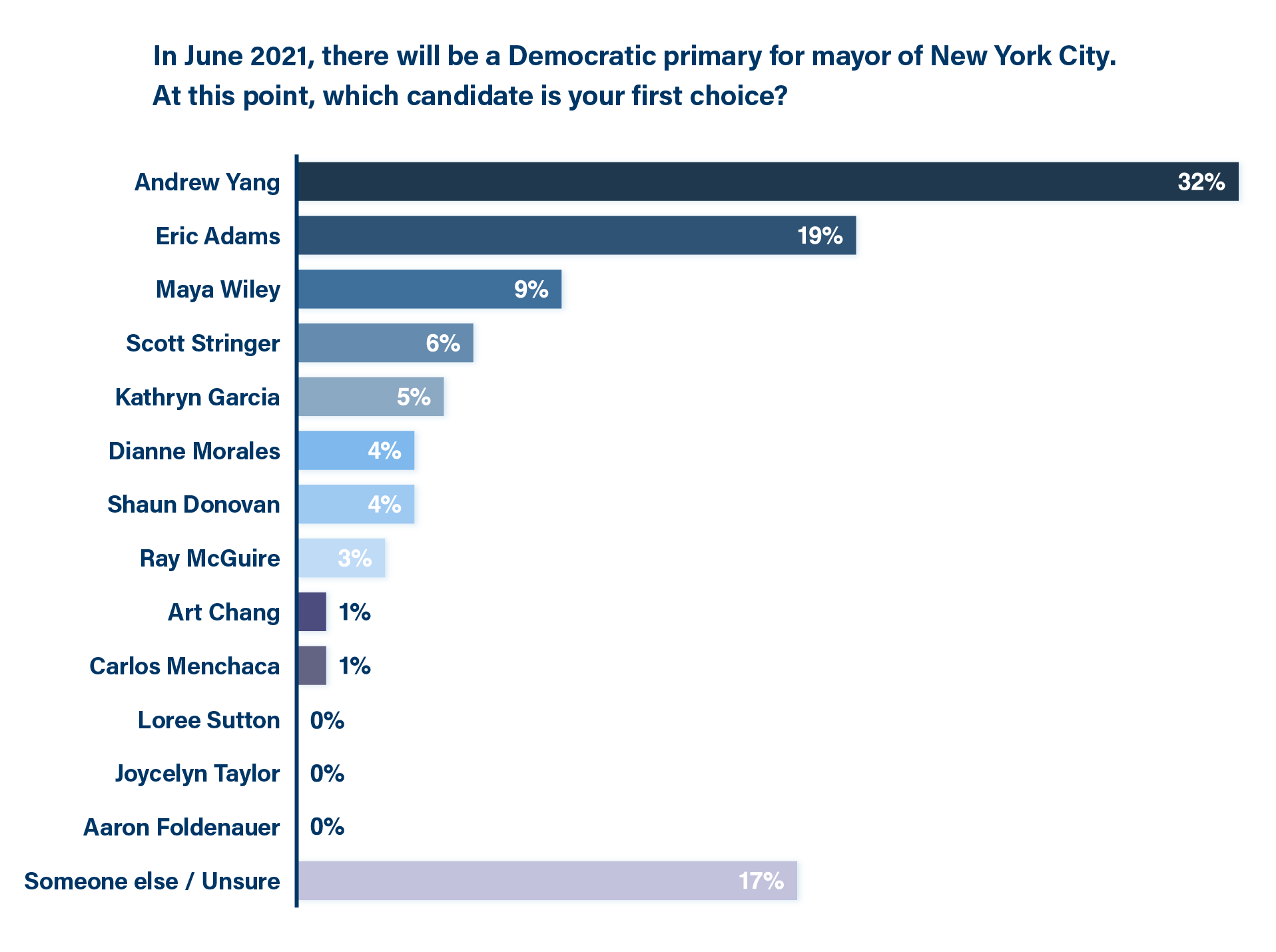 Staffing Up
Corey Johnson's comptroller campaign is starting anew, hiring Mayor Pete mythmaker Lis Smith, former Hoylman aide Avi Small as communications director, campaign manager Anthony Perez, pollster Anna Greenberg, ad man John Del Cecato – who's also working on Ray McGuire's mayoral campaign – adviser Teddy Goff and the consultants at Red Horse Strategies … Mathew Bergman, Johnson's longtime campaign treasurer who helped get Andrew Yang's mayoral campaign off the ground, is also back on Team Corey … Taeka Haraguchihas joined Scott Stringer's mayoral campaign as surrogate coordinator … and multi-hyphenate zoomer activistKatelin Pennerhas joined Dianne Morales' mayoral campaign as a researcher.
Got tips? Email JColtin@CityandStateNY.com or DM me @JCColtin
District Data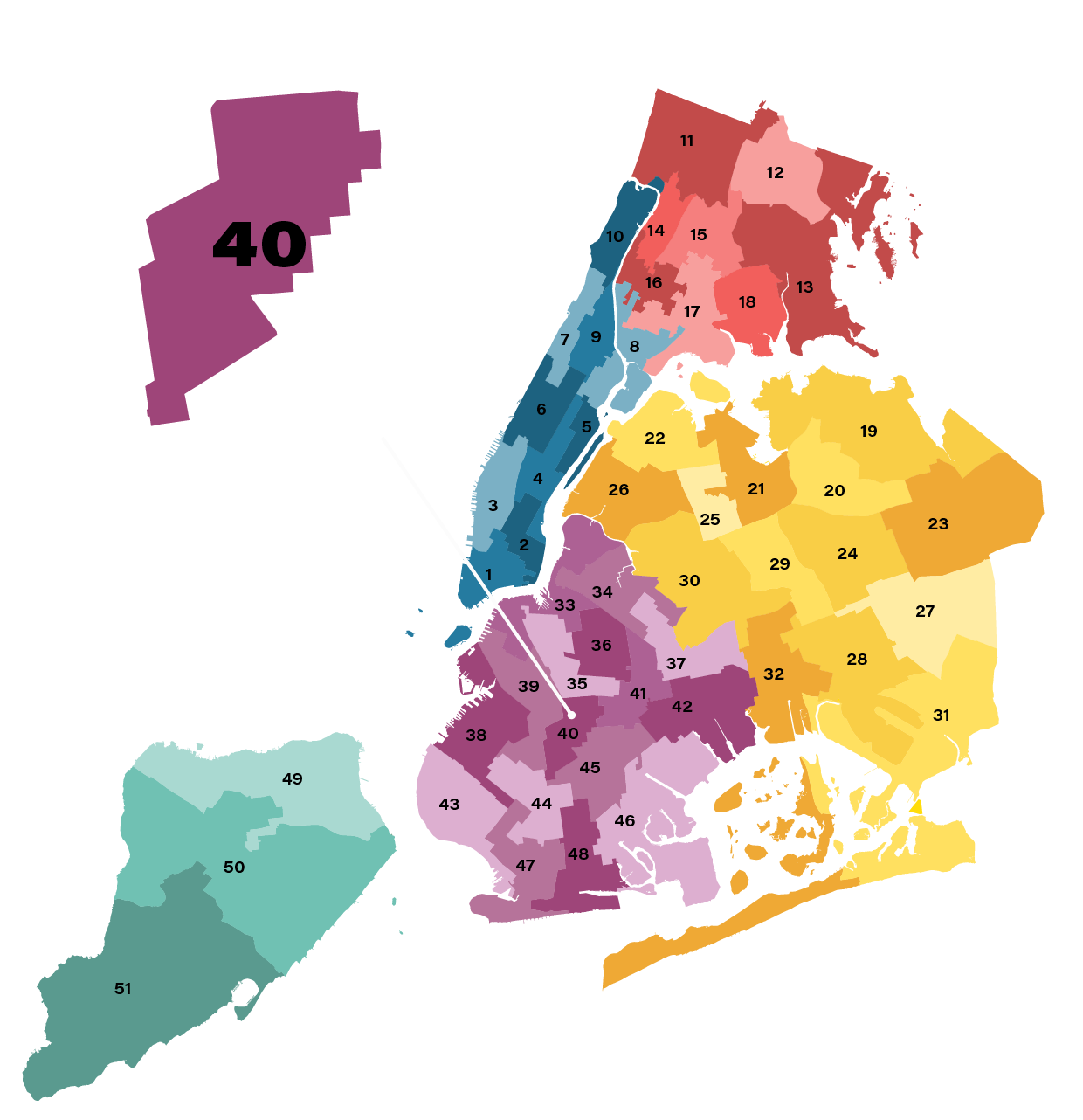 City Council District 40 in Central Brooklyn covering neighborhoods including Prospect Park South, Flatbush and Prospect Lefferts Gardens
Current council member: Mathieu Eugene, since 2007, who's term-limited at the end of this year.
2010 census demographics: 65% Black, 16.6% Hispanic, 10.3% white, 5.3% Asian
Housing: 85.4% renter-occupied, 14.6% owner-occupied
2013 primary election results: Eugene: 47.9%, Saundra Thomas: 37.5%, Sylvia Kinard: 10.5%, John Grant: 4.1%
2017 primary election results: Eugene: 40.8%, Brian-Christopher Cunningham: 30.1%, Pia Raymond: 22.5%, Jennifer Berkley: 6.4%
Who's running: Cecilia Cortez, Maxi Eugene, Kenya Handy-Hilliard, Harriet Hines, Rita Joseph, Kenneth Lee, Vivia Morgan, Blake Morris, Josue Pierre, Edwin Raymond and John Williams. It's a crowded and competitive field to succeed the city's longest-serving council member, with many candidates bringing in major money and endorsements. Edwin Raymond, an NYPD lieutenant who has publicly criticized the department, has raised the money most in the race, and has earned the support of New York City Public Advocate Jumaane Williams. Josue Pierre, an accountant, and Rita Joseph, a teacher, are right behind in fundraising, and Pierre has some union endorsements, including from the United Federation of Teachers. Kenya Handy-Hilliard, a government staffer, has District Council 37's support, and Blake Morris, the one white candidate in the race, is known in the district for challenging state Sen. Simcha Felder in 2018. Brian-Christopher Cunningham, who challenged Eugene in 2017, filed to run but has since dropped out. And Maxi Eugene is reportedly the council member's brother, but has raised little money and does not appear to have any information about his campaign online.
Twitter Posting
You're wearing a VOTE shirt and you won't sign my petition to put someone on the ballot?
You know VOTE isn't the only step here, right?