New York City
Dianne Morales refuses her staff union's demands
The Working Families Party appeared to pull its support for Morales in response to her campaign's labor unrest.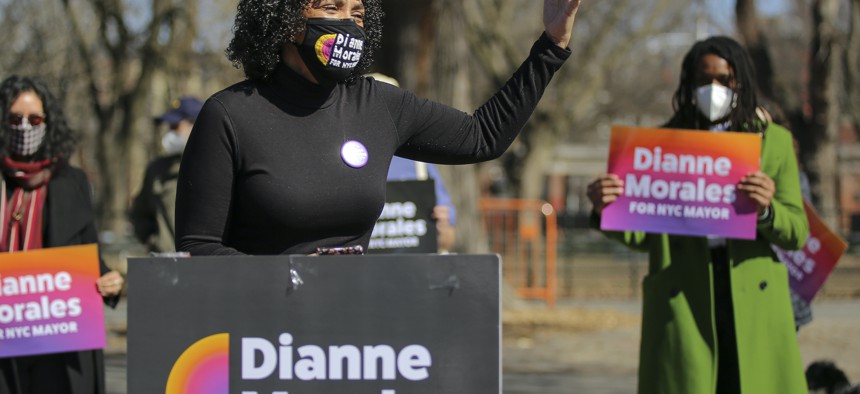 Dianne Morales, once a rising New York City mayoral candidate, refused her newly formed staff unions' demands on Friday, likely extending an impasse that has mired her campaign in internecine drama just weeks before the June 22 Democratic primary election. 
Highlighting the impact of the labor dispute, the Working Families Party, the influential progressive organization, told its supporters on Friday to rank Maya Wiley no. 1 in ranked-choice voting. The WFP had previously co-endorsed Morales and Wiley, but a spokesperson for the party told City & State that its support for Morales had been "suspended" while she is "at an impasse with her campaign workers and their union." 
A group of more than four dozen staffers calling themselves the Mayorales Union sent a letter to Morales on Thursday morning detailing specific demands, including a salary floor of $25 per hour and severance packages worth two weeks of pay for staffers who leave the campaign "voluntarily or involuntarily." As of the last filing deadline on May 17, Morales' campaign had nearly $3.8 million on hand. The letter also requested that Morales not spend her campaign funds on the "same old political tactics," but rather on events such as community grocery giveaways and multilingual teach-ins on ranked-choice voting. 
Thursday's letter came after a tumultuous 10 days in the Morales campaign that included the resignation of her campaign manager Whitney Hu, among other senior staffers, and the firing of four staffers, all of whom the union claims were terminated in retaliation for organizing the staff union. About 40 staffers and volunteers participated in a work stoppage after that, and even marched on Morales' campaign office in Midtown Manhattan on May 28 to protest the firings, poor working conditions and Morales' slow response to terminate two other former staffers who had been accused of creating a hostile work environment. 
In her response to the union, Morales said their demands "included things that either violate state and local laws, and/or create a risk of fiscal liability for the campaign." A former campaign treasurer with experience on New York City campaigns who asked to speak on background to discuss a sensitive topic, agreed with Morales' assessment, saying campaigns are not able to change existing employment contracts in the middle of a campaign. The former treasurer said Morales is right to be careful, since the candidate could be held personally liable for any fines the city might levy against her campaign.
Morales also accused some of the union organizers of "misconduct" that is "in violation of the National Labor Relations Act," though said she would not be pursuing legal action. Morales did not expand on the accusation, and her campaign did not immediately respond to a request for comment. A representative of the labor union also did not respond to a request for comment. 
Morales did attempt some conciliation, writing that she is "eager for anyone who wants to return to work to engage in the unionizing process" and is "willing to consider any of the demands that are legally possible." 
Morales, the former CEO of a social services nonprofit, has been running the most progressive campaign of the leading mayoral candidates, calling for the New York City Police Department to be defunded by $3 billion, among other policy proposals. But the recent labor dispute has seemed to halt her campaign's momentum and cost her supporters. Apart from the Working Families Party, groups including the New York Progressive Action Network and the Jim Owles Liberal Democratic Club have pulled their support for her campaign.