New York City
Richards, Crowley close in 'insane' race for Queens BP
Many expected incumbent Donovan Richards to cruise to victory, but a former adversary had other plans.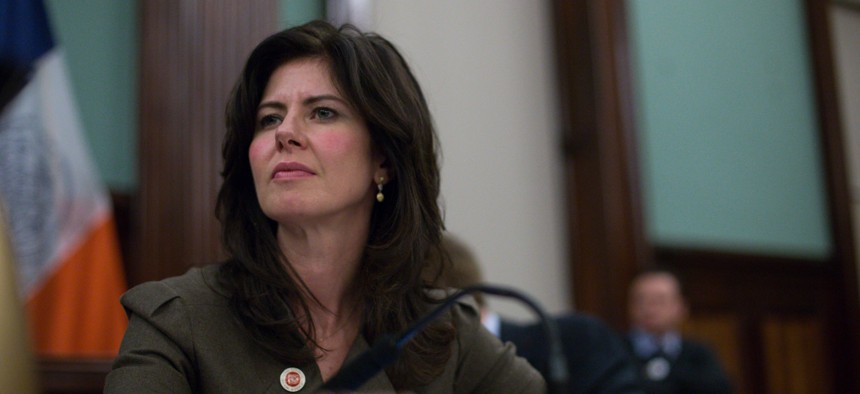 Former New York City Council Member Elizabeth Crowley has become better known for losing high-profile races than winning them, after losing a congressional race in 2012, her own reelection bid in 2017 and a special election for Queens borough president in 2020. But the cousin of former Rep. Joe Crowley seemed to be on the verge of an upset in the Democratic primary for Queens borough president Tuesday night, as unofficial returns showed her trailing incumbent Donovan Richards by just 1 percentage point.
Four of New York City's five borough presidents are term-limited out at the end of this year, leading to competitive open Democratic primaries in the Bronx, Manhattan, Brooklyn and Staten Island, which also featured several candidates on the Republican side. But Queens had already chosen a borough president last year, when Richards comfortably defeated Crowley in a special election to replace now-Queens District Attorney Melinda Katz, 35.8% to 28.8%. The third-place candidate, Council Member Costa Constantinides, finished with 18% of the vote. 
So many political observers were shocked when Tuesday night's results showed Crowley trailing by only 2,076 votes. A political consultant who works in Queens, but wasn't involved in the race and asked for anonymity so as to not speak for his clients, may have captured the sentiment best in a phone interview: "What the fuck happened there? That is insane! Insane! God bless Liz Crowley."
It's extremely rare for candidates who lose special elections to come back the next time and win. All five City Council members elected in special elections in the last six months have comfortable leads, if not outright victories based on first place votes in last night's Democratic primaries. And as New York City political savant Louis Cholden-Brown noted on Twitter, a Queens borough president hasn't lost reelection since 1957.
As Queens-based political consultant Sam Goldsmith put it, "I've been speaking with political insiders for weeks and months. And months ago, the thought was Donovan's a sure thing, and weeks ago the thought was Donovan's a sure thing. … The incumbent was always supposed to win this election, and Liz Crowley was never on anybody's mind."
Reached on Wednesday, Crowley campaign manager Graham Nolen said everything was going according to plan, after raising nearly twice as many campaign funds as Richards. "We raised by far the most money, we communicated the most. We ran a really big field operation," he said. "I wouldn't say it's a big surprise, but taking on an incumbent borough president is tough."
To be sure, an upset may not be in the cards for Crowley. In fact, Richards could end up winning by the same comfortable margin he won by 12 months ago. More than 24,000 Queens Democrats have already returned absentee ballots as of Monday, and those haven't been included in the New York City Board of Elections' preliminary results, which only count the first-ranked votes of people who cast ballots in person, either in early voting or on primary day. Since neither candidate earned 50% of the vote, the race will be decided by ranked-choice voting. The third and final candidate in the race, City Council Member Jimmy Van Bramer, sits with 18% of first-place voters. Once all the ballots are received, the voters who ranked Van Bramer will have their votes applied to whichever candidate they ranked second, if any. 
Unsurprisingly, both Richards and Crowley's camps think they'll have an advantage. "I have to imagine that Jimmy Van Bramer twos are mine," Richards told City & State. Van Bramer ran on the most progressive platform in the race, and Crowley the most conservative, with Richards somewhere in the middle. Crowley also ran ads criticizing Richards, including one that mentioned he and Van Bramer supported defunding the police, which Richards thought could have turned off more progressive voters, particularly in Van Bramer's home base of western Queens, against Crowley. 
But Nolen pointed out that Crowley outperformed Richards in the two western Queens Assembly districts where Van Bramer got the most votes. "Nobody really has any idea how these are going to break, but being in second place or first place in Jimmy's base positions us pretty well," he said. 
A Western Queens progressive source who asked for anonymity to discuss the as-yet-undecided contest guessed that "it's going to be razor close" between Richards and Crowley for Van Bramer's number twos. "A fair amount of (Van Bramer) supporters really dislike Liz. Those are the really progressive folks. But those tend to be the most actively engaged Democrats, the activists… But that's not everyone in Queens, as we've seen. There's a fair amount of people who don't have that feeling and did react to Liz's four pieces (of mail) against Donovan." The source also pointed out that Van Bramer solidly won the Queensbridge Houses and Ravenswood Houses, two New York City Housing Authority developments in his Council district. Voters there, many of whom are Black, would be much more likely to rank Richards, who is Black and hails from Southeast Queens, over Crowley who is white and represented central Queens neighborhoods such as Glendale on the Council. 
Crowley did attack the incumbent in mailers and TV for issues including accepting donations from real estate developers, but Richards, who's been in office for seven months, did not publicly push back and adopted a "Rose Garden strategy," seeming to focus more on his government role than his political campaign. 
Reached on Wednesday, Richards didn't seem worried about losing, and pointed to the lack of full results as evidence. Votes among Queens Democrats are starkly divided, with Van Bramer's base of support in western Queens near the waterfront, and Crowley winning most of the votes in a huge area stretching from southwestern Queens neighborhoods like Ridgewood to northeastern Queens neighborhoods like Douglaston. But Richards dominated the vote in his native Southeast Queens. While about 95% of the in-person vote has been counted on the Board of Elections website, that percentage is even lower in some of the areas that Richards performed the best in. Assembly District 31, where Donovan won 69% of the vote so far, has only reported 92% of its votes, and the ones yet to come will likely grow Richards' margin. "If it weren't for ranked choice voting, we pretty much would have declared victory last night," he said. "Listen, whether you win by one point or two, it's a win!"
Powered By
NEXT STORY: City Council poised to make strides in gender diversity