Have New York City's building trades unions turned the corner on race?
Have New York City's building trades unions turned the corner on race?
Have New York City's building trades unions turned the corner on race?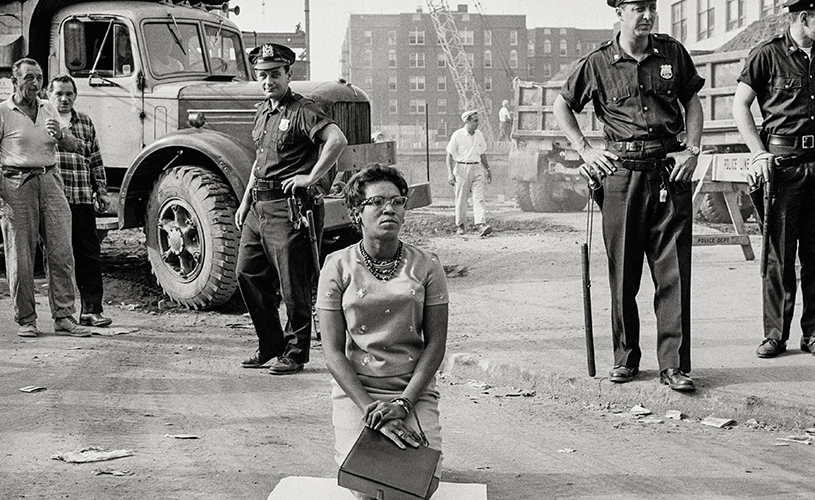 (Bob Adelman)
A well-dressed African-American woman, clenching her purse, kneels on a piece of cardboard in the path of a dump truck at the construction site of Brooklyn's Downstate Medical Center. Her act of civil disobedience, captured in a 1963 news photo that was recently republished, was in protest of the lack of African-American and Hispanic construction workers – a struggle that did not get the national attention of the Selma marches but was no less contentious.
At that time, 92 percent of New York City's union tradesmen were white, even though the white population had slipped to just 61 percent of the city's overall population. In 1964, after significant protest, the state Department of Labor mandated the end of closed apprenticeships, ordering that the unions openly advertise periods of recruitment and testing.
But the battle has raged on for decades. Despite massive protests, legislative initiatives and never-ending litigation, informal social networking kept the well-compensated construction trades all in the family between father and son, nephew and uncle.
Under the Dinkins administration, the city's Commission on Human Rights issued a 1993 report entitled "Building Barriers," which described as "a profound failure in social policy" the three-decade effort to diversify the building trades. The commission found that 19 percent of the city's building trade unions were people of color and only 1 percent were female. The authors of the report lamented that the city's failure was nationally broadcast: A month before the report was issued, "The Late Show" host David Letterman brought on stage all the workers who had participated in the remodeling of the Ed Sullivan Theater and the stage filled with "a virtually all white all male crew."
Even today, after decades of protests pushing for the integration of what were nearly all white unions, the debate continues to rage over how diverse that sector of organized labor really is.
Earlier this year, Brooklyn President Eric Adams argued that little had changed and that the city's construction unions do not reflect the racial diversity of the communities they work in. In a Crain's op-ed, Adams claimed that in his borough, "crews lack the rich diversity found in the communities around them," and that "few of the workers live in any of the boroughs, let alone in mine."
"For the under-employed residents who walk by the backhoes and cranes, the exclusion from these well-paying jobs is a daily source of frustration," Adams wrote. "While Brooklyn grows right in front of them, their path to the middle class seemingly shrinks."
For Gary LaBarbera, president of the Building and Construction Trades Council of Greater New York, which represents the city's construction unions, Adams' take on the industry is badly dated and bears no resemblance to the 21st century building trades union workforce.
"Many, many years ago, 20 years ago, there was no question that diversity was a challenge in the trade," LaBarbera told City & State. "Today it is a very different picture, and I will tell you frankly that the current membership is extremely diverse. Our estimates are that there is over 50 percent diversity within the trades currently, over 50 percent, which is a very good number."
LaBarbera credits a collaboration between the unions and the Building Trades Employers' Association of New York City on an apprenticeship program created more than 10 years ago that helps the unions and contractors tap into a broad cross-section of New York City high school seniors willing to commit to the trades. The Edward J. Malloy Initiative for Construction Skills, along with the city's Department of Education, offer eligible seniors the chance to enter into a three- to five-year training program that will lead directly to a well-paying apprenticeship.
"On the workforce side, the union members employed by BTEA contractors are highly diverse," said Lou Coletti, president and CEO of the BTEA. "Today, there are about 8,000 apprentices, with 65 percent being African-American, Latino and women, (and) 75 percent are NYC residents."
In 2014 Columbia University's School of International and Public Affairs conducted a comprehensive examination of the program and found an 80 percent retention rate and that almost 90 percent of the graduates were black, Hispanic or Asian. Between 2001 and 2013, the program had produced 1,443 graduates directly into union apprenticeships. The program was diverse in other ways, too. A third of the participants came from Brooklyn, 28 percent from the Bronx, 23 percent from Queens and 6 percent from Staten Island.
For what amounted to a $7,500 investment per student, the graduates of the program were projected to earn $1.6 million more over their work lifetime than a classmate who found work as a short-order cook. The collaboration between unions, contractors and the Department of Education was placing the program's graduates into industry positions that paid $67,110 per year, on average. The authors of the study, "Expanding Opportunity for Middle Class Jobs in New York City," called the program the "most successful construction industry pre-apprenticeship program in the country."
According to 2011 U.S. Census data cited in the Columbia study, 57 percent of both the union and non-union construction workforce in New York City is made up of minorities: 36 percent is Hispanic, 13 percent African-American, 7 percent Asian and 1 percent multi-racial.
"When my family first heard about this they were a little uneasy, because they didn't understand the opportunity I had," said 20-year-old Washington Mayancela, who is in his second year of an apprenticeship with Steamfitters Local 638. "They wanted me to go the conventional route to college."
The young Latino says he is the first in his family to go into construction. "In the third year I will be making $36 and change and every year it goes up, and I am learning a skill nobody can ever take from me," Mayancela said. "You are getting up at 5 a.m. in different weather conditions but you can't complain because the guys you are with have been doing it for 30 years."
As for any potential racial discrimination on the job, Mayancela said, "I came in so young, these guys take care of me and treat me like I was their son."
According to LaBarbera, it is not only high school students who see the building trades as a path to a solid middle-class living, but also college graduates. "We are starting to see more and more people who have started college educations, or completed a four-year degree and found it has been very difficult for them to find meaningful employment," La Barbera said. "When you go into an apprentice program, whether it is three or five years, the average cost is $50,000, (but) it is a $50,000 education" jointly funded by the union and employers.
Richard Weiss, a representative of the Mason Tenders District Council, says his union's apprenticeship program is also contributing to his union's diversity. The group's apprenticeship includes everything from site maintenance to building demolition, and puts an emphasis on worker safety during its trainings.
"Our apprenticeship program currently is comprised of 85 percent minority members," Weiss said. "Prior to our enrollment period, we advertise and post the openings on the DOL website. We also work with community-based groups to ensure that the apprenticeship opportunities are publicized in the communities."
Resolving the legacy of prejudice and racial exclusion is an ongoing challenge. Several minority members of Local 14 of the Union of Operating Engineers were recently in court over allegations that they are regularly passed over for work because of their race and gender. (A Local 14 representative did not immediately respond to an email seeking comment.) And just last year the federal Equal Employment Opportunity Commission announced a $12 million partial settlement over allegations of union discrimination against people of color by Local 28 of the Sheet Metal Workers International Association. The case had been opened in 1971.
Opening up the industry to women also remains a work in progress. Nationally, according to the Bureau of Labor Statistics, fewer than 1 in 10 of almost 10 million construction workers are female.
In New York City, LaBarbera said the construction unions are committed to making sure at least 10 percent of the apprenticeship slots go to women. "We work very closely with Non-Traditional Employment for Women, which is an organization that is a direct entry program, and since its inception they have placed almost 1,500 into the trades," LaBarbera said. "I find we have a lot of single mothers and getting a career in the trades gives them the opportunity to provide a middle-class life for their children as well as retirement security and health benefits."