If Trump unshackles Wall Street, will DFS chief Maria Vullo stand up to the big banks?
If Trump unshackles Wall Street, will DFS chief Maria Vullo stand up to the big banks?
If Trump unshackles Wall Street, will DFS chief Maria Vullo stand up to the big banks?
Photos by Guillaume Federighi
Last June, Maria Vullo was in Albany to be confirmed as superintendent of the state Department of Financial Services. She had taken over on an interim basis earlier in the year, and now she was being grilled by state senators about how aggressively she would regulate New York's financial and insurance industries. Kicking off the questions, state Sen. Diane Savino asked Vullo if she would take the same hard-charging approach as Ben Lawsky, the first DFS superintendent whose vacancy she would fill.
"Your predecessor is legendary. He started the agency. He's someone with a reputation as a crusader," Savino said. "You either loved him or hated him depending on where you were in the financial services sector. So I'm curious, how do you see your role as the head of DFS? Will you continue the crusader role that Ben Lawsky had – the new sheriff of Wall Street – or do you see a more pragmatic approach?"
That "sheriff of Wall Street" meme – a maverick New York lawman taking on the big banks as the feds sit on the sidelines – originated with Eliot Spitzer, the state attorney general from 1999 to 2006. At a time when market self-regulation was in vogue, Spitzer wielded New York's powerful state securities law to tackle white-collar crime and broke with tradition by taking on cases traditionally left to federal regulators.
Spitzer's successors, Andrew Cuomo and Eric Schneiderman, each won acclaim for taking on national targets as "the next sheriff of Wall Street." Schneiderman's tenure coincided with the rise of Lawsky, who was appointed to run the newly formed DFS in 2011 after Cuomo became governor. Lawsky raked in more than $6 billion in bank settlements and outflanked President Barack Obama's administration by targeting individual bankers and executives. In a stunning move that enraged the industry, Lawsky threatened to revoke the New York bank license of the British bank Standard Chartered for dealings in Iran and won a $340 million settlement. The "sheriff" moniker has proven so durable that it has been applied in other locales: U.S. Attorney Preet Bharara is the sheriff of Albany, while Schneiderman's legal challenges against President Donald Trump have some playing him up as the sheriff of Pennsylvania Avenue.
But Vullo was having none of this sheriff talk.
"I don't wear boots," Vullo told Savino. "So on the sheriff side, I am me. I've been asked this question a number of times: Who are you going to be? I'm going to be Maria Vullo."
"Whoever is in Washington, my job is to protect our markets in New York, to protect our consumers in New York."
Vullo told lawmakers that while she wouldn't pin herself down with a label, she would strike a balance between New York's vital role as the financial capital of the world and ensuring the industry serves "the needs of all New Yorkers across the state."
But now, as Vullo enters her second year leading DFS, that balancing act could get a whole lot harder. Trump, who stocked his Cabinet with Goldman Sachs alums and Wall Street power brokers, has called the landmark Dodd-Frank legislation "a disaster." Last month, he signed an executive order to dramatically scale back the 2010 financial regulation law, which was aimed at preventing another financial crisis. Assuming Trump's administration moves forward with its plans to usher in a new era of banking deregulation, will Vullo be ready to fill the regulatory void?
"Look, this is not about any particular individual, or it's not about any particular administration," Vullo told City & State, taking pains not to even mention Trump by name. "The regulation of the federal government impacts what we do in several respects in New York, but whoever is in Washington, my job is to protect our markets in New York, to protect our consumers in New York, to make sure that the banks and the insurance companies that I regulate are making good on the promises that they are making to New Yorkers, making sure that there aren't predatory actors taking advantage of New Yorkers."
Vullo's diplomatic take on the potential threat posed by Trump reflects a no-nonsense attitude that has helped her rise to become a top regulator on Wall Street. She grew up in Brooklyn, the youngest of five children in a working-class family of Italian immigrants. Her father, a World War II veteran, worked in a factory. Her mother, a homemaker, made her give speeches in the kitchen. At age 15 she decided she wanted to go into law, and she worked her way through college and law school.
Her first job was at Paul, Weiss, a white-shoe law firm where she spent most of her career, apart from an 11-month stint working on consumer protection and other issues as executive deputy attorney general for economic justice under then-Attorney General Cuomo.
While at the firm she took on major pro bono cases, including one defending abortion providers who were under threat and another on behalf of Muslim and Croat women raped by Serbian soldiers during the 1992-95 Bosnian War. "We got them a verdict," Vullo recalled, "and more importantly we established the legal principle that rape is a form of genocide, because the purpose of the rapes was to try to actually create a different race."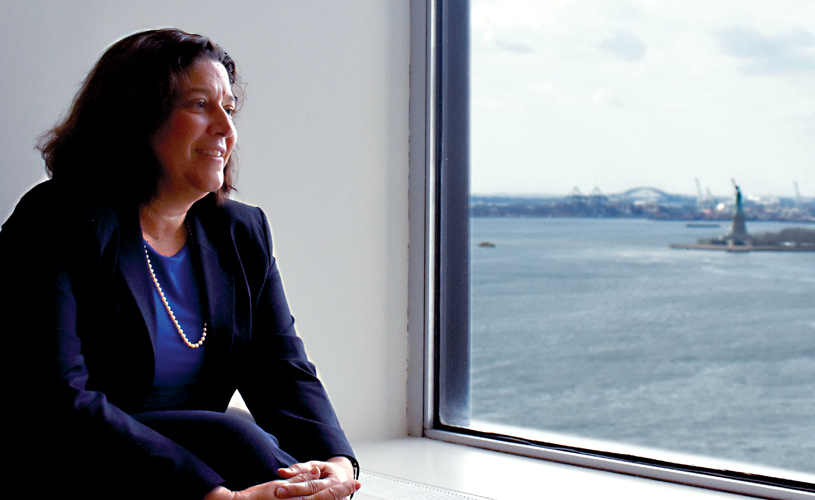 A year into her job as DFS superintendent, Vullo seems content with her low profile, even though she's had major achievements. She has continued to hold banks accountable for money laundering schemes, garnering a $425 million settlement with Deutsche Bank, $235 million from Italian banking group Intesa Sanpaolo and $215 million from Agricultural Bank of China – albeit with less fanfare than Lawsky.
In January, as millions of women marched in Washington, D.C., New York City and around the world in protest of Trump, who has pledged to install U.S. Supreme Court justices who would overturn Roe v. Wade, Vullo's agency announced new steps to require insurers to cover abortions and contraceptives without charging any fees. But, she has largely been overshadowed by Schneiderman, who is again garnering national headlines as he challenges Trump's policies on immigration and the environment.
Apart from a few distractions – a dispute between Cuomo and Schneiderman over new regulatory powers for DFS and fallout from the collapse of Health Republic Insurance of New York – Vullo has quietly gone about her work setting insurance rates, writing new cybersecurity rules and rolling out anti-terrorism regulations.
It's a notable shift from the tenure of Lawsky, a veteran prosecutor who built on his experience as an assistant U.S. attorney in New York's Southern District and in the attorney general's office under Cuomo. Despite his long-standing ties to the governor, Lawsky developed a reputation for being unpredictable. Then, when Lawsky left for the private sector, acting Superintendent Anthony Albanese clashed with the Cuomo administration over the agency's independence. In finding a permanent replacement, the administration wanted someone who wouldn't be a wild card.
"The governor runs a very tight ship. No agency runs completely independently of the governor," one Albany insider explained. "Ben Lawsky is one of the few guys who did, and the governor trusted him for a long time, but then at one point it got to be a little too much. So I think she's playing more along with the operation. But she's impressive. … She hasn't been out there long, but she's a good combination of being smart, looking to get things done and not being a complete free agent where she's just a wild card on her own."
Vullo has also avoided a common complaint that dogged the so-called "sheriffs of Wall Street": that their aggressive regulatory tactics were driven by politics. Indeed, Spitzer and Cuomo used the attorney general's office as a stepping stone to the governorship, and Schneiderman could one day do the same. While Lawsky entered the private sector, there was speculation that he might run for elected office too. Vullo has been a candidate for a top judgeship, and could one day land on the state Court of Appeals, but there's no sign that she's building up a record to campaign on.
Some industry leaders regulated by Vullo have welcomed what they describe as her tough but fair approach to DFS. "I have an open mind, I listen, and I believe strongly in a fair process," Vullo said. "It doesn't mean that at the end of the process I'm going to agree with whoever is making an argument, but I will listen ... and can be influenced by facts and reason."
Those who know her say she's proven to be independent enough to fight back if deregulation poses a threat to New Yorkers.
"She is well-positioned to fill what I sense will be a coming void in oversight," said Sean Coffey, a partner at Kramer Levin, who has known Vullo for decades and was reportedly considered to fill the DFS opening as well. "It's a given that she's whip-smart and works hard, but she really does have the public interest in mind."
And she's well aware of the powers at her disposal, should she choose to deploy them. "Look, I'm a state regulator. I happen to be a state regulator in New York, which is the financial capital of the world, not just the nation," Vullo told City & State. "And so because of that, the scope of the businesses that I regulate – banks, insurance companies and other financial services companies – their business, not all of them, but many of them, expand beyond New York. So to that extent, this agency, irrespective of the landscape in Washington, is a necessary, important regulator because we're the financial capital of the world – and I regulate the financial services industry."