Health Care
Senate health care proposal would harm New Yorkers with disabilities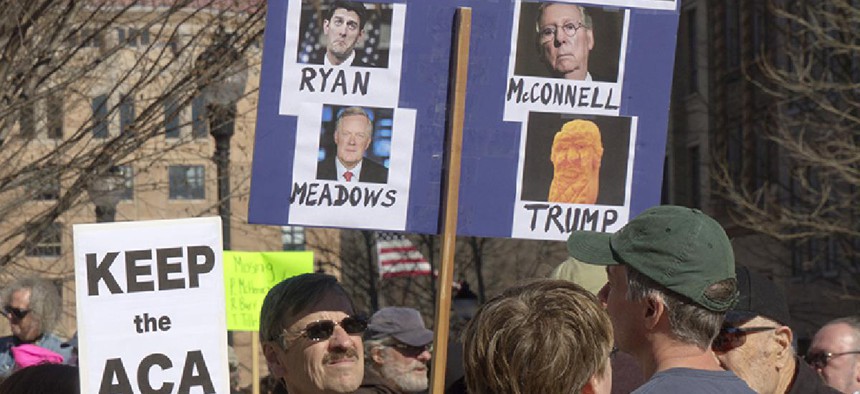 This story originally ran on New York Nonprofit Media.
For people with disabilities, Medicaid is woven into almost all aspects of their lives. Medicaid provides essential health care and a wide array of supports and services to people with disabilities. It is the only form of health insurance that provides home care, which allows people with significant disabilities and seniors to live at home with the care they require. And when our parents go into nursing homes, Medicaid pays for that too.
The Affordable Care Act, also known as Obamacare, has vastly increased access to Medicaid, and the essential services it provides. It also includes many important protections for people with disabilities: It ensured people are not discriminated against for having a pre-existing condition; it eliminated annual and lifetime caps, which left many people with disabilities or serious illness without care when they needed it most; and it ensured states provide essential services, including substance abuse treatments, mental health care and home care. All of this is in jeopardy if Congress repeals the ACA.
RELATED: Could single-payer health care work in New York?
Under the Senate's proposed health care bill - the Better Care Reconciliation Act - which seems to have collapsed for now,  federal reimbursements to the states would move to per capita caps. This means states would only receive set reimbursement rates, and if states need to spend more than they're allotted, they'll have to pay for it. If BCRA were to be rewritten and pass, New York would have to pay $39.4 billion between 2020 and 2026 in order to maintain its Medicaid expansion coverage, according to state calculations. If the state is unable to make up this massive cut, the impact will be devastating.
Between the proposed health care bills and President Donald Trump's proposed budget – which includes massive cuts to Social Security Disability Insurance, Section 8 housing vouchers and food stamps – the federal government is attacking the lives and liberty of people with disabilities and their family members. The social safety net we have come to rely on is about to get holes so large that millions of us are going to fall through them. What will it mean for the more than 6 million New Yorkers who rely on Medicaid if they can't get the health care and services they require to live?
Though it's not been widely reported, New York is in the process of implementing the Community First Choice Option, which is an optional state plan amendment made possible by the ACA. It is a Medicaid program that incentivizes the provision of long-term services and supports in the community, as opposed to nursing facilities, institutions, intermediate care facilities and large group homes. The plan has the potential to fundamentally reform the state's long-term services and supports to more effectively serve people.
RELATED: What's next for the Faso-Collins amendment?
The Community First Choice Option made it into the ACA thanks in large part to strong grass-roots disability advocacy efforts led by the grass-roots disability activist group Adapt and the nation's network of independent living centers – community-based nonprofit organizations run by and for people with disabilities. As consumers of long-term supports and services, they are the experts in how states can improve their Medicaid systems to better serve people. However, the state plan and all of the services are in jeopardy if the ACA is repealed.
This is why people with disabilities across the country from Adapt and the independent living centers community have been protesting this bill: They know their lives are literally in jeopardy. The Senate's proposed health care bill would cause many people with disabilities to either spend the rest of their lives in institutions, or worse.
We must all do everything we can to ensure that the ACA is maintained and Medicaid is protected. We cannot afford to lose access to these services. Our lives are at stake.
Meghan Parker is the director of advocacy at the New York Association on Independent Living, which is a statewide, nonprofit membership association created by and composed of independent living centers.