New York City
Jared Kushner lied to NYC because he could get away with it
The Kushner Cos. filing of false paperwork on rent-regulated units and efforts to expel tenants is a failure of not just the companys integrity, but of state and local law. With the incentive structure of state rent regulations and a two-tiered legal system in which corporations get a slap on the wrist for ripping off the public while the poor go to jail for drug possession, actions like Kushner's are inevitable.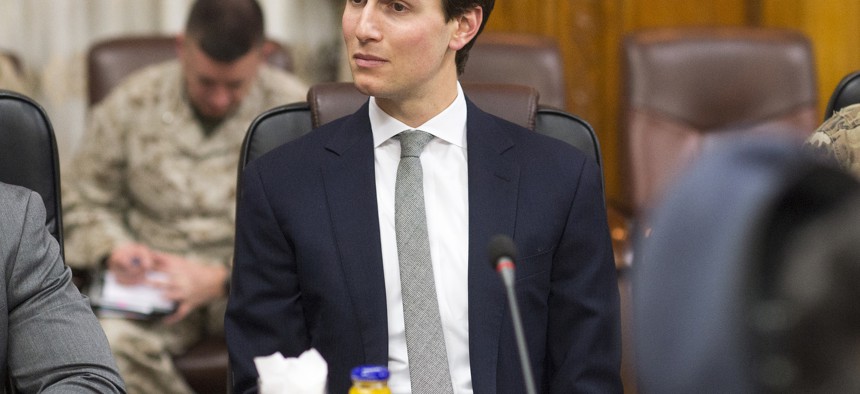 The Associated Press' scoop that Jared Kushner's company filed false paperwork with New York City claiming it had no rent-regulated tenants in buildings that actually had hundreds triggered the outrage one might expect in a liberal and rent-burdened city. Kushner Cos., the family firm of President Donald Trump's son-in-law and close advisor, avoided the scrutiny that the Department of Buildings applies to landlords who perform construction in and around rent-stabilized or rent-controlled apartments. (That scrutiny is needed because renovations are often merely a pretext to make rent-regulated tenants so miserable that they leave and can be replaced by others who will pay more.) Kushner profited handsomely from his chicanery, the AP reports: Kushner Cos. pushed out all but 25 of the 94 rent-regulated tenants in three buildings in Astoria, Queens, for instance, and then sold the buildings for $60 million, nearly 50 percent more than it had paid two years earlier.
This may be shocking, but it is not surprising. Kushner Cos. already has an established pattern of using construction harassment against rent-regulated tenants and the practice is so widespread that the New York City Council passed a package of laws last year to prevent it.
What is remarkable, though, is how the company is certain to escape appropriate punishment. "Submitting false documents to the city's Department of Buildings for construction permits is a misdemeanor, which can carry fines of up to $25,000," the AP notes. "But real estate experts say it is often flouted with little to no consequences. Landlords who do so get off with no more than a demand from the city, sometimes a year or more later, to file an 'amended' form with the correct numbers."
Thus, this episode is a failure of not just Kushner Cos.' integrity, but of state and local law. With the incentive structure of state rent regulations and a two-tiered legal system in which corporations get a slap on the wrist for ripping off the public while the poor go to jail for drug possession, actions like Kushner's are inevitable.
Hard as it may be to imagine, let's suppose that Jared Kushner doesn't care about behaving honestly, ethically or legally just for its own sake. In that case, what he will do is determined by costs and benefits. The economic benefit of removing rent-regulated tenants in expensive neighborhoods is often high. If Kushner can replace someone paying $1,600 per month with a market-rate tenant paying $3,600, that's $24,000 more income per year in perpetuity. And that upside will only grow if market-rate rents continue to rise faster than inflation.
So those are the benefits, multiplied for each building by the number of rent-stabilized apartments successfully deregulated.
And what are the costs? A maximum of $25,000 per false filing, plus legal fees. One year's profit for one apartment is a very low cost compared to the long-term profits from ousting 69 rent-regulated tenants in those three Astoria buildings alone.
Some progressive politicians are hoping to punish Kushner more broadly: state Sen. Michael Gianaris, who represents Astoria, sent DOB a letter calling on it "to issue an immediate stop work order on all Kushner Companies properties until an investigation into their business practices is concluded."
Kushner makes for a politically appealing and substantively deserving target, so there is nothing necessarily wrong with Gianaris' idea.
But most landlords aren't presidential in-laws and they won't necessarily face extra-judicial retribution in each lower-profile case. Many will continue replicating Kushner's behavior until it costs them more than it's worth.
So what's needed is a systemic solution that increases the costs and decreases the benefits.
City Council members are looking into the costs side of the equation, but so far only tepidly. Ritchie Torres and Carlina Rivera wrote in the Daily News on Thursday that the departments of Finance and Buildings should communicate directly, so that the city is not dependent on the integrity of landlords to know whether rent-stabilized tenants are present in a building applying for construction permits. That makes sense, but it only would increase the chance of landlords getting caught cheating. If the fine remains merely one year's profit for one of potentially many apartments successfully deregulated, that won't stop landlords from cheating.
Torres and Rivera also call for "finally establishing the Council-mandated Office of the Tenant Advocate, which it was obligated to do months ago," and note, "we could also consider increased fines." Kushner is no doubt quaking in his Gucci loafers at the prospect of a tenant advocate taking residence in City Hall, but it is only much larger fines – so large that they wipe out the profits made from getting rid of rent-regulated tenants – or other serious penalties, that would actually alter developers' behavior.
If the average increase in rent for an apartment that gets deregulated is in the range of $24,000 per year, then the fine should be large enough to wipe out that profit for a decade or two. It should also be pegged to the number of rent-stabilized apartments affected, so as to keep pace with the landlord's potential benefits.
On the benefits side, the state must reform rent-stabilization laws.
The current system rewards landlords for turnover, allowing rents to go up 20 percent between tenants, which more quickly gets them to the $2,733 monthly rent at which, for no apparent reason, an apartment gets deregulated altogether. Building owners are allowed to raise rents after performing renovations, giving them further incentive to disrupt tenants' lives with construction and get closer to that decontrolling threshold.
These rules create such a big reward for landlords to expel rent-regulated tenants that landlords will always find a new way of doing so.
If Albany eliminated or reduced the vacancy bonus and got rid of the decontrol threshold, however, that would drastically reduce the landlords' incentive to push tenants out.
One might think New Yorkers, having long experienced the local real estate industry's notorious dishonesty and greed, would know better than to make it profitable for landlords to break the law and then be surprised when they do so.
Powered By
NEXT STORY: MTA's value capture proposal needs to pass