New York City
An unheralded hero dies of 9/11-related illness
Conan Freud - who passed away from 9/11-related illness - devoted his life to the city he loved.
In seventh grade at the McBurney School on Manhattan's Upper West Side, most of my classmates yawned and scribbled in their notebooks during Mr. Barnes' New York City history class – except for wide-eyed intellectual Conan Freud, whose precocious knowledge of arcane city history impressed me even then.
When we were asked in that class in 1975 to write a manifesto for the secession of Staten Island from the other four boroughs, I recall that Conan's presentation stood out and made a compelling financial case for the forgotten borough.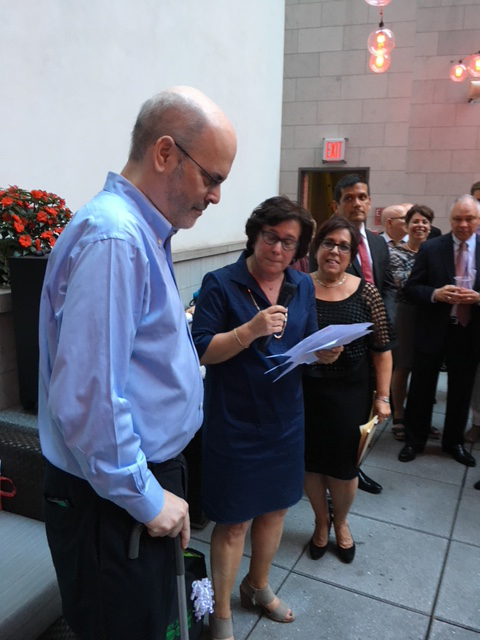 Even then, Conan understood that to really analyze a municipality, you had to roll up your sleeves and study its complicated finances. Following the money was key to following its destiny.
Conan went on to use this instinct, intellect and work ethic on behalf of New York City through a distinguished 30-year career in public service. He spent time in a budgeting capacity at the city's Office of Management and Budget, Department of Transportation and Taxi and Limousine Commission. In the most poignant example of his selflessness and love of his city, Conan volunteered for weeks on the pile at the site of the World Trade Center after the attacks of Sept. 11, 2001. That led to his tragically early death at the age of 56 on Thursday, June 28, from a brain tumor, which he may have contracted from exposure to the asbestos and hazardous debris at ground zero.
There are countless Conan Freuds among the police officers, firefighters, emergency medical technicians and other first responders who worked at ground zero after 9/11: quiet and unassuming heroes whose valor goes largely unnoticed until the deaths caused by their service.
At an overflowing memorial service at Plaza Jewish Community Chapel on the Upper West Side on June 29, city luminaries paid tribute to Conan including: MTA Chairman Joe Lhota, Manhattan Borough President Gale Brewer, Assemblywoman Linda Rosenthal, New York City Councilwoman Helen Rosenthal, former TLC Chairman David Yassky and many others.
In his obit notice in The New York Times, Conan was described as the "consummate bureaucrat." At his memorial service, Yassky, his former boss at the TLC, noted that this was an apt description of Conan. "A consummate bureaucrat may not sound romantic, but for Conan it really was," Yassky said. "He did the work that makes our city run."
New York City depends on an army of Conan Freuds. Their work is invisible but essential to the average New Yorker; their salaries are lower than they could make in the private sector, but they find greater reward in making their city the greatest it can be.
Conan adopted his green eyeshade early: At Stuyvesant High School, he became the student government treasurer – not the sexiest perch for a teenager, but an extremely vital and important cog in the wheels of student government. Even among the 3,000 eggheads at the famously selective and rigorous school, Conan carved out a distinct niche for himself.
I was at Stuyvesant with Conan, and he was the guy I went to when I felt the student newspaper I edited wasn't getting its fair share of funding. Conan was a whiz with budgets and he worked his magic even then. He carefully looked over the student government ledger to find a pocketful of loose change and creatively moved it to satisfy his ink-stained friend's request.
Unlike many of his fellow Stuy grads, Conan wasn't looking for fame or fortune in law or medicine or string theory physics. He always aspired to work in city government. His parents were civically active West Siders and he learned the importance and rewards of community involvement at the dinner table.
In fact, his feisty mother, Olive, was one of the biggest thorns in the side of a greedy developer named Donald Trump. Her activism in opposing his West Side development – then called Trump City, now known as Riverside South – was one of the reasons it took Trump decades to get approval for even a scaled-back version of his original project.
Just as he assumed his parents' mantle of serving his community and the city at large, I hope that the city continues to produce more Conan Freuds to carry on his work. We certainly will need them.