New York City
Eric Adams has faced less scrutiny than he deserves
Brooklyn Borough President Eric Adams has faced less scrutiny than he deserves.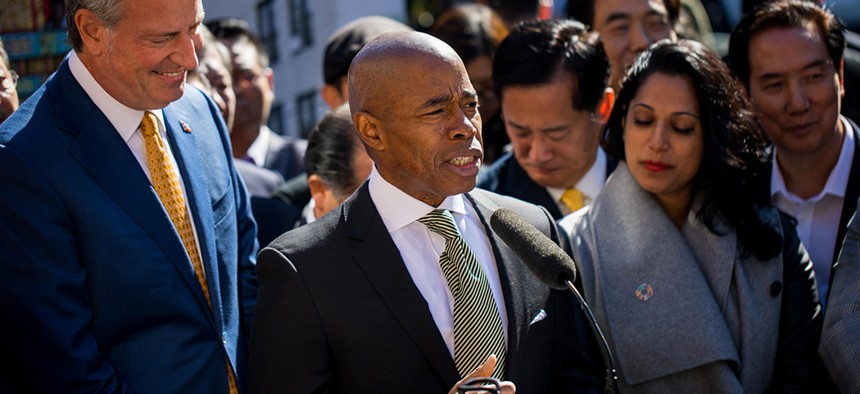 In a recent City & State profile, second-term Brooklyn Borough President Eric Adams declared, regarding his One Brooklyn Fund nonprofit, "I don't think there's been an elected official that has been more scrutinized than I have."
That's nonsense. Adams openly contemplates running for mayor or public advocate in 2021, but – thanks to smart political maneuvering, savvy strategy with the press and a diminishing number of media watchdogs – he has faced remarkably little scrutiny. However, a closer look at the sometimes slippery politician suggests that he may be willing to reverse course or sacrifice principles to politics.
Adams has kept his shiny reputation, in part, because his early money and crossover appeal scared off competition in 2013: In his two borough president campaigns, Adams was unopposed in the Democratic primaries, facing zero campaign debates. That's allowed him to stockpile campaign contributions for future races, making him a formidable potential citywide candidate.
Meanwhile, Adams has built his brand as borough president in Brooklyn via personal and media ubiquity, refining the strategy developed by his predecessor, Marty Markowitz. Adams' inspiring midlife decision to reverse his diabetes through diet and exercise has prompted much positive coverage. Even deciding to be interviewed while biking drew kudos on social media from alternative transportation advocates.
His press releases make Adams sound sage, responsive and responsible. Such promotional statements, often barely modified, regularly appear in online Brooklyn publications. The president of New York City's most populous borough is one of the the highest-ranking elected officials in the city to merit no steady journalistic oversight.
But observation of Adams makes one wonder, in a more powerful position, how would he navigate potential tensions between the public interest and his political interest?
As a state senator in January 2012, Adams, who was gearing up for his next campaign, called a press conference to express outrage at the missing promised jobs in the Atlantic Yards megadevelopment. One reporter, incredulously observing that Adams had avoided the contentious Atlantic Yards debate, asked, "So for five years, where were y'all?" Elected officials, Adams replied, "use different methodologies."
Since then, however, Adams has loyally backed the developers of Atlantic Yards (since renamed Pacific Park Brooklyn) and the operators of the associated Barclays Center.
For example, he ritually praised the "100 percent affordable" 535 Carlton Ave. residential tower as "a victory for Brooklyn," disregarding that half of the units are aimed at households earning six figures.
Three years ago, Adams modeled a new Brooklynized jersey for the New York Islanders, tweeting, "I can't wait for the @NYIslanders to arrive in #Brooklyn." In December, however, he coldly bid the team good riddance: After the announcement of a new hockey arena planned for Belmont Park in Nassau County, he tweeted, "There's only one #Brooklyn team for @BarclaysCenter and that's the @BrooklynNets. We wish the @NYIslanders well on their journey to Belmont and they should consider Nassau Coliseum in the interim period."
Why would a borough's booster suddenly decide he didn't want to keep a team playing locally? Perhaps Adams was carrying water for BSE Global, which is the company owned by Russian oligarch Mikhail Prokhorov that operates both Barclays and the Coliseum and seeks to fill dates at the latter. Adams' loyalty seems not to have gone unnoticed: two top BSE executives each gave $5,100 – the legal maximum – to Adams' campaign coffers in July.
The black borough president, in a New York Times article previewing 2021 mayoral strategies, was quoted as saying he would "out-white" New York City Comptroller Scott Stringer to woo voters. Though Adams called it a joke, the former New York City Police Department captain has been known to invoke his law enforcement career to appeal to more conservative white voters. In fact, he was a registered Republican from 1995 to 2002, which he explains by citing his work as a cop and his commitment to combating crime.
But Adams can use race in other ways when it suits his strategic needs. At a November public meeting in Prospect Heights, Adams was asked about Woodland, a restaurant and bar on Flatbush Avenue that had been the subject of numerous complaints regarding noise and at least two arrests involving customers fighting. Woodland later faced a state Liquor Authority penalty.
Adams responded not by supporting neighbors' concerns, but by blaming them for complaining about a venue with a largely black clientele. "I'm not going to be closing people down," he said, "because folks are saying, 'I don't like the way customers look.'"
"Vomit doesn't have a racial tint," one resident responded. (That heavy drinking occurs at the bar is a fact: Woodland advertises its "bottomless mimosas" at brunch and an enthusiastic Woodland Yelp reviewer cited a "heavy pour" liquor policy.)
Could it be that Adams felt an alliance with a business (owned and managed by white men, for what it's worth) where he'd twice held fundraisers? Maybe the most important color to Adams in this case is green.
You'd think Adams, who described himself in the City & State profile as "extremely conservative" on crime, would avoid a business managed by two men who pleaded guilty in a money laundering scheme, but in July he held a third fundraiser at Woodland. Three months earlier, he received $2,500 in campaign contributions from a New Jersey resident who works as a "manager" for Akiva Ofshtein, who holds Woodland's liquor license.
Similarly, you might expect Adams to steer clear of Bishop Lamor Whitehead (referenced in court documents as Lamar Whitehead), who was convicted of identity theft and attempted grand larceny in 2008, but since his 2013 release from prison he's become a religious figure with connections to the hip-hop world. Instead, Adams has joined Whitehead at numerous public events, telling the New York Post that "because people embraced me when I was arrested, I embrace Lamor Whitehead."
But Adams was arrested at 15 after a neighborhood break-in, not imprisoned as an adult; meanwhile Whitehead's bogus claim that the Kings County district attorney was cooperating with his organization prompted the DA to send a cease-and-desist letter in 2014. Whitehead has already filed to run for Brooklyn borough president.
Adams also can seem hard to pin down on gentrification and development. At a real estate panel in 2015, as reported by The Real Deal, Adams slammed "unscrupulous" developers who'd turned Brooklyn into a "cesspool of anger."
Yet the Brooklyn Anti-gentrification Network charged that Adams had "consistently chosen instead to serve as a cheerleader" for gentrification.
Adams has received lots of campaign donations from real estate interests – see this list of his maximum contributions and note that some, like artist Jane Walentas, have real estate ties (she's married to David Walentas of Two Trees Management).
A more sympathetic posture toward such interests was reflected in Adams' comments in a February speech when the Brooklyn Historical Society, upon the opening of a new exhibit, invited the three living Brooklyn borough presidents to speak. "Brooklyn is going to evolve and change," Adams said. "'Gentrification' has been a term that has been used to demonize the evolution of a particular borough."
Adams did articulate the need to keep residents from being driven out of their communities by rising rents, noting: "What we must do is make sure that we do not forcefully move out people, but allow the natural transitions of the community. They're not going to stay the same."
Getting the balance right, of course, isn't easy, but Adams has been crafty, since "evolution" often means "ad hoc policy." Facing a giant two-tower plan for a project known as 80 Flatbush, backed by New York City Mayor Bill de Blasio, Adams in a press release recommended a dramatic cut, from 986 feet to 600 feet – the height of the tallest nearby building – in the taller tower, which earned him headlines. But in reality, as I found by crunching the numbers in Adams' difficult-to-decipher full submission to the city Planning Commission, he recommended only a 12 percent cut in the overall bulk of the project, which aims to nearly triple the allowable bulk on the site.
Also, consider Adams' about-face regarding the Specialized High School Admissions Test, or SHSAT. In June 2017, Adams and Bronx Borough President Rubén Díaz Jr. announced that their task force on gifted and talented education recommended that "a single test not be the only source of admission" to the city's coveted high schools because it had resulted in very low percentages of blacks and Latinos at the schools.
In June, Adams similarly backed de Blasio's push for changes, saying, "We must replace the admissions model that has SHSAT scores as its sole admissions criterion."
Two weeks later, though, the New York Post reported that Adams had changed his position "after Chinese-American donors pulled out of upcoming fundraisers." Though Adams denied that, writing in a New York Amsterdam News op-ed that "the voices of concerned parents and educators … have moved me, not financial considerations as baseless tabloid rumors suggested." His reversal smacked of politics, not principle.
This is hardly a full account of Adams' tenure in Brooklyn Borough Hall, which has included more focus on social justice and serious policy issues than his predecessor. And he has continued to attend to the core responsibility of being a public cheerleader for the borough and a constituent service provider.
But there's ample opportunity to look more closely. For example, Gotham Gazette reported on Aug. 14 that Adams had directed $1 million in participatory budgeting funds to his ally, state Sen. Jesse Hamilton, who is facing a tough primary challenge based on his previous ties to the now-defunct Independent Democratic Conference. New York City Councilman Brad Lander, who is supporting Hamilton's opponent Zellnor Myrie, called it "a cynical abuse of participatory budgeting." (Adams, by the way, has faced relatively little criticism for such IDC ties.)
Adams has some interesting, if less than fully fleshed out ideas – like a new Mitchell-Lama program to expand affordable housing – for his future citywide campaigns. But we should remember that, beyond the easy headlines and the bully pulpit, there's a skilled and too infrequently challenged politician curating his image.
Powered By
NEXT STORY: Was Rudy Giuliani ever a good lawyer?