Rikers Island
Kids can't survive the NYC Department of Correction
Correction officers should not follow youth off of Rikers Island.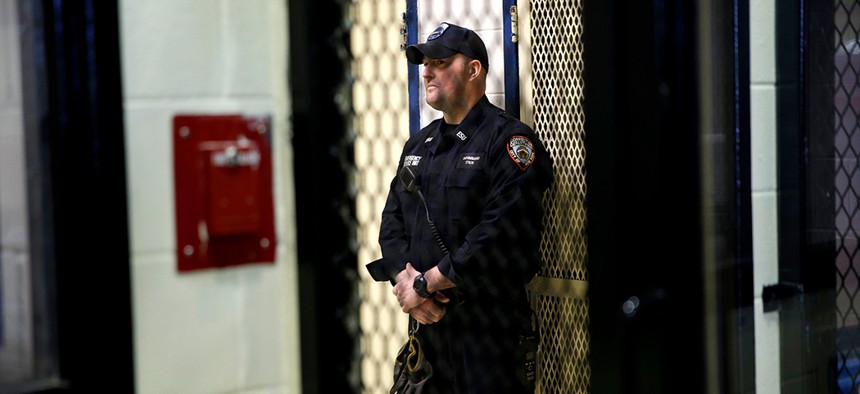 This fall, as New York's Raise the Age law goes into effect, detained teens will be moved from the Rikers Island jail complex to two juvenile detention facilities: Crossroads Juvenile Center in Brooklyn and Horizon Juvenile Center in the Bronx. The New York City Department of Correction is sending hundreds of officers to those facilities to oversee these kids.
Why is the DOC being trusted after creating a well-documented culture of violence that has harmed so many young people at Rikers?
Right now, the New York City Administration for Children's Services is primarily responsible for what happens at youth detention facilities. There's no reason that should change, especially since ACS and the mayor have had so much time to prepare for Raise the Age. ACS, while not perfect, is trained to meet the unique needs of a young population and to address issues that arise within their facilities.
And those needs and issues are very real. Being a kid on Rikers Island is a life-or-death situation.
I was on Rikers when I was 16 and 17 years old. Before that, I never knew kids were put on Rikers. I never knew why they called Rikers Island "torture island." I never knew how the culture of violence was created or who was a part of it.
But I found out. I entered Rikers in 2007. The hallway walls were lit bright red and a loud alarm rang through the Robert N. Davoren Complex. As the correction officer walked me to my housing block, he told me the "red alarm" meant there was a fight happening in the building. It rang every hour.
Almost every day I was on Rikers, I was fighting. The violence was traumatizing. Correction officers turned their heads when a fight would happen between kids. They could have stopped them. They could have created more educational and counseling programs or prepared us to go back into the world.
Instead, they implemented a secret society called "The Program." Created by correction officers and ran by detainees (who were deputized by the officers), The Program gave a small amount of control to certain detainees, allowing the officers to maintain order without having to put their hands on the kids themselves. Whichever detainee was the leader of a housing complex would decide who got what food, where each person would sit, if they could play basketball or if they could call home. The Program brutalized thousands of us. There were about 15-18 fights a day and more than 4,000 injuries each year. We had to do things that some of us won't talk about to this day.
The correction officers executed The Program until it was revealed to the public in 2009 – after 18-year-old Christopher Robinson was killed.
When I came home at the end of 2008, I didn't know how to return to the world. So, I just kept doing what first landed me in Rikers. I was back on the island a year later, and, to my surprise, the same people that I was incarcerated with as a 16-year-old were incarcerated again, or still awaiting trial.
The Department of Correction created a culture that traumatized New York City's kids. After Rikers, we had no help to heal the wounds created on that island. Rikers prepared us for more gang life, but not to find employment, housing or success. It just prepared us to come back to Rikers.
I experienced the department's hurt and control and can say with certainty that they are not capable of creating a future of success for our youth.
The 16- and 17-year-olds on Rikers are kids. They are kids who were wounded at one time in their lives by racially unjust systems and institutions, poverty, a lack of role models due to generations of injustice and police brutality, or being forced to navigate through an underfunded neighborhood. These young people need creative and thoughtful trauma-informed care directed by the appropriate experts who understand violence is not the answer.
The culture that was created by Department of Correction follows all of us back into the world. There is a saying, "You can leave Rikers Island, but Rikers Island never leaves you." New York City should not make the same mistake again.