Education
New York City high schools should expand vocational education
New York City high schools should expand vocational education to train students for the jobs of the future.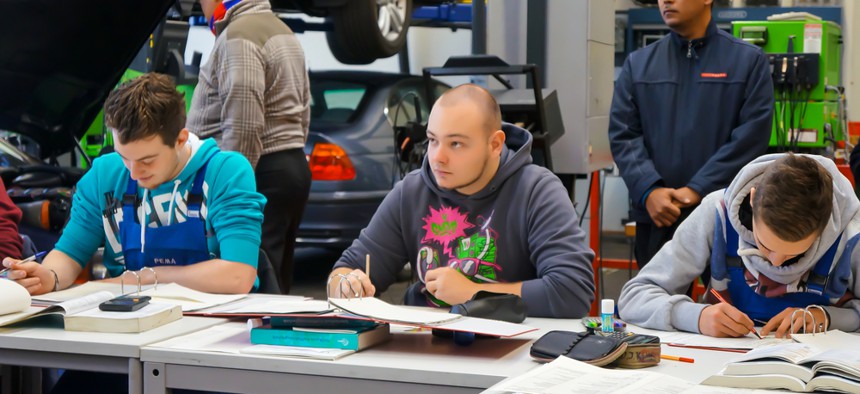 The United States is entering an era of dramatic economic upheaval as the industrial economy – and, increasingly, even the service sector – automates tasks once performed by humans. In 20 years, many of the jobs currently held by people without college degrees, including cab and truck drivers, forklift operators and even line cooks, could be filled by robots. Last year, a report by the McKinsey Global Institute found that up to 73 million American jobs could be lost to automation by 2030. However, it noted that the productivity growth automation enables means just as many new jobs may be created. The catch: New jobs will require new skills.
Preparing young people for the demands of an automated economy requires an innovative approach to high school education. New York City can be at the vanguard of this new paradigm, but it must make some bold moves. Ironically, to be ready for automation, schools must go back to the future and reinvigorate vocational training programs.
Expanding access to traditional vocational and technical education at an earlier age has worked wonders for a number of Western European and Scandinavian countries. Youth unemployment in Germany, Switzerland and Finland are among the lowest in Europe, partly because students in those countries choose an academic or vocational track as they enter high school.
In the United States, we have shifted away from vocational education to high school curricula that assume every student will attend college or a technical program to gain job skills and credentials after high school. The problem with that, aside from the fact that many high school graduates don't complete college or other post-secondary educational programs, is the cost. Few issues weigh more heavily on the minds of our nation's young people than student loan debt. Americans collectively owe more than $1.5 trillion in college student loans and the default rate exceeds 10 percent. Many former students face this grim reality every day, with no light for gainful employment at the end of the tunnel.
With robust career-training programs in high schools, we can move students out of the vicious cycle of student debt and into good jobs. For students from lower-income families, this can be a crucial stepping stone into the middle class. Technical training programs allow students to earn a professional certification or license needed to embark on a potential lifetime career path with a salary that can support a family.
In the Bronx, there are a number of high school vocational programs that are showing the way to a brighter future. At the Alfred E. Smith Career and Technical Education High School, students are given the opportunity to learn automotive mechanic skills and computer graphics technology. The HERO High School offers partnerships with Montefiore Hospital to put students on a path to a career in nursing. At the High School for Computers and Technology, students can learn the practical skills of computer repair and they work with businesses like Verizon where students can get real world experience.
But we have also seen some ill-advised decisions by the New York City Department of Education, such as the closure of the auto shop at the John F. Kennedy High School campus in Marble Hill, a process that began in 2010. This move has deprived hundreds of students the opportunity to learn how to become an auto mechanic with a starting salary of $43,000, according to data from the federal Department of Labor.
While the city strives to more fairly admit students for the specialized high schools and generally to better integrate our public schools, it must also provide better opportunities for those students who may not seek a liberal arts college education or who want to start their job skills training early so they can enter the workforce by their early 20s.
In order for this expansion of career and technical education to succeed on a grand scale citywide, it needs to develop partnerships with labor unions. High school students could work directly with tradesmen and women, learning the tricks of the trade while also earning credit toward their high school diploma. After graduation, they would be ready to take on jobs and apprenticeships in their chosen field.
Mayor Bill de Blasio and Schools Chancellor Richard Carranza should immediately convene a panel of education, union and business leaders to map out a long-term strategy for expanding vocational education in every community across the five boroughs. This panel should study best practices in Germany, Switzerland and Finland, and other countries that have succeeded in providing their youth with good middle-class jobs, rather than debt and unemployment.
One key way to decrease New York City's severe income inequality and high rates of poverty is to offer those students who may not succeed in four-year colleges a chance at a middle class job and a long-term career. The nation's largest city can shine a light on the path to a brighter future for students who simply need an alternative path to success.