New York City
To diversify community boards, enact term limits
The de Blasio charter revision commission's plan to enact term limits for community board members is a good idea for neighborhood democracy.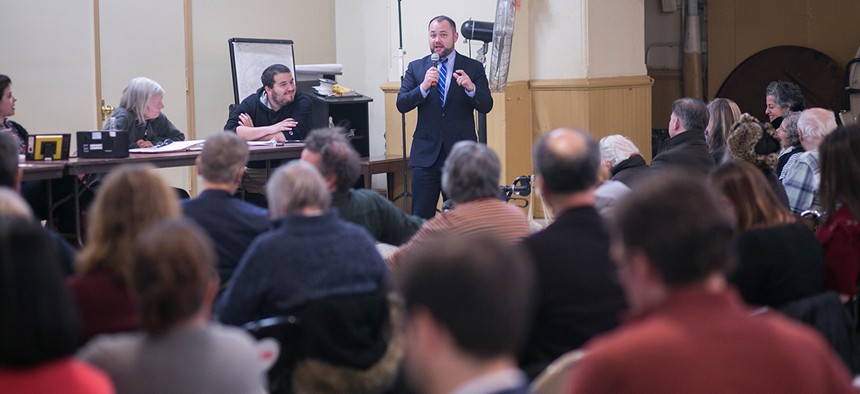 I began my journalism career in 2011 as a reporter at the Queens Tribune, covering northeast Queens. My beat was incredibly diverse, taking in the boomtown of Flushing, the suburban expanses of Bayside and Douglaston, and the working class communities east of the Van Wyck Expressway such as Bellerose.
As a young journalist, I knew I had to attend community board meetings regularly and meet all the people most active on local issues. Eastern Queens in particular has a robust civic scene – community boards and civic leaders play an outsize role in the politics of the area.
I met many smart, dedicated people giving all they had for their communities. I covered fascinating debates. But one thing kept gnawing at me: The community boards didn't always reflect the diversity of the communities they represented.
Community Board 7, which included the heavily Asian-American Flushing area, had a white chairman and white district manager. Many of the members were middle-aged or older. It was a trend I found repeated across Queens, as I changed beats and began to cover more of the borough: older, whiter community boards speaking for increasingly younger, non-white communities.
As of 2018, according to the estimates of one Asian-American member of CB 7, 38 percent of the community board is Asian-American, though 52 percent of the area's constituency is of Asian descent. Fifty-two percent of CB 7 is white; just 26 percent of the area it covers is white.
In November, this could start to change. Mayor Bill de Blasio's charter review commission has proposed imposing term limits for all community board members. The proposal will be on the ballot next month and if voters approve it, community board members will be limited to four two-year terms. After a two-year hiatus, former members could apply to be reappointed.
Why does this matter? Community boards, which have existed since 1963, do not have the powers of an elected official, but can influence what they do. They flex their muscles most often during land use disputes. While it is up to the City Council to approve a rezoning, the Council typically defers to the member whose district encompasses the area and who, in turn, always takes into serious consideration the community board's recommendation.
City agencies frequently speak in front of community boards about new initiatives. If the board's opposition is fierce enough, those plans can be derailed or reconfigured to reflect community concerns. Community Board 10 in Brooklyn has repeatedly defeated Department of Transportation attempts to add more bike lanes in Bay Ridge, my home neighborhood. Since community boards skew older, car owners are too often catered to at the expense of cyclists and pedestrians.
City Council members don't like to buck community boards – especially since many members are political insiders themselves, either leaders of civic associations or local nonprofits, former political staffers, or well-connected white-collar professionals.
The process behind getting on a community board remains opaque. Anyone can apply, and either City Council members or borough presidents appoint members. They review applications or make recommendations – it helps to have an inside connection. The applicant, if he or she is accepted, doesn't know who made the approval. Applicants are asked to get three letters of reference and list ways they are involved in the community.
Why some get approved and some get denied remains a mystery. Applicants aren't given an explanation if they are turned down. Given the fact that reappointments are every two years and current members are rarely denied reappointment, vacancies are relatively uncommon. Neighborhoods can undergo great demographic shifts while community boards resemble the area a quarter century ago.
Creating more vacancies on community boards could increase civic participation, especially for younger people looking for ways to get involved in their neighborhood. While teenagers can get appointed to community boards, it rarely happens – they don't know enough about them or the openings just don't exist. And newer residents who want to contribute to the civic discourse could do so directly, without being effectively locked out from community board service for years.
The opposition to term limits from community board members, certain civic activists and elected officials is fierce. In Manhattan especially, there are fears that crucial experience would be lost and real estate developers, who negotiate with community boards, could hire land use attorneys to run roughshod over fresh-faced members.
It's an understandable critique, but it doesn't square with reality. Neighborhoods are teeming with talent and experience, and no one has a monopoly on land use expertise. It's not as if term-limiting the City Council led to the sudden collapse of effective governance – instead, new members with new perspectives were allowed to enter a legislative body, and more progressive legislation was passed.
The Charter Revision Commission has proposed creating a commission to provide additional resources to community boards, including access to urban planning professionals. If these resources prove insufficient, the City Council can pass legislation to bolster it further.
It's time community boards welcome a new generation of members. To do otherwise is to do a disservice to our diverse, ever-evolving city.
Powered By
NEXT STORY: New York GOP's Trumpification is complete