New York City
To save money, MTA must reform its contracting process
The MTA needs competitive bidding.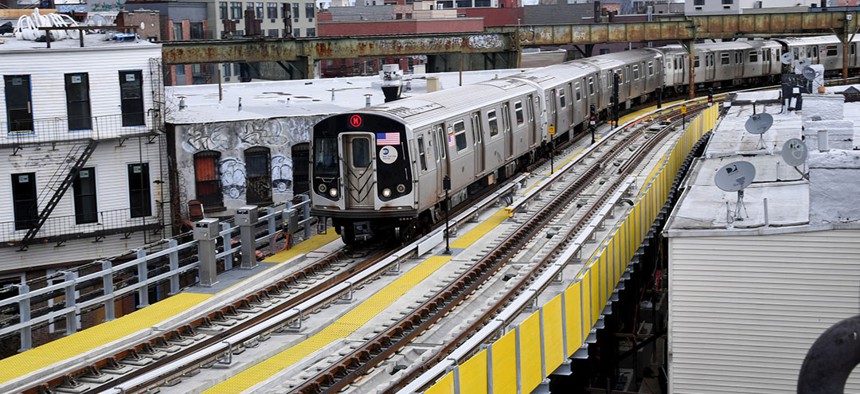 Every New Yorker knows the Metropolitan Transportation Authority needs more money to contend with a looming budget gap of more than a half billion dollars looms and crumbling, century-old infrastructure – but few appreciate that it also needs to dramatically reform how it spends money, so as to stop wasting it.
Inefficient spending has led the MTA to blow far more money on construction projects than any other transit agency in the world. The Second Avenue subway cost $2.5 billion per mile, a staggering sum that far outpaced any other municipality. In Paris, the cost of subway expansion is $450 million per mile. In an investigation late last year, The New York Times exposed how a broken contracting process, arcane labor rules and lax oversight drive up exorbitant costs at the MTA. The lowest hanging fruit of all may be an absurd lack of competitive bids for projects.
Gov. Andrew Cuomo, consumed with pretending he doesn't really control the MTA, has offered few solutions. His appointed city transit chief, Andy Byford, has offered a $40 billion turnaround plan, but no viable funding streams have materialized.
The political challenges to adopting new funding streams such as congestion pricing, a commuter's tax or a millionaire's tax are bad enough as it is, but until spending practices are rectified, New Yorkers will rightfully have little faith that any new revenue sent to the MTA will be spent effectively.
In its analysis last year, the Times found that the vendors that worked on the East Side Access, Second Avenue subway and No. 7 line projects have given a combined $5 million to New York politicians since the projects began in 2000. More than a dozen MTA workers were fined for accepting gifts from contractors during that time, records show.
A revolving door is set up: MTA agency presidents become consultants or go to work for contractors who work with the MTA on pivotal projects. (The Times found at least 18 of them.)
One egregious example stands out: Anil Parikh, the director of the Second Avenue subway project. He got a $2,500 ticket to a gala, a round of golf and dinner from a contractor in 2002. Years later, shortly after the line finally opened, he went to work for the contractor's parent company, AECOM.
Reforming labor costs presents its own nest of political and legal obstacles, which have been documented in this publication and others. But the MTA has the power, at least in part, to go it alone, since it (and not the contractors or unions) can set the terms of engagement.
Two companies bid for the contract to construct the Second Avenue subway tunnel. In most cities, and especially in cost-efficient Europe, such a low number of bidders would be unthinkable. Seven, eight, nine or more companies compete to offer the lowest cost for a project.
In New York, politically-connected contractors are allowed, then, to inflate costs with little oversight. Unions and companies negotiate costs without MTA input. Nobody at the negotiating table is footing the bill. There are no real incentivizes to control costs.
Construction companies actually have an incentive to maximize costs because they earn a percentage of the project's costs as profit. The higher the cost, the bigger their profit. The MTA entirely leaves negotiations to the unions and vendors and accepts whatever costs materialize from these arrangements.
The Regional Plan Association and some members of the New York City Council have attempted to grapple with these costs by at least bringing attention to them, but they ultimately lack the authority to act. The council's power over the MTA is severely limited. Though the RPA is now chaired by a Cuomo ally, Scott Rechler, its recommendations are often blown off by bureaucrats.
Forcing reform on the MTA, particularly on competitive bidding, can go a long way. The state Legislature could step in to mandate more bids and hold hearings to bring some accountability to the process.
Two elected officials could also exercise influence if they choose to: the state comptroller and the state attorney general.
State Comptroller Tom DiNapoli has been taking some steps in that direction, warning in his annual report that the MTA's finances are even more disastrous than they appear. DiNapoli could undertake the task of performing a complete, forensic audit of the MTA's finances. An audit of this magnitude has never been performed and could drive real policy change – the state comptroller has the power to do more than just monitor pension funds.
The next attorney general, likely to be Letitia James, a Democrat, can investigate the MTA's broken contracting process. Her office doesn't have to root out a specific type of crime to make a difference. Inefficiencies and wasteful spending practices aren't illegal, and politically-connected contractors are currently permitted to game the system.
But this soft brand of corruption can get meaningful scrutiny from the AG's office, an apparatus with real teeth. If criminal behavior is discovered and extinguished, great – if not, there are other ways to prod reform.
Former Southern District of New York U.S. Attorney Preet Bharara demonstrated this in 2014 when he released a scathing, 79-page report on the brutality that teenage inmates faced on Rikers Island, prompting City Hall to take action.
The next AG could take a similar approach toward the MTA's broken contracting process and deplorable finances. Jailhouses in New York City are still many years away from true reform, but at least efforts are being made at change – efforts that were entirely absent in past administrations.
Containing the MTA's spending problem does not just represent an exercise in fiscal prudence. It is about sustainability and survival.
Powered By
NEXT STORY: To diversify community boards, enact term limits