Criminal justice
New York needs a new criminal discovery law
New York's discovery law allow district attorneys to withhold police reports and other key evidence until a trial begins. Prosecutors should instead be required to expeditiously turn over discoverable evidence, write state Sen. Jamaal Bailey and Assemblyman Joseph Lentol.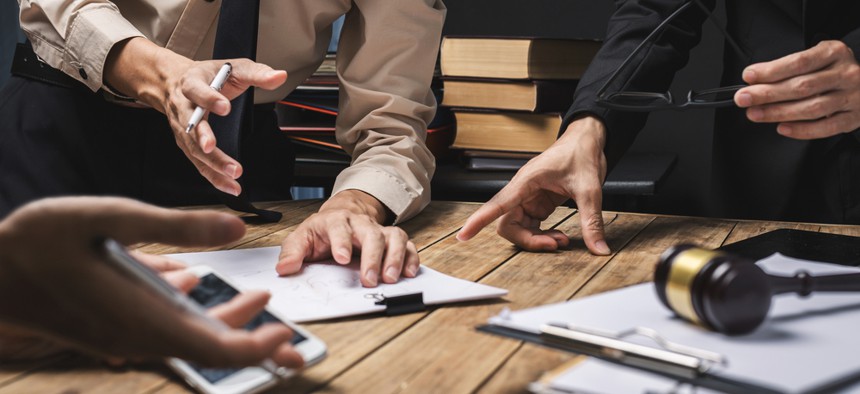 In August 2015, Terrell Gills was arraigned on charges for a crime that he did not commit. He spent the next 18 months of his life in jail because of New York's antiquated discovery laws. If he were arrested almost anywhere else in the country, even in North Carolina or Texas, his defense team would have had access to basic evidence that would have proven his innocence and spared him jail time and a trial. The discovery procedures that allow this to happen to thousands of innocent New Yorkers are an abomination.
New York's discovery procedures are outlined in a state law known as "The Blindfold Law," and it allows district attorneys to withhold police reports, grand jury minutes, witness statements and other evidence until the day a trial actually begins. This law prevents defendants from fully understanding the cases being brought against them, let alone mounting a fair defense against those charges.
Last year, we introduced a bill (S8707/A4360A) that remedies the effects of this antiquated law by requiring prosecutors to turn over discoverable evidence to the defense in a timely manner. This isn't a radical proposal – it's a common-sense one that almost every other state in this country has adopted, shamefully leaving New York as one of only four states with such outdated and unjust procedures.
As was the case with so many sensible measures, the Republicans controlling the New York state Senate and the powerful District Attorneys Association of New York prevented our bill from advancing. With Democrats now in charge of the chamber, we have an opportunity to right this wrong.
When Gills was arrested, he was shocked to find out he was being accused of robbing a Dunkin' Donuts in Queens. His bail was set at $10,000 and he spent the next 18 months on Rikers Island. Gills declined any plea, refusing to confess to a crime that he didn't commit.
During that period, his defense attorneys at The Legal Aid Society learned of a string of Dunkin' Donuts robberies at two additional franchise locations in Queens which occurred during the same week that Gills was arrested.
Gills' attorneys repeatedly asked the prosecutor for information about the other two robberies, but each request was stonewalled. Finally, in February 2017, Gills got a break. The DA disclosed that a different person had been arrested for the other robberies and had pleaded guilty in January 2016. This person eventually confessed to the robbery for which Gills was charged.
Had the prosecutors disclosed this critical information about the other robberies to the defense early in the case, Gills' nightmare could have ended sooner. But New York's discovery law allowed prosecutors to withhold key evidence until the last second, blindfolding the defendant, and preventing him from defending himself against false charges without languishing in jail for a year and a half.
New York finally has a chance to catch up with so many other states and cities by instituting overdue reforms to its discovery procedures. We need a statewide, uniform model for these procedures that provides defendants timely access to all the evidence. Without such reforms, we will continue to see New Yorkers like Terrell Gills face wrongful charges, trials and even convictions.