Education
City Council underfunds CUNY Mexican Studies Institute
CUNY Mexican Studies Institute should be funded as much as its Puerto Rican and Dominican counterparts.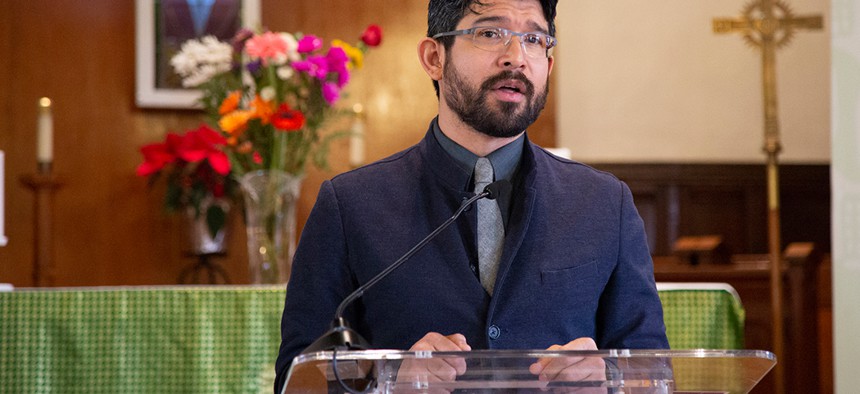 As President Donald Trump has attacked Mexican-Americans with false, racist smears – such as calling them "rapists" – New York City's top elected leaders have responded with sharp condemnation of Trump's comments and public demonstrations of solidarity with New Yorkers of Mexican descent.
This backing, however, has not translated into appropriating adequate resources for the only public research institute that supports and empowers the Mexican community in the city – City University of New York's Jaime Lucero Mexican Studies Institute.
New York City Council Speaker Corey Johnson must properly fund the Mexican Studies Institute, especially at time when Mexican-Americans are under attack. New York City has the largest Latino population of any city in the United States. According to the 2017 American Community Survey, over 2.5 million New York City residents identified as Hispanic or Latino. Puerto Ricans, Dominican-Americans and Mexican-Americans are the largest Latino groups in the city.
Each year, CUNY research institutes, including the Center for Puerto Rican Studies, the Dominican Studies Institute and the Mexican Studies Institute, receive funding from the speaker's initiatives to promote research, cultural events and student services.
The Mexican Institute has been underfunded for years. It receives a fraction of what the Dominican and Puerto Rican institutes receive, even though the Mexican population both in the city and CUNY student body are growing. The Mexican Institute received only $235,000 in 2018 and $285,000 in 2019. The Center for Puerto Rican Studies and Dominican Studies Institute both received a whopping average of $1,000,000 each in the same time frame.
It's true that New York City's more than 335,000 Mexican-Americans are only about half the number of Puerto Ricans and Dominican-Americans in the city. But that's still a higher ratio than the Mexican Institute gets relative to its counterparts. Meanwhile, a majority of Latinos in the United States claim Mexican ancestry. Mexico is the third-largest country of origin for foreign-born New Yorkers and their proportion of New York's population is rapidly growing. According to a 2017 study by the CUNY Graduate Center, Mexican-Americans went from 3 percent of New York City's Latino population in 1990 to 15 percent in 2015.
Founded in 2012, the CUNY Mexican Studies Institute became the first major institute east of the Mississippi River specifically devoted to Mexican and Mexican-American studies. Housed at Lehman College in the Bronx, the Mexican Institute was the culmination of nearly a decade of work by advocates, faculty, administrators, staff and students to boost enrollment of Mexican and Mexican-American students in CUNY and promote research and programs that would support the Mexican community in the city.
While the Dominican and Puerto Rican institutes do have more years under their belt, it's hard to ignore the politics involved. Puerto Ricans and Dominican-Americans have a major political presence and influence in the city, state and federal elected delegations.
Mexicans have only one elected official in the entire state – New York City Councilman Carlos Menchaca, who was the only member of the council to allocate some resources from his local discretionary funding to the Mexican Institute. As chair of the Immigration Committee, Menchaca champions issues of special importance to the Mexican-American community, including funding for day laborers, adult literacy, worker cooperatives, census outreach and legal representation for immigrants.
Representation matters. In fact, Puerto Rican-born Melissa Mark-Viverito thankfully increased support to Puerto Rican causes when she was council speaker. When the funding to the Center for Puerto Rican Studies was slashed in 2018, another fellow Puerto Rican, City Councilman Rafael Salamanca, said getting the center its funding restored was his No. 1 budget priority.
This is not about taking money from one research institute to give to another. Protecting and creating opportunities for the whole Latino community is a priority that should be shared by all Latinos.
This is about Speaker Johnson showing leadership and appropriating more money based on the demographic need of a community, especially in light of today's xenophobia targeting Mexicans.
The speaker should increase funding to the Mexican Institute and ensure the funding to the three Latino institutes is fixed so our communities can properly confront the challenges for years to come. The budget is an opportunity to lay out a blueprint for New York City and to set forth the priorities and principles by which the city should operate.
In contrast to the New Yorker in the White House, Johnson could send a message to the entire nation that New York City will stand with and support the Mexican community.
Cesar Vargas is a national activist for immigration reform and New York's first undocumented attorney.