New York State
The right way to do automatic voter registration
A 'back-end' model to automatic voter registration will have a much greater effect.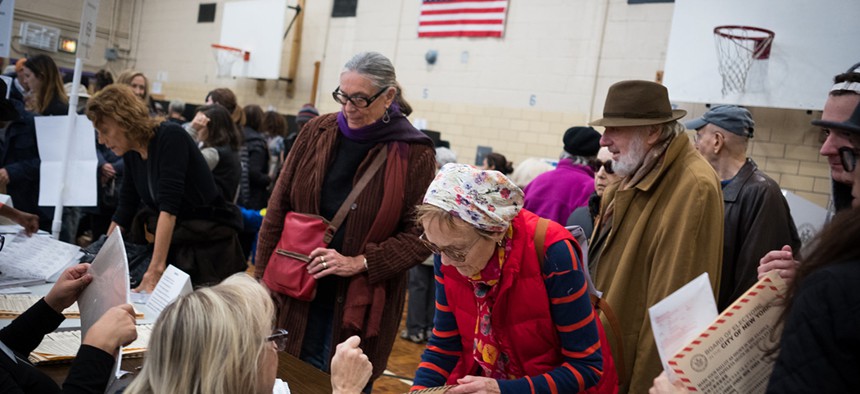 New York state's electoral system has been broken for decades. New York has chronically low registration and turnout rates, ranking 46th in the nation for voter registration with just 66.5 percent of voting-age citizens in New York. While the state took historic steps to improve its electoral system in January by passing early voting and pre-election and no-fault absentee voting, these measures do not address many New Yorkers who are still left out of the political process. There's still more to do this legislative session: passing automatic voter registration.
At its simplest, automatic voter registration removes the burden of registering to vote from eligible individuals and allows New York to automatically add eligible voters to the rolls through one interaction with a government agency. Gov. Andrew Cuomo took a significant first step by including automatic voter registration in his executive budget proposal, but we strongly urge him to take the next step by supporting a "back-end" model as opposed to the "front-end" model included in the budget.
A back-end model automatically adds eligible voters to the rolls without requiring any action from the individual at the agency and gives them the chance to opt out via mail afterward. By comparison, a front-end model requires eligible voters to make decisions related to registration while interacting directly with the agency.
While the difference between front-end and back-end might seem academic or trivial, this distinction actually raises important questions about representation and who gets to participate in our democracy. Currently, 15 states have implemented a version of automatic voter registration, and research shows that a back-end policy can be more effective than a front-end policy in that it registers far more eligible voters.
Oregon, which uses a back-end automatic voter registration system, saw 94 percent of previously unregistered eligible voters added to the rolls. By comparison, California implemented a front-end system in 2018 and information provided by California's secretary of state office shows far less participation. The reason is simple: If you're asked to answer additional questions about registering to vote at a government agency, you're more likely to just skip it.
A study conducted by the Center for American Progress estimates that New York could see as many as 1.5 million new voters registered if it implemented the Oregon model.
Those in favor of a front-end system will argue more individuals will be registered under a specific political party under a front-model versus a back-end model: a front-end model asks the individual if they would like to join a political party while interacting with the government agency, while a back-end model gives voters a chance to enroll in a party via mail afterwards.However, according to research from Data for Progress, the overall number of people who register under a political party in both models is very close. While proportionally more individuals will register under a political party with a front-end model, the numbers end up looking very similar due to the greater number of individuals registered with a back-end model.
If New York's results follow the trends in other states, those registered through back-end automatic voter registration will be noticeably younger, more likely to live in low- and middle-income areas, and more likely to live in racially diverse areas. In other words, implementing a back-end automatic voter registration policy would help ensure our voter rolls are more reflective of our population.
The New York state Senate has proposed a bill (S1278) sponsored by Sen. Michael Gianaris which is not only a back-end policy based off the Oregon model but goes further in expanding access to eligible voters. This proposal uses both the Department of Motor Vehicles and the Department of Health as source agencies, which would ensure the diverse population of New York's Medicaid recipients – 4.3 million of voting age and more than two-thirds people of color – would more easily be able to exercise their right to vote. This comprehensive approach could lead to as many as 2 million new voters in the first year.
The state Assembly also has a bill (A04884) sponsored by Assemblywoman Latrice Walker with multiple source agencies and strong protections for victims of domestic violence. However, the Assembly bill proposes a front-end policy, thus limiting its ultimate reach of eligible voters.
The Assembly and Senate should adopt the best parts of both bills: the protections for domestic violence survivors that are in the Assembly bill, the back-end system from the state Senate bill and the multiple source agencies systems that both share in common.
New York has the opportunity to follow the best model in the country and establish itself as a national leader. With a broken electoral system that has already begun to be repaired this year, Albany owes it to all New Yorkers to pass this crucial piece of legislation and allow New York to continue its historic progressive year.
Powered By
NEXT STORY: End non-medical exemptions to school vaccination requirements