New York State
State budget jeopardized public financing of elections
For progressives hoping for a full Albany transformation, New York's new state budget was sobering because the public financing of elections was put in real jeopardy by being left up to a commission, writes Ross Barkan.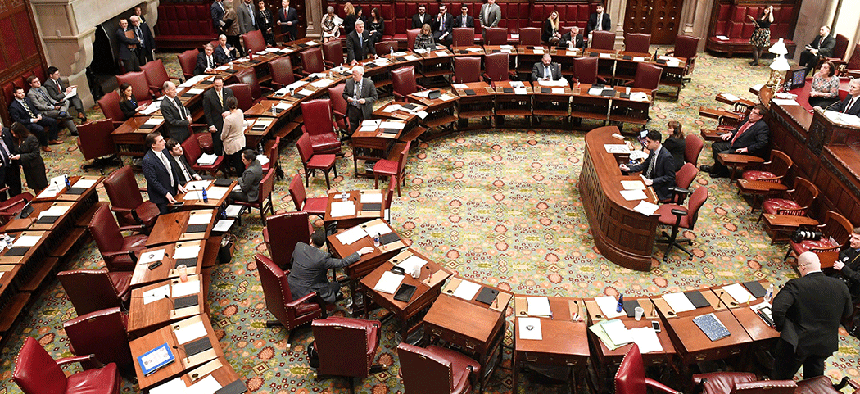 For progressives hoping for a full Albany transformation, New York'snew $175 billion state budget was sobering. There were real victories on criminal justice reform and a statewide ban of plastic bags, as well as the outlines of a congestion pricing plan. But other aspirations, like marijuana legalization, were left out, and the public financing of elections – a long-held goal of progressive organizations – was put in real jeopardy. If state election rules aren't overhauled, 2019 will be a profoundly missed opportunity.
Instead of creating a matching funds system to publicly finance candidates, the Legislature and Gov. Andrew Cuomo announced the creation of commission that will consider whether to implement these reforms at all. Commissions, traditionally, are where all good policy goes to die.
Wealthy donors dominate state politics thanks to New York's porous campaign finance laws. Donation limits are extremely high and elected officials have no incentive to chase small donors. While a matching funds system is not a panacea, it forces politicians to take a greater interest in lower-income individuals who contribute $5 or $10, relative to the corporate titan or real estate developer who can come in with a $10,000 check. It's a system that rewards good behavior.
When Republicans controlled the state Senate, both Cuomo and the Democratic Assembly voiced support for a statewide public matching funds system modeled on the one in New York City. The idea is simple: Severely restrict the size of donations candidates can receive and in turn match these donations with public cash. For eligible donations, candidates for municipal offices can now see small contributions matched at an 8-to-1 clip. Good government groups, progressive organizations like Citizens Action New York, and left-leaning lawmakers have long proposed a 6-to-1 system for the state Legislature and statewide offices.
When Democrats took control of the state Senate this year, a matching funds system looked like an inevitability. Senate Democrats were supportive, the Assembly had voted for it in the past, and Cuomo – who has his own history of exploiting New York's lax election laws toraise cash almost exclusively from wealthy people and corporations – said he would sign a bill.
Once there was a real opportunity, support in the Assembly collapsed. Many veteran members, unused to running in competitive elections, perhaps feared public moneywould incentivize more insurgents to get into politics. Others disingenuously balked at the relatively minor cost – $60 to $100 million per year,or far less than 1 percent of the state budget – and whined about fiscal prudence.
In true Albany fashion, the future of public financing will now be left to a nebulous commission, thanks to a dubious agreement reached between the legislative leaders and Cuomo. This is a Cuomo specialty, and should raise doubts about how earnestly he ever embraced public financing. Five years ago, Cuomo created the Moreland Commission to fight public corruption – and once the commission started sniffing around the executive branch, hepromptly shut it down. No reforms came of it.
And questions that are crucial to the outcome remain unanswered. Who is on the commission? We don't know yet. There will be nine members. Cuomo gets two appointments. Assembly Speaker Carl Heastie and state Senate Majority Leader Andrea-Stewart Cousins get two each. Each Republican minority leader picks one commissioner. The ninth member is collectively chosen by Cuomo, Heastie and Stewart-Cousins, and the commission is not constituted unless the ninth member is chosen. The commission has until Dec. 1 of this year to make binding recommendations, and these will become law if the Legislature doesn't act by Dec. 22. It takes a 5-4 majority to make recommendations official.
Cuomo, who is obsessed with undercutting the labor- and activist-backed Working Families Party, has also tasked the commission withexploring whether New York should end the practice of fusion voting, which allows candidates to run on multiple party lines at once.
There are valid reasons forquestioning fusion voting – sham organizations like the Independence Party get to have an outsized influence on local elections – but none of them have to do with the public financing of elections. The commission could make a binding recommendation to end fusion altogether, pairing it with a robust matching funds system. This kind of poison pill would force WFP and other fusion-supporting organizations and elected officials to either accept both changes or fight for a legislative override of a fusion ban before the Dec. 22 deadline.
All of this can get very messy. And considering thedivide-and-conquer games Cuomo long played with the Legislature, this kind of chaos may be exactly what he wants.
This also isn't the first time Cuomo has attempted a half-baked reform that pleased just about no one: In 2014, in the middle of statewide elections, he cut a deal with the Legislature to create a public financing pilot program that only targeted the state comptroller's race. The Democratic incumbent, Tom DiNapoli, did not opt in, and the pilotwas quickly forgotten.
As the good-government group Reinvent Albanypointed out, there are several glaring problems with the new commission. Since Heastie, who is now a public financing skeptic, and each Republican leader gets appointment power, as many as four out of the nine commissioners could be outright opponents of instituting a matching funds system.
There is no plan, as of now, to lower donation limits for candidates who do not opt into a public matching funds system. New York has some of the highest donation limits of any state. A state Senate candidate, for example, can accept up to $18,000 from an individual donor in an election cycle, while a gubernatorial candidate can rake in up to $65,000. Presidential candidates, in comparison, are limited under federal law to $2,700 from individuals for their primaries and the same amount again for the general election.
There is also no plan for an independent entity to oversee a new program. In New York City, the Campaign Finance Board provides robust oversight, heavily fining candidates who run afoul of laws. The state Board of Elections would likely be overseeing any matching funds program on the state level. This is not good: The BOE rarely fines rule-breaking candidates and it isrife with patronage.
A commission allows legislators and Cuomo to evade accountability for what they do or don't do. Unlike legislation, outcomes are not guaranteed. Instead, writing the law is farmed out to appointees with unknown agendas. Supporters of public financing have a right to be skeptical and worried.
Now, the only hope for campaign finance reform advocates is to organize and pressure lawmakers and Cuomo to appoint commissioners who will follow through and fix New York's dysfunctional election system. It can be done. It just shouldn't be this hard.