New York City
Instead of fighting landlords, state legislators should fight to increase housing
Tighter rent regulation could exacerbate the shortage of rental housing available to new in-migrants. Instead, New York should force high-rent communities to allow more new housing, writes Eric Kober, a retired New York City planner and visiting scholar at NYU.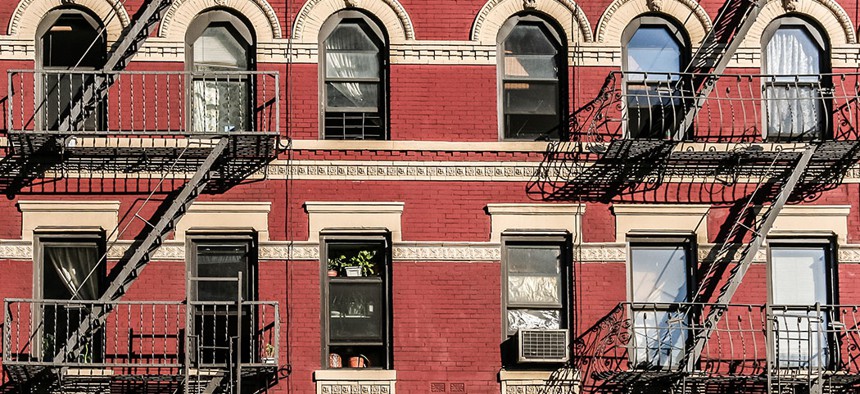 With New York's rent regulations set to expire in mid-June, much attention is currently focused on the package of nine bills introduced in the state Legislature to achieve "universal rent control." Launched amid a barrage of hostile rhetoric directed against landlords and real estate developers, state legislators and progressive activists are asserting that all nine must pass to truly protect tenants.
While New York City has had rent controls since 1943, the current regulatory system was largely established by the Emergency Tenant Protection Act of 1974. Known as "rent stabilization," it allows New York City and Nassau, Westchester and Rockland counties to regulate apartment rents in buildings with six or more units built before 1974 when the rental vacancy rate falls below 5%. In New York City, the Rent Guidelines Board establishes permitted rent increases, which generally track with inflation, upon the renewal of a lease.
Rent regulation was first imposed on New York City apartments constructed after 1947 by the administration of then-Mayor John Lindsay in 1969, in response to a sharp falloff in new housing construction. Housing completions had peaked in the early 1960s following the enactment of a new zoning resolution in 1961 that dramatically reduced allowable growth in the housing stock. Developments with permits under the old zoning were allowed to continue construction, and combined with high levels of publicly funded housing, completions exceeded 60,000 units in 1963. Rent concessions were widespread in new buildings. By 1969, however, new housing units completed had fallen to 17,000 and rents were beginning to rise.
Rent stabilization was both a response to an emerging housing shortage and a guarantee that the shortage would never end. Rents tend to rise in real terms (adjusted for inflation) when the population is growing and becoming more affluent. Economic theory would posit that in unregulated housing markets, which prevail in most U.S. cities, rising real rents cause some tenants to move to smaller apartments or cheaper neighborhoods, or out of town entirely. At the same time, real estate developers respond to the price signal by producing more housing, if local zoning allows them to do so. The combination of reduced demand and increased supply causes rents to stabilize, even without government intervention.
There is a lack of research on how new housing supply affects rents. But a 2016 study by California's Legislative Analyst's Office found that, since 1980, rents paid by low-income households grew faster in urban areas on the California coast that placed more stringent limits on new housing than in U.S. counties that allowed more new housing development.
In regulated markets, in contrast, rising real rents don't cause existing tenants to move, because their rent increases are capped. When the population increases and households become more affluent, an imbalance emerges between demand and supply: rents skyrocket on unregulated units and newcomers – in New York City, these are primarily younger adults and immigrants – are forced to bid against each other for a limited stock of available apartments. In New York City, and even more so in the New York suburbs, restrictive zoning doesn't allow enough new housing to be built in order to stop market rents from rising. Too many households want to rent housing in the New York metropolitan area, and there is never enough housing to meet that demand.
New Yorkers have therefore become less mobile. In 2012, according to the Census Bureau's American Community Survey, 31% of the city's renter population lived in units where the householder had moved in since 2010. By 2017, the renter population that lived in units where the householder had moved in since 2015 was down to 27%. Reduced mobility is undesirable not only because newcomers can't find housing, but because all New Yorkers have difficulty finding housing that meets their current needs.
In New York City and in the state Legislature in the 1990s and early 2000s, there was actually an attempt – sotto voce – to loosen up the rent regulation system so that the demand for housing would become more in balance with the available supply. For this to occur, regulated rents had to rise closer to true market rents. The specific ways in which this occurs include a vacancy allowance for new leases, vacancy decontrol for rents above a certain level, and allowances for buildingwide improvements and improvements to individual apartments. These changes made New York City's rental housing more of a market than it would have been otherwise – that is, some households who would have been able to stay in their apartments under the old rules could no longer afford their rents and had to move. The system was also widely gamed by landlords who raised rents more than they were entitled. However, the changes also allowed an influx of younger workers to help transform the city's economy, and they made both the city and the state much wealthier.
The nine bills now being considered in the Legislature would, most significantly, turn back the clock on these changes, eliminating landlords' ability to raise legal rents above the Rent Guidelines Board's inflation-based lease renewal increases. These changes would reduce the supply of housing available to newcomers and further frustrate New Yorkers who want to move to an apartment that better meets their needs. This must occur since the whole purpose of the legislation is to allow existing tenants to stay in their apartments. Since New York's high-productivity economy relies on a continual influx of well-qualified and well-paid professionals, this implies future labor shortages, slowing or even negative population growth and economic stagnation, which will impact both state and local tax revenues.
Since the proposed legislation would allow the gap between regulated and market rents, in many cases, to grow very large, another consequence would be to create perverse incentives for under-the-table activities designed to realize the actual value of apartments, including tenant buyouts by landlords, excessive brokers' fees with kickbacks to landlords, "key money" to gain access to an apartment and unauthorized tenant sublets. These black market activities would mitigate the effects on newcomers to some extent.
Finally, the bills take a lot of revenue away from landlords. Apartment buildings nonetheless require continual reinvestment and one can easily imagine pressure on the city and state governments to provide increased capital assistance to financially stressed rent-regulated building owners.
This approach to housing affordability contrasts, and not favorably, with the debate going on right now in the California Legislature. SB50 would permit up to four units on land now zoned for single-family housing throughout the state. In counties with more than 600,000 people, apartment buildings would be allowed near transit and in wealthy communities near employment centers, regardless of proximity to transit.
The effort to pass SB50 is led by a California state senator, Scott Wiener, and supported by a coalition of elected officials, labor groups, environmentalists and business groups, among others. While progressive groups are divided on the bill and its passage is by no means assured, New Yorkers should take note of Californians' effort to solve a housing crisis by actually allowing more housing to be built. The New York Legislature doesn't have any effort aimed at overturning local land use control, which has contributed so much to creating this crisis.
New York's legislators and elected officials need to think about whether the proposed approach in California is important to any program to make housing more affordable. If strengthened rent regulations were truly temporary and accompanied by vigorous efforts to expand the housing stock in the city and the suburbs, tenants would be more likely to be helped, public sector housing aid would be more effective and all the deleterious effects – on newcomers to the labor force and New Yorkers who want to move, on tax revenues and on the upkeep of apartment buildings – would be mitigated. The vast administrative apparatus needed to manage the adversarial relationship between landlords and tenants could be scaled back. New York City could be on the path to a future in which people get great deals on rent, not from the government, but from their landlord.
Powered By
NEXT STORY: Assembly should pass 'rent justice' platform