New York City
Keep the SHSAT and give black and Latino students a fair chance at passing
Instead of eliminating the SHSAT, New York City must commit to, and invest in, identifying high-potential black and Latino students at a younger age, and then nurture them and prepare them for the rigors of the test, writes Assemblywoman Latrice Walker.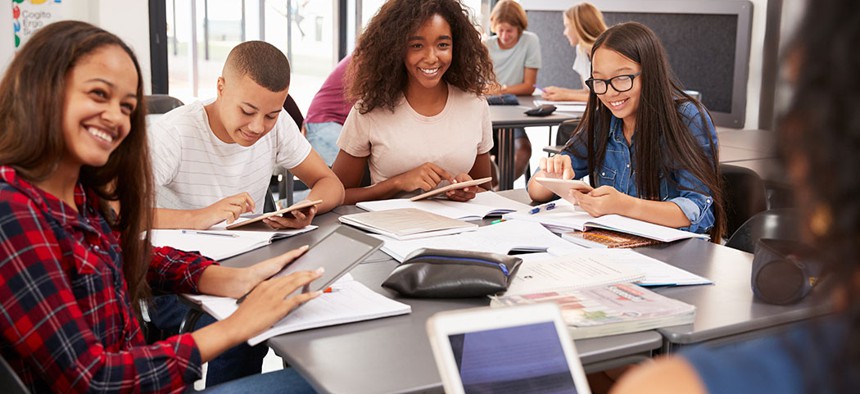 New York City Mayor de Blasio says he wants to scrap the Specialized High School Admissions Test because there are appallingly few black and Latino students in the city's eight "test-in" specialized schools, including Bronx Science, Stuyvesant and my alma mater, Brooklyn Tech.
The mayor is correct that the demographic imbalance in a school system where 68% of high school students are black or Latino, but they comprise just 10% of the student bodies at the test-in high schools, is unacceptable.
But the test itself is not the problem. It is emblematic of a school system that is segregated – not only racially and ethnically, but also in terms of the quality of the education offered in various schools and school districts.
In Brownsville, Brooklyn, which I represent in the state Assembly, there are entire community school districts which do not offer the kind of elementary-level "gifted and talented" programs that are common in wealthier districts.
For students who score at the top levels of state-mandated standardized tests that start in the third grade, there are no enhanced academic offerings in elementary or middle schools to help them maximize their potential.
Currently, black and Latino elementary school students are much less likely to take the exam to qualify for "gifted and talented" programs than white and Asian-American students. Instead of focusing on the SHSAT, the city must commit to, and invest in, identifying high-potential students at a younger age, and then nurture them and prepare them for the rigors of the test and for the curriculum in the specialized schools – where ninth graders are immediately exposed to college-level coursework.
The mayor has chosen a different path. He has chosen to support a complicated, unworkable scheme that would give the chancellor unprecedented power to radically change the admissions system for the test-in specialized schools – hardly a model for how democratic governance should work.
This approach phases out and completely eliminates the use of the SHSAT, which guarantees every applicant the same opportunity to gain admission to one of these schools. Instead of a merit-based approach, the mayor proposes opening the door for the use of multiple subjective criteria in a way that is complicated and incapable of outside monitoring to see if it is being followed. As an audit report by New York City Comptroller Scott Stringer showed, high schools using multiple criteria are often incapable of explaining how they applied their stated criteria when selecting the incoming class.
In addition, the bill the mayor has endorsed excludes students from Catholic, Jewish, Muslim and secular private schools from equal participation in the opportunity to compete for admission to these schools because it limits the admissions system that will eventually cover 90% to 95% percent of the student body only to students matriculating from public schools. This is antithetical to the idea that all children, regardless of race, religion, color or class, should be treated fairly. They all must be treated equally.
On top of that, the bill proposes to eventually eliminate the Discovery program, through which many black and Latino students, who narrowly missed the cutoff score, gain admission to these schools because they met the definition of "disadvantaged." (The Discovery program, being income-based, has increasingly benefited Asian-American students in recent years.) Instead of eliminating the Discovery program, the city should revamp the definition of "disadvantaged" to prioritize students from districts that are historically underrepresented in specialized schools which would generate hundreds more black and Latino children eligible for entry.
There are other legislative proposals to help close the diversity gap, including a proposal by state Sen. Jamaal Bailey, a Bronx Democrat, to create a pre-SHSAT available to all students in sixth grade, with a requirement the city offer enhanced academics to help students fill in any gaps in their preparation for the eighth-grade SHSAT itself.
The city cannot paper over the disparities of educational opportunity in our school system for the highest-performing and highest-potential students. The dearth of enrichment offered in many of the elementary and middle schools in our communities is why 59% of black parents choose to send their child to a higher performing kindergarten instead of their local zoned school. They want, and we all need, something better for our children.
That requires a frank acknowledgement by the city that educational imbalance – both demographic and in terms of academic opportunity – is a far wider problem than a single admissions test for the city's specialized high schools.
The mayor, as a parent, can surely understand the dreams and aspirations of all parents – to avail their children of every opportunity to better themselves, both through academics and cultural enrichment. If this administration is wedded to eliminating the SHSAT, then I propose the city has a pilot program that incorporates that method with the five schools they actually have jurisdiction over. This proposal, in its current form, though well-intentioned, is ultimately misguided. Speaking as a doting mother and proud alumna, I look forward to working with the mayor to devise and implement measures which will address diversity, educational imbalance and racial disparity, while maintaining the pride and academic rigor of our specialized schools.
Powered By
NEXT STORY: Yonkers overturns term limits – and the voters' will