New York City
Bill de Blasio, it's time to give up
Hey, Bill… It's time we had a little talk about your presidential run. The campaign trail has been pretty rough so far, so maybe it's time for you to reconsider your run – and come back home, writes City & State's Amanda Luz Henning Santiago.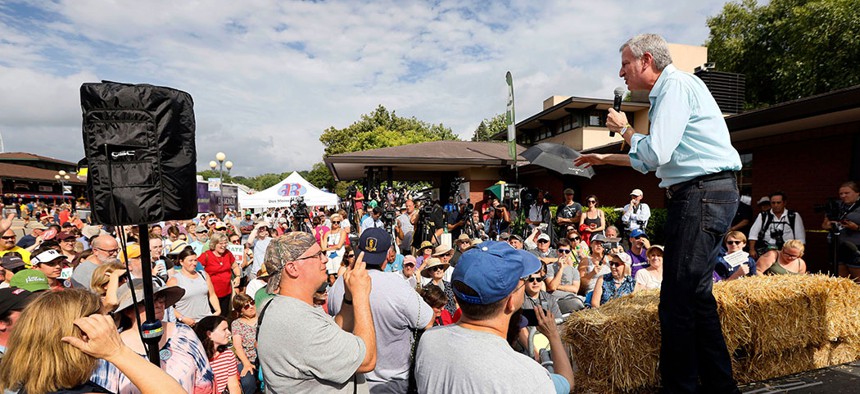 Hey, Bill. Can I call you Bill? … It's time we had a little talk about your presidential run. The campaign trail has been pretty rough so far. So rough, that it has truthfully ceased to make sense. 
You don't have enough donors to qualify for the third national Democratic debate, you're polling worse than President Donald Trump in your home state, you're constantly embroiled in scandals and you've become the city's No. 1 punching bag. 
Sure, there's time before the primaries to turn things around, but it's really starting to look like maybe you should just cool it with the presidential stuff and let, you know, the people polling above 1% worry about the country's fate. And before you accuse me of being too harsh, or call the points too vague, I've broken each of them down for you, in the hope that you're able to see what so many of your constituents see: a dumpster fire of a presidential campaign worth ending. 
You don't qualify for the third Democratic debate
The third national Democratic presidential debate, set to air in September, requires candidates to have 130,000 individual donors in order to qualify. According to your last filing you only have 6,700. You even have resorted to begging your allies in the Hasidic Satmar community for donations, even though they lean conservative and you're running as a left-wing progressive. It's also highly unlikely that you'll meet the additional 2% polling requirement needed to qualify. 
During an appearance on "Inside City Hall," you said you'd be soldiering on nevertheless. You said the "debates are only one part of the equation," despite the fact that they are watched by millions of likely Democratic primary voters. But come on. When was the last time a candidate who couldn't qualify for a national debate won a presidential nomination?
You're polling terribly
You have a lower favorability rating than Trump in New York state, according to a Siena College poll conducted between July 28 and Aug. 1. You've got a 26% favorability rating in your own home state – which happens to be overwhelmingly Democratic – while Trump has an approval rating of 35%.
"Trump continues to be viewed overwhelmingly negatively by his fellow New Yorkers," Siena pollster Steven Greenberg told amNewYork. "Perhaps Trump can take some solace in the fact that as unpopular as he is in his home state, New York City Mayor Bill de Blasio is even more unpopular."
That's gotta hurt. But it can't hurt more than knowing that fewer than 1% of Democrats and Democratic-leaning independents nationwide said they currently would vote for you in the primary, according to a Quinnipiac University survey released Aug. 6. 
You're (constantly) embroiled in scandals
On Aug. 4, it was reported that your NYPD security detail was used to move your daughter out of her Brooklyn apartment and bring her belongings to Gracie Mansion, with the first lady standing by to see that it was all done right.
Before that, it was reported that you were taking money out of your own Fairness PAC – originally intended to help Democrats win in the state Legislature and in Congress – to finance your presidential run. Technically legal, sure, but in the same way that eating your own toenails is legal. You can do it, but that doesn't mean people are going to think it's cool. Though it was certainly better than your troubling campaign finance scandals from years past.
And then there are those ongoing reports about your iffy dealings with the Podolsky brothers, the notorious New York City slumlords, whom your administration made a $173 million real estate deal with two years ago – whose lawyer, Frank Carone, just so happens to be a big campaign donor. (Stuart and Jay Podolsky say that the latest story, which relates to a mortgage company founded by their estranged brother Abe, has nothing to do with them – but good luck explaining that to voters in Iowa who will hear all about it from your opponents if you ever do pick up any momentum.) 
You've become the butt of every joke 
No matter what you do, you're met with mockery. People poke fun at your trips to the YMCA, your mishandling of that groundhog (RIP), your love of the Red Sox and your attempt to rebrand Trump as "ConDon," which translates to "condom" in Spanish. 
In an unflattering profile of you published last week in The New York Times Magazine, you're painted as a ne'er-do-well mayor, whose campaign is little more than a vanity run taking you away from a city that needs you. And severalnationalarticles have been written explaining to the rest of the country why New Yorkers hate you. More embarrassing still, New York magazine documented its attempt to find a New Yorker in your own neighborhood who actually wants you to be president, and let's just say, you probably want to skip that post. 
Your presidential campaign has only brought you embarrassment so far, so why not return your focus to New York? This isn't just about rescuing your career – it's about standing up for a city that voted you into office not once but twice based on your promises to improve life here. And you can still make an impact on pressing issues, like the remediation of lead paint in NYCHA buildings and public schools, tackling the uptick in hate crimes, combating federal anti-immigration policies that threaten New York's communities and so much more. We miss you, buddy!
The deluge of jokes being slung your way doesn't show signs of slowing anytime soon. So what do you say? Is it time for you to reconsider your run – and come back home?