Immigration
You want democracy? Give noncitizen New Yorkers the right to vote
If we want New Yorkers to have true representation, we must extend the right to vote to all who live here, including non-citizens.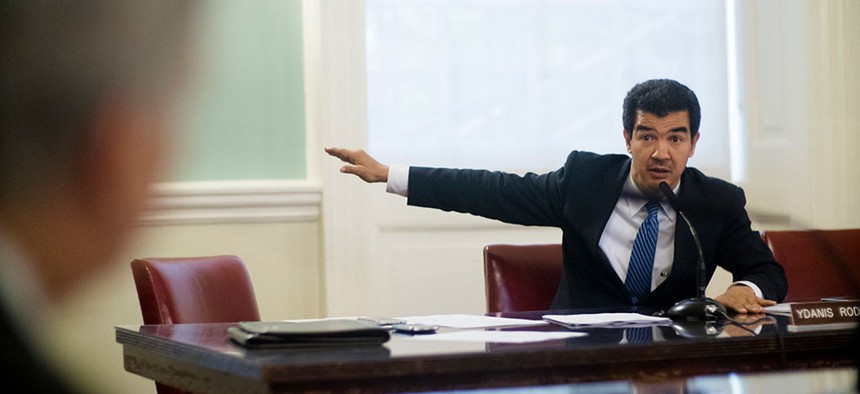 Last month, a new bill that would allow non-citizens who are either authorized to work or to stay permanently to vote in New York City's municipal elections was introduced in the City Council. Sponsored by Council member Ydanis Rodriguez, a naturalized U.S. citizen himself, the bill would enfranchise 500,000 to 1 million legal immigrants in New York City with the right to vote locally, including me.
I'm a journalist from Indonesia who has lived in the United States for the last five years. In 2018, I moved from Boston to New York City to continue covering issues related to politics and community news for various American publications, which I had begun doing in Boston as a graduate student at Emerson College. As a non-citizen immigrant invested in my city, I believe we should be given the right to vote in local elections, which have a significant impact on residents' lives, whether they are a citizen or not. 
Like many non-citizens in this city, I'm heavily engaged in what goes on in my neighborhood. Yet, I still lack the ability to turn my civic awareness into one of the most basic acts of civic engagement: a vote. Sure, non-citizens can participate in community organizing and other civic-adjacent activities, such as paying city and state taxes (which we're legally obligated to do), but we're still not allowed to vote. 
The new bill would give non-citizen residents in New York City the legal right to vote in municipal elections for mayor, comptroller, borough president, public advocate and City Council seatsand all municipal ballot measures. I would be allowed to cast my vote for the next Queens borough president, for example, but not allowed to participate in deciding whether Gov. Andrew Cuomo or President Donald Trump gets another term. 
Representation for non-citizens is especially important in a city largely powered by immigrants. By New York City's own estimates, immigrants own 52 percent of local businesses and contribute $195 billion to the citywide GDP. Our tax dollars fund government services, yet we are not allowed to put our two cents in about how our communities are run. 
Disenfranchised groups have fought against "taxation without representation" throughout U.S. history. But even before women and African Americans won the right to vote, immigrants were legally allowed to cast votes in many states up until these rights were rolled back around the 1880s. In rallying support for the bill, Rodriguez focused on this basic American principle.
"I can tell you what is un-American – denying people who pay their taxes the right to choose representatives that will voice their concerns and representatives that will determine where their money is allocated," Rodriguez said of the new bill. "It is un-American to leave them out of that process." Advocates from 45 policy and immigrant rights groups joined him and other city officials at City Hall to publicize the proposed bill. So far, at least 26 other council members have expressed their support.
There are those who oppose the bill – even while touting New York City's immigrant identity as its most valuable strength. New York City Mayor Bill de Blasio, while expressing sympathy for the bill's "motivations" pivoted to changing federal immigration law. "My view is we need to fix our immigration system," de Blasio argued when asked at a press briefing late last month whether he supported the municipal voting bill. "We need comprehensive immigration reform with a pathway to citizenship for everyone who's here and qualifies. I think citizenship is an achievement and it connects to certain rights and privileges including the right to vote."
It doesn't make sense, however, to promote immigration reform while denying those most affected by the system's flaws the chance to be heard. 
Then, there are Trump-style detractors who oppose the bill for reasons grounded in xenophobia. Republican Council members Joe Borelli and Eric Ulrich both posted their reasons to vote 'no' against the bill on Twitter. Borelli claimed that non-citizen voting would "dilute" and "devalue" the vote of citizen voters. He also accused the law of being a ploy to change the city's district lines. 
Contrary to Borelli's beliefs, democracy is not a zero-sum game; giving voting rights to non-citizens does not take away the rights of citizen voters. The addition of non-citizen voters would not affect district lines either, since districts are determined primarily by population size, a figure that already counts all residents regardless of citizenship. Similarly, Ulrich's patronizing statement that the bill would be "very confusing" for non-citizens doesn't carry weight. The proposed bill puts forth safeguard measures to guarantee it will be carried out lawfully. Plus, anyone who can navigate the intricate U.S. immigration system can understand whether they can vote and how to do so. 
Non-citizen New Yorkers' ability to participate in electing someone to represent their best interests at City Hall might change a district's electorate, which is perhaps why some electeds are so keen to kill the bill. 
Take Council member Kalman Yeger, a Brooklyn Democrat whose district includes Bensonhurst and Midwood, neighborhoods where foreign-born residents make up 54 percent and 42 percent of these communities. Yeger's rhetoric against some minority populations has been so troubling that last year he was kicked off the Council's Immigration Committee. Yeger has suggested the municipal voting bill isn't "progressive" because it devalues citizenship. But what does that really mean when two-thirds of Americans wouldn't pass a basic citizenship test?
Borelli suggested voting rights for non-citizens should be decided by the city's citizen voters in the next municipal election instead of being considered by the council. It would be better if council members, whose job it is to understand the intricacies of the laws better than most voters, would just pass it. But, if it can't get the votes or de Blasio's approval, I wouldn't be against putting the measure on the next election ballot – because voting on the policies that affect New Yorkers is good, and everyone should be encouraged to do more of it.