Opinion
Prosecutors should protect workers from white-collar crime
Workers are struggling and street crime is down, so here's how prosecutors can shift their focus.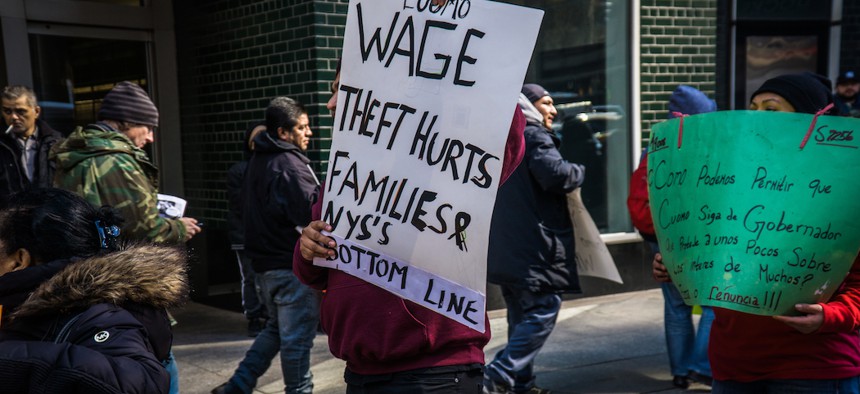 Across New York state crime and arrests have dropped dramatically during the coronavirus pandemic, with the biggest decreases being seen outside of New York City. Yet many New Yorkers are suffering more due to economic contraction and the widely anticipated recession.
With nearly half a million New York residents filing for unemployment in March alone, protection against white-collar crimes is crucial for the survival of working-class New Yorkers. In New York, it's estimated that wage theft and employee misclassification cost workers a billion dollars annually.But there are unlikely heroes who can rise to the occasion to make sure that money gets to the people who earned it: our elected protectors, each county's district attorneys and their staffs, who have the authority to prosecute both of these crimes.
The crime drop means district attorneys throughout the state are seeing a reduction in traditional prosecution and now find themselves with increased capacity to fight insidious crimes such as wage theft, consumer scams, and employee misclassification, which can undermine the safety and well-being of some of our most vulnerable community members.
A decision by the New York Court of Appeals at the end of March shows the promise of this approach. In a win for gig workers across the state, the court agreed with state Attorney General Letitia James that the food and sundries delivery companyPostmates has been misclassifying their employees as independent contractors, ruling that Postmates drivers are employees and therefore are eligible for unemployment benefits.
As the Covid-19 pandemic continues to roil the economy, this decision demonstrates how prosecutors can protect the benefits to which workers are entitled. And this is just the beginning. From enforcing Gov. Andrew Cuomo's eviction moratorium to prosecuting consumer scams that are already popping up in the form of phony cures, inflated prices, and counterfeit safety equipment, local prosecutors can protect New Yorkers who will soon receive desperately needed money from the government.
According to the Economic Policy Institute, a left-leaning national think tank, low-wage employees, specifically women of color, are most likely to be victims of wage theft, when an employer does not pay a worker for all of their work – this can include not paying minimum wage, not paying overtime, and forcing them to work off the clock.This is a particularly widespread problem amongst low-wage earners, with 17% of them affected by wage theft. This is all the more alarming given research showing that once a worker's wages are stolen in New York, his or her chance of experiencing poverty increases by 40%. Additionally, instances of misclassification have been on the rise, especially as the digital platform economy blurs the line between employee and contractor. The impact of misclassification can be immense: changes in tax treatment, workers compensation eligibility, and unemployment benefit eligibility are all common outcomes. The Public Right Project, a national organization that partners with state and local governments to fight for economic justice, offers a guide for local prosecutors on how to take these issues on.
The issue is personal for many New Yorkers. Like so many immigrants to America, my great-grandfather – who came to this country fleeing religious and political persecution – found refuge and community in his work as a member of the International Machinist Union. And like so many immigrants, his good fortune and union community helped uplift the generations that followed, including my father and brother, who are proud union members today. But not all workers are so fortunate as to have this same support; it is precisely this ability to provide a better life for oneself and one's family that is at stake when employers skirt rules of enforcement, safety, and honest treatment of workers. Increased economic inequality resulting from wage theft, misclassification, and workplace hazards can lead to an inability to pay for food, daycare, and adequate health care, disrupting access to the American dream across generations.
Indeed, enforcement is not just the right thing to do, it is indispensable for a prosecutor's mandate: to create safe communities. Poverty is a leading driver of crime; research shows that increasing the federal minimum wage could result in 9.6% fewer cases of reported child neglect as well as a decrease in physical abuse cases. A recent national survey found that suffering corporate abuse was the largest predictor of being the victim of other crimes – more predictive than race or income. In fact, victims of corporate abuse were four and a half times more likely to have also been victims of violent crime and three times more likely to have been victims of non-violent crime than their peers who had not experienced workplace abuse. Thus, prosecutors are often already interacting with victims of wage theft in other contexts. They just may not know it.
At a time when beleaguered communities across the state, and in particular communities of color, feel distrustful of law enforcement, protection of workplace standards also has the potential to help heal the schism between prosecutors and those they serve. While some communities harbor feelings of skepticism towards prosecutors, wage theft prosecution reflects leadership that is willing to take on powerful interests in support of under-represented populations. Vulnerable victims of wage theft may be hesitant about working with law enforcement. When prosecutors show they take seriously the most fundamental American right of workers – the right to wages earned from a day's work – it can go a long way toward demonstrating true caring about oft-neglected community members. Prosecuting corporate abuse presents a unique opportunity to partner with community organizations to encourage education about minimum wage laws, overtime laws, safe work conditions, and workers' rights. Prosecutors must also be willing to speak out and encourage legislative change, including increasing the penalties for corporate abuse. 
With the economy in crisis, and as much-needed criminal justice reforms are implemented in New York, it is clear that one of the most effective ways to keep communities safe is to ensure access to resources, education, and stable housing. New York's district attorneys can do their part with proactive enforcement of workplace standards, including through proactive prosecution. There can be no question that protecting the economic rights of workers is one further step towards safer and healthier communities.
Powered By
NEXT STORY: Upstate to New York City: Drop dead. Literally.