Coronavirus
The Republican plot to kill New Yorkers
Trump and McConnell lay the groundwork to force New York to open up too early.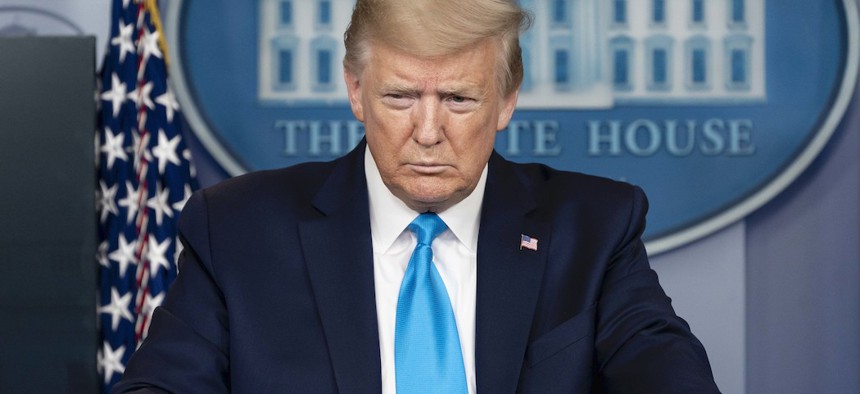 After returning from his meeting with President Donald Trump in Washington, D.C., on Tuesday, Gov. Andrew Cuomo held a press conference with an oddly divergent message. The governor proudly announced that he had secured a commitment from Trump to provide federal assistance in setting up the international component of a supply chain needed to double New York's testing for COVID-19 to 40,000 tests per day, up from 20,000. Cuomo added that he had pressed his case for increased federal aid to states, which he noted was left out of the just-passed fourth round of COVID-19 relief. That bill, which passed the Senate on Tuesday, allocates $310 billion for loans to small businesses, $75 billion for hospitals, $60 billion for emergency disaster loans and grants and $25 billion for testing. Cuomo called the absence of aid to state and local governments that need to pay first responders such as EMTs and cops "a mistake." 
"We talked about that, the president said he understood the issue and that he would work very hard to get funding for the states in the next piece of legislation that passes," Cuomo said. This is odd phrasing, as Trump doesn't need to "work very hard to get funding for the states in the next piece of legislation" when he could have, at Democrats' suggestion, just included it in this one. 
But during the question-and-answer portion of the same press conference, the governor dropped his naive facade and let out his frustration at Washington's failure to come to the aid of the hardest-hit states such as New York. "Promise, promise, promise, promise, promise … zero. Nada. Zilch. Nothing," said Cuomo, describing what the feds have been saying versus what they've been doing. "They again say, 'Don't worry, the next bill is going to have state funding.'" Cuomo laid the blame squarely on the U.S. Senate, since the Democratic majority in the House of Representatives would gladly give states the money needed to cover budget shortfalls caused by the new coronavirus and its economic impact. "I can't do a budget on 'Don't worry, next time,' especially after that promise has been made and repeatedly broken," Cuomo concluded. Now, to offset its projected lost tax revenue, the state will have to look for spending reductions of up to 20%. 
The governor even went so far as to take an apparent shot at U.S. Senate Minority Leader Chuck Schumer and his junior colleague from New York, U.S. Sen. Kirsten Gillibrand, saying, "New York's senators should represent New York." 
But Schumer had, in fact, proposed that the bill include aid to states. So it's worth explaining what actually happened on Tuesday, and what it really means: In an act of extortion by the United States government, the White House and Senate Republicans blocked aid to states and cities to gain leverage to force states to reopen sooner than they otherwise might. 
If the GOP succeeds, the result will be a lot of dead New Yorkers. If Cuomo holds firm to his own timeline, rather than Trump's, the result might just be massive cuts to state programs such as school funding and even health and public safety programs that are essential to fighting the coronavirus. 
When Republicans proposed the latest COVID bill, they only suggested supplemental support for small businesses, as that program has proven to be underfunded. Trump and his right-wing allies have recently been demanding with increasing aggressiveness that states lift restrictions on nonessential businesses. So Democrats countered the Senate GOP's small business-aid proposal with a plan that would also deliver to states and cities some of what they would need to combat the virus and make it potentially safe to gradually reopen businesses: the funds to deploy massive testing for the coronavirus and tracing the social contacts of anyone who tests positive. 
After prolonged negotiations and efforts to muscle Democrats into accepting nothing by accusing them of holding up economic relief, the GOP grudgingly gave in on funds for testing and hospitals – but not state aid. 
Since the GOP gladly disbursed $500 billion to big business and $170 billion to real estate investors in the last bill, their concern obviously isn't fiscal responsibility. So why is state aid such a sticking point for Republicans? Because they want leverage to force states to reopen businesses sooner than they otherwise would. As Axios reported this week, echoing an earlier report in Politico: "The thinking among some Trump administration officials is that many states should be reopening their governments soon and that additional funding could deter them from doing so."
Trump is simultaneously leaving responsibility for combatting COVID-19 to states while denying them the funding they need to do so. But it's worse than just that – he isn't just being cheap or incompetent. He's deliberately starving states so that they have more reason to bend to his will. 
The White House's premise that states would remain closed just for the heck of it is absurd. Cuomo has no desire to keep children out of school, businesses closed and workers idled just for its own sake. If he waits to reopen longer than Trump wants, that's because public health experts are warning the governor it's unsafe to remove social distancing measures and let the coronavirus run rampant. Republicans want to force Cuomo's hand anyway. 
This latest tactic is the natural progression of Trump's desire to bully states into reopening. First, as any spoiled man-child would do, Trump claimed falsely on April 14 that he had "total authority" to force states to lift stay-at-home orders. Three days later, presumably having been educated on the rights reserved to states in the U.S. Constitution, he backed off. But Trump still wants to force states to reopen sooner rather than later. 
And his timeline isn't determined by what's medically advisable. It's about two things: money and power. As The Washington Post reported on April 14, "Impatient with the economic devastation wrought by social distancing and other mitigation measures – and fearful of the potential damage to his reelection chances – Trump has been adamant in private discussions with advisers about reopening the country next month." Trump's allies are reportedly telling him that reopening sooner will boost his shot at winning reelection in November. 
Trump's cynical political strategy isn't just to manipulate states into reopening quickly, however, but to nominally leave them in charge so he can shift blame onto governors if the death toll rises. "(Trump) has asked White House aides for economic response plans that would allow him to take credit for successes while offering enough flexibility to assign fault for any failures to others," The Wall Street Journal reported on April 17. 
As New York magazine's Jonathan Chait explains, this strategy involves several other tactics, the most high-profile being the deployment of angry gun-toting protesters to hold "open it up" rallies in state capitals. These small bands of activists are backed by well-funded, Trump-aligned advocacy organizations. Trump has lent his support to their cause, tweeting, in reference to some of the state-level protests, "LIBERATE MICHIGAN!" and "LIBERATE VIRGINIA, and save your great 2nd Amendment. It is under siege!"
Although it is not as blatantly fascistic, it is perhaps no less of a disturbing power grab that, on Tuesday, U.S. Attorney General Bill Barr told conservative talk radio host Hugh Hewitt that the Department of Justice might bring legal action against states that don't open on Trump's preferred timeline. 
So that's Trump's strategy for forcing states to serve his electoral interests rather than their constituents' health and safety. (The New York state Republican Party did not respond to requests for comment.) 
Reasonable people can differ about whether congressional Democrats should have agreed to a bill that leaves out aid to states and cities, or other proposals such as vote-by-mail for this November and a bailout for the ailing postal service. Even some politically moderate observers such as Politico magazine's Michael Grunwald think they "caved" unnecessarily. 
Democrats cave: Nothing for states or cities, nothing for election protection or the post office, no oversight, no limits on fossil fuel bailouts, no food stamps. They got some testing - somehow that's a GOP concession! - but no contact tracing. https://t.co/PWjOoaWozN

— Michael Grunwald (@MikeGrunwald) April 21, 2020
Schumer, however, sees the latest bill as a win. He got money for small businesses, which Democrats support, and tacked onto it money for hospitals and testing, which New York needs. Schumer also would contest Cuomo's depiction of state aid as always being put off until next time. In the last bill, including direct state aid, grants for education and child care and $3.8 billion for the Metropolitan Transportation Authority, Schumer secured $10.2 billion that went to New York or one of its public agencies.
In their joint statement on the new bill, Schumer and House Speaker Nancy Pelosi touted their achievements but lamented the lack of state and local aid – while saying they are "pleased that the President has committed to addressing this critical priority in CARES 2." CARES 2 would be the next major coronavirus response, the previous $2 trillion bill having been called the 'Coronavirus Aid, Relief, and Economic Security Act,'' or CARES Act. (This latest bill is just an interim measure to cover emergency needs.) Trump has already announced his support for another major stimulus package that includes state aid, but U.S. Senate Majority Leader Mitch McConnell has said he wants to limit future spending on COVID-19. On Wednesday, McConnell told Hewitt that he opposes sending aid to New York and other states ravaged by the pandemic, adding that he'd be more interested in changing federal law so that states can declare bankruptcy. "There's not going to be any desire on the Republican side to bail out state pensions by borrowing money from future generations," McConnell said. 
Some experts would roll their eyes even at the $25 billion for testing that was just appropriated, however, warning that it's nowhere near enough to safely lift stay-at-home orders. Ashish Jha, director of the Harvard Global Health Institute, estimates that the United States should be testing 500,000 to 600,000 Americans per day for coronavirus, which is about four times as many as it currently does. Extrapolated to New York, that would mean merely doubling testing capacity might not be enough. As of Wednesday morning, New York accounted for 251,720 of the United States' 805,772 confirmed cases. 
To test that many people means deploying massive armies of testers, fully besuited in personal protective gear, equipped with adequate supplies of every component, including currently hard-to-come-by nasal swabs and reagents, and even larger armies of contact tracers who would track down and test the recent social contacts of every person with a confirmed case. "We need far more support to states and cities – to both address their budget shortfalls for normal operations, address the scale-up of testing, contact tracing and isolation for SARS-CoV-2, to support their residents as they try to keep social distancing and strengthening the public health infrastructure around the country," said Gregg Gonsalves, a professor of public health at Yale.
New York's congressional delegation seems uninterested in responding to Cuomo's criticism from Tuesday. House Appropriations Chairwoman Nita Lowey, Rep. Hakeem Jeffries, who is in the House majority leadership, and Gillibrand did not respond to City & State's request for comment.
The one New York representative who publicly opposes the new bill is Rep. Alexandria Ocasio-Cortez. Aid to states and cities is just one of her many unmet demands, which also include rent cancellations, hazard pay for essential workers, vote-by-mail and temporarily expanded health coverage. 
Meanwhile, New York City Mayor Bill de Blasio and Cuomo have highlighted the potentially devastating cuts they will have to make without federal help. As de Blasio noted in a CNN op-ed with Carmel, Indiana, Mayor James Brainard, "New York City, the epicenter of this crisis, has seen only $1.4 billion in direct aid – even as we project the crisis will cost the city more than $7 billion in lost revenue." 
New York magazine's Chait worries that without supplemental federal funds, state and local officials may have to give in to Trump. "Faced with the desperation of a disintegrating revenue base and spiraling needs for social spending, governors may be forced to risk the health of their citizens and try to gamble that they can restart the economy," warns Chait. 
The Cuomo administration denies that's even a possibility. Asked about Trump's plot to pressure states, senior Cuomo advisor Rich Azzopardi offered City & State the same statement he issued in response to the "open it up" protesters in Albany: "Both our PAUSE and reopening initiatives are based on facts, science and metrics that a vast majority of New Yorkers have followed and because of that, the curve was bent and lives were saved in this pandemic. Horn honking and political pressure will not be a factor."
New Yorkers had better hope that's true, and that either the federal government realizes the necessity of funding enough testing to make the streets safe – or that the state somehow can do it without help from Washington. 
Correction: An earlier version of this article misstated U.S. Senate Minority Leader Chuck Schumer's title.