Opinion
Cuomo's doing better than Newsom. Here's why.
This is a time for top-down leadership.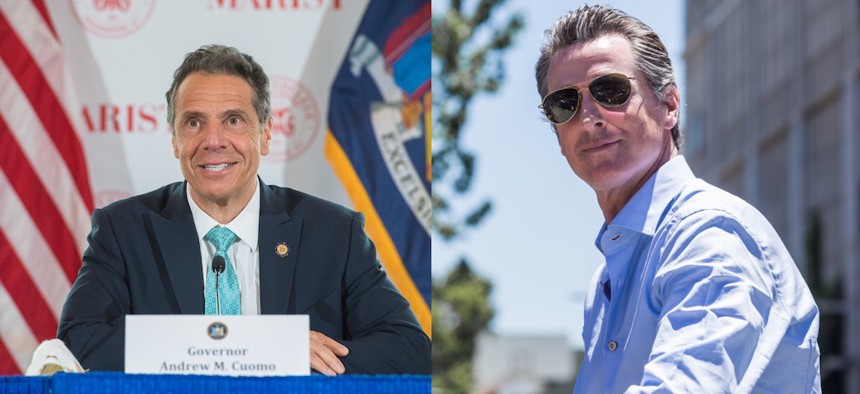 In a pre-COVID-19 era, entertainment value trumped management skills in the minds of many voters, and politics was a sideshow to a lot of citizens. The election of a reality TV star as president was the apotheosis of this dangerous trend. Now, in the coronavirus crisis, the leadership choices made by New York City, New York state and the American people are determining whether we face life or death, prosperity or economic ruin, a bright future or a dystopian era.
Picture our multi-layered system of government as a large corporation: The president is the CEO, with the cabinet filling out the rest of the c-suite; governors are upper management, analogous to the regional vice-presidents of national corporations; mayors and county executives are middle management. 
We have seen the last four months that the CEO of the United States is in way over his head; his incompetence and lack of empathy coupled with surrounding himself with unqualified toadies has had devastating impacts on the stock of our country. Rather than a well-run cutting-edge company like Apple or Microsoft, the corporation that America now resembles is Dunder Mifflin, of the sitcom "The Office," with President Donald Trump acting like the narcissistic, casually offensive Michael Scott, the ever-bumbling CEO.
But fortunately, we live in a country built on federalist principles: Most of our day-to-day lives are in the hands of governors and – to a lesser extent – mayors and county executives. In New York, we have been fortunate to have a governor who has lately been teaching a master class in management skills every day at 11:30 a.m. to the entire country.
Gov. Andrew Cuomo's approach to this crisis, although not without some missteps, has been exemplary. While some commentators have recently criticized Cuomo's performance and compared him unfavorably with West Coast counterparts such as California Gov. Gavin Newsom and Washington Gov. Jay Inslee, Cuomo's management style has actually been the best suited to the pandemic. 
Relying completely on facts and data and clearly explaining why and how he has made decisions that have affected 19 million New Yorkers, Cuomo's daily press briefings have made for must-see TV, broadcast online and on cable news networks. No wonder his statewide favorability rating is 77%. Even Republican and conservative New Yorkers mostly trust Cuomo more than Trump on when and how the state should reopen non-essential businesses. Nationally, Cuomo is more trusted than not only Trump, Vice President Mike Pence and the Trump administration's political appointees, but even slightly more than Newsom or Democratic presidential nominee and former Vice President Joe Biden. 
One hallmark of good corporate leadership is to communicate the "big picture," convey this to your management team – for the governor, that includes not only his own administration but the mayors and county executives – and then empower them to execute that vision. That's exactly the case in New York: Aside from some disagreements with New York City Mayor Bill de Blasio and Rockland County Executive Ed Day, Cuomo has been able to work in sync with local governments around the state.
And, like any good take-charge executive, when Cuomo saw that de Blasio was too slow to cancel the New York City St. Patrick's Day parade and to close schools, the governor shut them down. 
Cuomo also has led a consortium of Governors in the Northeast to coordinate their responses to the virus, recognizing that competing for supplies or having discordant reopening schedules would potentially set back the progress being made.
California Gov. Gavin Newsom has a different management style. Although early in the crisis it appeared California was outperforming New York and other parts of the country, recent developments and a closer look at what actually happened paint a different picture.
Initially, it was the smart and cautious leadership of California's two most prominent mayors, London Breed of San Francisco and Eric Garcetti of Los Angeles, that averted an early full-blown crisis. San Francisco was the first large city to go into lockdown, on March 16, along with five surrounding counties. Newsom followed suit statewide on March 19. 
In recent days, a lack of firm statewide management has led to some chaos; three remote, rural counties in Northern California have revolted against the state government by allowing some businesses to reopen, in defiance of Newsom's stay-at-home orders. Newsom has responded by threatening to withhold their access to disaster funding.
Newsom shut down California beaches last week, only to reverse that decision a few days later and limit the closure to Orange County. His California Highway Patrol tried to quell the growing chorus of anti-lockdown protests in Sacramento by refusing to issue permits for assembly, but he was overruled in court last week.
Although California has far fewer coronavirus cases than New York, especially per capita, its mortality rate has plateaued or even ticked upward slightly in recent weeks. New York's, although horrible through all of April, is now finally steadily declining. And New York's higher prevalence of COVID-19 isn't necessarily just because it didn't move as swiftly to shut down as California. The New York City area is denser and more reliant on mass transit than anywhere in California and the ban on flights from China may have helped West Coast cities, while New York continued to get coronavirus carriers from Europe. 
Cuomo has made some mistakes. He waited several days longer than Newsom, and deeper into his state's emergency, to shut down non-essential businesses. Tom Frieden, a former head of the Centers for Disease Control and Prevention, previously told City & State, "Earlier action would likely have prevented the worst of this epidemic peak." Nursing homes in the state have been ravaged, in part because of a questionable state order that they must take back COVID-19 patients from the hospital and a lack of adequate state regulation. On Monday evening, the New York Post reported that the state Department of Health recently sent damaged testing kits to nursing homes. 
Even though Cuomo has made a few unforced errors in this highly-charged period, he has clearly captured the public's desire for calm, honest leadership. Will this pandemic be a "wake-up call" that gets voters focused on supporting strong managers for key leadership positions in the future? We will see six months from now, in the first post-COVID-19 election.