Donald Trump
NY Republicans surprised rioters believed their lies
They say they opposed the violent coup attempt at the U.S. Capitol, but their actions brought it about.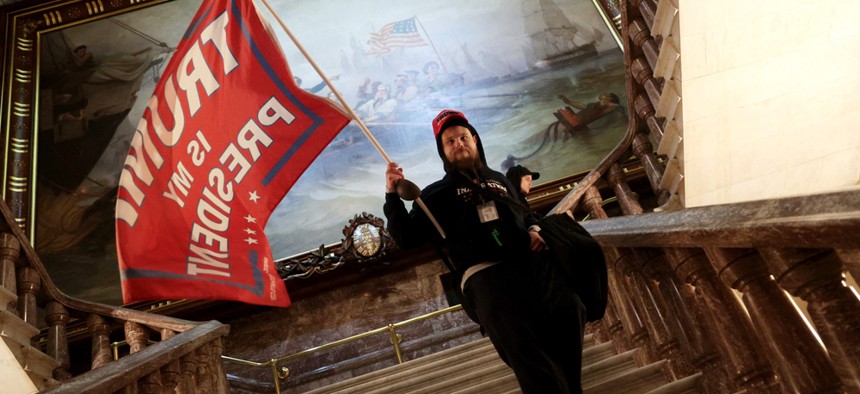 For two months, New York Republicans have lied to the American people: Without evidence that would hold up in any court of law, not even one with a partisan GOP judge, they claimed that some sort of fraud had been perpetrated in the recent election that President-elect Joe Biden won by more than 7 million votes.
And then, Wednesday, when their misinformed followers stormed the U.S. Capitol building, shattering windows, firing weapons and attempting to take control of the federal government by force, they acted surprised. Reps. Nicole Malliotakis, Elise Stefanik, Chris Jacobs and Lee Zeldin said they would object to certifying electors in key states Trump lost, but then issued statements opposing the riot. Long Island Rep. Andrew Garbarino was too cowardly even to say how he would vote. Reps. Tom Reed and John Katko were the only Republicans in the state who said they would vote to certify the election without any objection.
President Donald Trump, who has been attempting to get the election result overturned by every other means at his disposal, posted a video simultaneously saying that the election result was fraudulent and that the protesters should go home. 
These are somewhat contradictory claims, and no one who encouraged this attempted coup should be allowed to pretend that they didn't. 
If the election really were stolen, armed insurrection might actually be an appropriate response – a defense of democracy, rather than its downfall. So why aren't Jacobs, Malliotakis, Zeldin, Stefanik, Trump and his henchman-lawyer, former New York City Mayor Rudy Giuliani defending the violent coup attempt? Because they know the election wasn't really stolen. 
They have stoked their base's anger, its resentment at being outvoted by a more diverse America, for their own political advantage and, in some cases, personal profit. They did so on the assumption that no one would actually be so foolish as to act on the clear implication of their own words. 
Well, some people did, and it's the responsibility of those who led them to this point. Truth be told, it's the responsibility of every Republican who indulged Trump all along. Those who voted against impeachment sent the message to Trump that there would never be any consequences for his unpatriotic and antidemocratic behavior. Stefanik rose to national prominence as a manager of Trump's impeachment defense. What sort of American defends the president for attempting to extort foreign interference in an election on his behalf? That too was an assault on American democracy, even if it took place without chaos at the Capitol. 
As disturbing as Wednesday's events are, they are really no different from what Trump and his supporters already have done. Trying to retain power after losing an election through nonviolent means, whether it's frivolous lawsuits or bullying state officials to alter the result through the threat of extortion, is also an attempted coup. When Reps. Stefanik and Zeldin signed onto Texas' suit asking the U.S. Supreme Court to throw out the votes in decisive swing states – even ones in which local Republican officials affirmed there was no fraud – they were attacking their fellow citizens' voting rights. 
Trump lost 61 of 62 lawsuits, winning only one to limit the number of days after the election that an absentee ballot could be counted in Pennsylvania. He lost every recount. Every independent authority that assessed his claims of election irregularities found them to be baseless. And yet he and his minions kept refusing to admit the truth. If you tell your supporters that Trump really got more votes, why wouldn't you expect them to act accordingly? 
Wednesday morning, at a rally in Washington, D.C., Giuliani endorsed "trial by combat" and Manhattan native Donald Trump, Jr. told members of Congress who didn't sign on to his father's attempt to seize power "We're coming for you." 
These people are as guilty of sedition as the marks for their con; as guilty as the mob boss who orders the hit and as much a threat to the republic as any since the Confederacy. 
With reporting by Rebecca C. Lewis.