Opinion
How midwives and doulas could reduce Black maternal mortality
New York City has a huge racial disparity in health problems among pregnant women.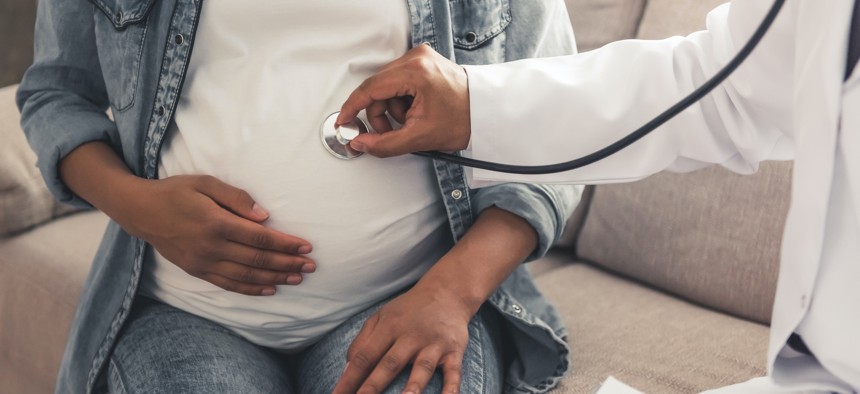 While the COVID-19 pandemic has gone from bad to worse over the past year, another public health crisis targeting Black mothers has worsened over the past 100 years – maternal mortality and morbidity. In New York City, Black women are eight to 12 times more likely than white women to die during childbirth. According to a report from the Center for American Progress think tank, Black women are also twice as likely as non-Hispanic white women to experience "life-threatening pregnancy-related complications."Research shows cardiovascular conditions, hemorrhage, and pulmonary embolism are among the primary causes of pregnancy-related deaths. As we are closing out Black History Month and entering into Women's History Month, policymakers should be reminded of this issue that disproportionately impacts Black women, who have been changemakers in the advancing civil rights for Black Americans and women's rights, and yet remain at higher risk of health complications during pregnancy and childbirth.
In the 1990s, researchers attributed this problem to "weathering," which refers to how social disadvantages cause stress hormones to deplete energy, including those that support healthy pregnancies, from one's body. Black women can experience weathering from facing threats and hardships, such as racism. Even social isolation brought on by professional or educational attainment, combined with being othered in new, predominantly white environments can also cause weathering. A few years ago, a researcher led a study among low-income individuals and found that Hispanics with more education experienced more weathering than those with less education. These results imply that community and family could be more beneficial for one's health than income and education.
Weathering is only one factor in this crisis. Another factor is racism, which is why the tragic deaths of Sha-Asia Washington,Amber Rose Isaac, and Cordielle Street last year reignited calls to action. At a New York City Council hearing last December, Isaac's fiancé provided testimony explaining how she had trouble breathing during her pregnancy, especially since her job as an early education teacher required her to carry students up and down stairs. When she told her obstetrician-gynecologist her concerns, the doctor said, "Well, there are pregnant women who are squatting and lifting in this office, why can't you do the same?" Isaac even tweeted about her experience. When doctors induced her labor and began to perform her Cesarean section, her heart stopped immediately.
At the root of this neglect is medical discrimination, which is in part due to medical personnel holding antiquated, racist misconceptions, such as the notion that there are physiological differences between Black people and white people, in areas such as pain tolerance and thickness of skin.
Two laws[AM1] have been passed at the municipal level to mandate annual reporting on maternal mortality, one of which codified New York City's maternal mortality and morbidity review committee. The city began investing $12.8 million in 2018 towards ac omprehensive, four-point plan to reduce maternal mortality and morbidity, which included engaging private and public health care providers in implicit bias training, enhancing data tracking and analysis of severe maternal mortality and morbidity events, improving maternal care at NYC Health + Hospitals facilities, and expanding public education. In 2019, New York state created a Maternal Mortality Review Board. That same year, the State Task Force on Maternal Mortality and Disparate Racial Outcomes issued recommendations to reduce maternal mortality and racial disparities, which included creating competency-based curricula for providers as well as medical and nursing schools, and designing and implementing a comprehensive training and education program for hospitals on implicit racial bias.In 2018, as part of the City's four-point plan, Health + Hospitals introduced new medical simulation training to educate providers on best practices to reduce maternal mortality and morbidity outcomes during childbirth. The corporation announced the expansion of its obstetrics simulation labs just last September.
All of these efforts have been put forth and yet the racial disparities remain.
A solution to this problem centers on midwifery and doulas. Doulas provide physical, emotional, and informational support and they advocate for pregnant people during prenatal appointments, which is crucial for Black pregnant women, as they are at risk of bias and discrimination. Midwifery is patient-focused, and helps address the social and personal needs of a mother. Midwives are more likely to listen to Black mothers who are experiencing symptoms of comorbidities than doctors and nurses, and they can diagnose the problem and provide referrals for specialists, thereby ensuring that these women receive the necessary treatment early enough. Research has shown that a substantial increase in midwife-delivered interventions could avert 41% of maternal deaths. Midwifery also reduces use of unnecessary medical interventions, including epidurals and Cesarean sections, which bring greater risks – including death – than vaginal births. The World Health Organization stated the rate of C-sections should be between 10% and 15%. Yet, 31.9% of all deliveries in the U.S. in 2018 were by C-section, a statistic that is far too high and a factor in maternal mortality and morbidity.
The city's role begins with the Department of Health and Mental Hygiene. The agency needs to use existing resources to create a public, freestanding birthing center that provides midwifery and doula services. While certain hospitals have some midwives on staff, they are fewer than the number of obstetrician-gynecologists. Birthing centers are primarily staffed with midwives and doulas, making them an adequate alternative for Black pregnant persons who face discrimination in a hospital setting. New York City only has two freestanding birthing centers and two public doula service programs, By My Side and Healthy Women, Healthy Futures. But the supply simply does not meet the demand, which is why our City needs another birthing center.
New York state needs to pass legislation requiring that health insurance plans provide free coverage of midwifery and doula services, and ensure that Medicaid will adequately reimburse midwives and doulas. In 2018, the state announced an initiative that included a Medicaid pilot program to cover doula services in Erie County and Brooklyn. But the Brooklyn pilot has been on hold because doulas there are dissatisfied with the low rate of reimbursement and the requirement that they bill Medicaid directly.
The state also needs to expand the midwifery licensure to Certified Professional Midwives. There are three types of midwives: Certified Nurse-Midwife, Certified Midwife (CM), and Certified Professional Midwife. Certified Nurse-Midwife have the ability to practice in all 50 states, Certified Midwives are recognized in 6 states, and Certified Professional Midwives are legally able to practice in 35 states. In New York, the Professional Midwifery Practice Act qualifies Certified Professional Midwives for licensure based on the training they have received, but they are unable to get licensure. This hindrance is due to the fact that when the Board of Midwifery developed its rules and regulations in 1994, Sections 52.20(b) and 79-5.2(a), it created the licensure requirement of a master's degree or higher, making CPMs ineligible for licensure, but Certified Midwives are eligible. Despite this obstacle, Certified Professional Midwives in New York could take the same exam that nurse-midwives took to become a Certified Midwife, which allowed licensing. That is, up until 2011, when the American College of Nurse-Midwives began requiring a Master's level education in order to take its exam. This requirement created an additional barrier to licensure for Certified Professional Midwives, thereby taking away their ability to practice in this state. The governor did issue Executive Order 202.11 in March of 2020 to allow midwives who are licensed and in current good standing in any state in the U.S. to practice in New York. However, this executive order only allows Certified Professional Midwives who are already licensed in other states to practice in New York; it does not allow New York-based Certified Professional Midwives who are not licensed to finally receive a New York license. This barrier keeps the number of practicing midwives in New York limited, thereby diminishing the availability of supply for these midwifery services.
These solutions are feasible. But given the gravity of COVID-19, it is likely that many elected officials do not see this as a pressing issue right now. However, with two vaccines currently available and two more on the horizon, it is clear that the COVID-19 pandemic will eventually come to an end. Unfortunately, we cannot say the same for the maternal mortality and morbidity crisis, unless lawmakers prioritize this public health issue and take the necessary steps to eradicate it.
Powered By
NEXT STORY: New York should vaccinate the incarcerated