Opinion
Unquestioning support for Israel is no longer safe for NY Democrats
Until very recently, even staunch progressives unconditionally backed the Netanyahu government. Not any more.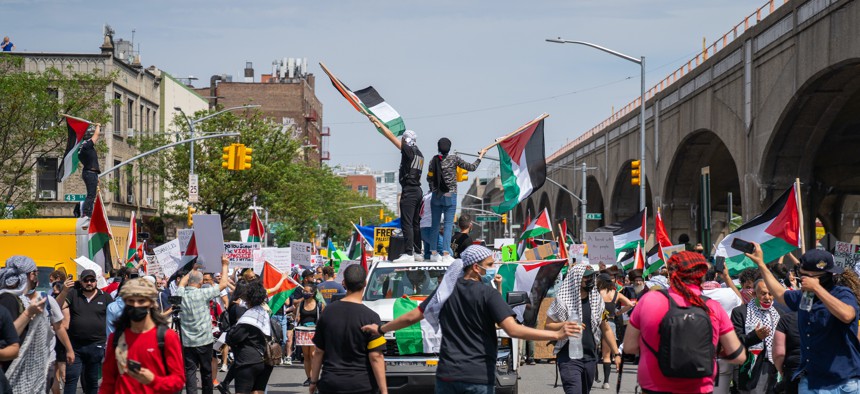 One of the most significant – and inevitable – shifts in New York Democratic politics over the last decade has come in how Israel is approached, discussed and defended.
It was inevitable because the Democratic Party, on economic and cultural issues, is being increasingly tugged left while the hard right in Israel is ascendant. Former President Donald Trump and Israeli Prime Minister Benjamin Netanyahu were close allies. And in the Palestinians, many liberal Democrats see an oppressed people who deserve justice like marginalized groups in the United States.
For decades, no matter where on the ideological spectrum a Democrat belonged, there was little debate about Israel: in all clashes with their Palestinian neighbors, the Jewish state could do no wrong. The last time Israel warred with Gaza, in 2014, Democratic elected officials staged vigorous rallies in support of Netanyahu's government. Support for the Palestinian cause, beyond activists in the street, was virtually nonexistent.
"It is up to us in New York City to make the case for Israel!" New York City Comptroller Scott Stringer, now a candidate for mayor, shouted at one rally that year, also attended by Sen. Chuck Schumer and Rep. Hakeem Jeffries, among other prominent Democrats. "We must make the case that tunnels are not being built by squirrels, but by terrorists! … If we can't beat the terrorists and they win, shame on all of us. Let's fight back, let's be angry, let's really give it to them the way we should! We are in the right!"
These days, with Israel and Gaza reaching a tentative ceasefire after roughly 250 Palestinians were killed, Democratic politicians in the five boroughs are no longer so unified in their support for Israel. Many young, left-wing elected officials released statements condemning Israel and several came out in full support of BDS, the nonviolent boycott movement that is reviled by many pro-Israel Americans.
Meanwhile, statements of support for Israel that would not have drawn any attention in 2014 or 2015 enraged many thousands of politically-engaged, progressive New Yorkers. Andrew Yang, one of the top candidates for mayor, stated that he was "standing with the people of Israel who are coming under bombardment attacks, and condemn the Hamas terrorists. The people of N.Y.C. will always stand with our brothers and sisters in Israel who face down terrorism and persevere."
The backlash online, and among young progressives, was severe. Yang has been heckled at public events. Rep. Alexandria Ocasio-Cortez attacked him for attempting to go to an Eid event after issuing such a hawkish statement on the conflict. Yang was forced to somewhat backtrack, releasing a follow-up statement that acknowledge Palestinian suffering. Dianne Morales, the mayoral candidate vying for the support of the young left, spoke out in support of the Palestinian cause while the other Democrats hunting for progressive votes, like Maya Wiley and the aforementioned Stringer, refrained from reflexively hawkish comments.
Even Mayor Bill de Blasio, who has proudly addressed the Israel haws at AIPAC's annual meeting and vigorously condemned BDS, offered a more measured response to the latest outbreak of violence in Israel and Gaza. "If you spend time talking to Israelis, talking to Palestinians there and here, you've got to recognize the humanity on both sides of this conflict," de Blasio said in May. "Children are dying on both sides of this conflict. It's absolutely unacceptable, it needs to end."
Remarks like these from a pro-Israel Democrat in power would have been unthinkable for most of the 2010s. As recently as 2016, a progressive Democrat-dominated City Council was still able to overwhelmingly pass a resolution condemning BDS. Notable politicians hunting for the left lane in today's scene, including City Council Members Brad Lander and Mark Levine, co-sponsored the resolution. 
With left organizations like the Democratic Socialists of America ascendant in New York and other well-known groups, like the Working Families Party, speaking the language of this new movement, Democrats in certain neighborhoods trying to appeal to millennial and emerging Generation Z voters will have to, at the minimum, acknowledge the suffering of the Palestinian people. Among these groups and people, there is still debate over what that should mean – a two-state solution or a single multiracial democracy – but a minimum standard must be met: a willingness to challenge the conservative Israeli government government.
This trend will only continue as ideological polarization makes staunch support of Israel, a nation now ruled by conservatives, more of a Republican cause than a Democratic one. At the same time, the pro-Israel wing of the Democratic Party will not disappear entirely. Though Orthodox Jews mostly vote Republican nationally, many of them strategically remain registered Democrats in New York City, where they can vote in the relevant primaries. As secular Jews, who always have leaned left, increasingly turn away from Israel – politically, there is increasingly no great difference between a left-leaning Jewish voter and a left-leaning Christian or Muslim voter – it is the Orthodox Jews who become a primary target of outreach for the mayoral campaigns.
Yang has made that clear, aggressively chasing the support of Orthodox and Hasidic Jewish kingmakers—and largely succeeding. Brooklyn Borough President Eric Adams, who has a good chance of defeating Yang in the June primary, is vying for the same votes and remains a strong backer of Israel. (Adams released a statement nearly identical to Yang's, but without such a large social media following, he avoided the same backlash.) Some younger Democrats, like Rep. Ritchie Torres from the Bronx, have defied the leftward bent of their party and drawn closer to Israel.
In the coming years, this divide will become even more stark. Fewer and fewer local Democrats will feel the need to reflexively back Israel in an armed conflict. But the growing clout of Orthodox Jews will ensure there will always be politicians, like Yang and Adams, who hew to the traditional mode of politics in New York.
Correction: The Working Families Party is a political party. 
Powered By
NEXT STORY: Editor's note: A jarring subway attack