Opinion
A team of rivals should run New York City
The next mayor should follow Abraham Lincoln's lead and bring competitors into their administration.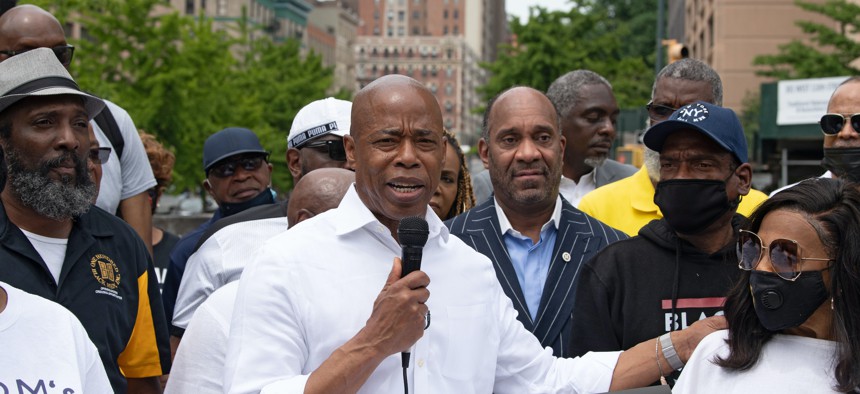 The votes haven't been fully counted, but it's not too early to wonder what the next New York City mayoral administration will look like.
Perhaps Brooklyn Borough President Eric Adams, who leads among first-place votes – or Maya Wiley and Kathryn Garcia, who have still have a chance to win – should read historian Doris Kearns Goodwin's "Team of Rivals: The Political Genius of Abraham Lincoln," which vividly describes the bold step President-elect Abraham Lincoln took after winning the election of 1860, when he appointed a number of his vanquished opponents to his new administration. 
After beating Sen. William Seward from New York, Ohio Gov. Salmon Chase and veteran Missouri legislator Edward Bates for the Republican presidential nomination, Lincoln appointed Seward secretary of state, Chase secretary of treasury and Bates attorney general. Lincoln also appointed prominent Democrats including Secretary of the Navy Gideon Welles and Secretary of War Edwin Stanton. By being geographically inclusive and bipartisan and harnessing the talents of even political adversaries, Lincoln was able to win the Civil War. 
In the Democratic primary that came to a close at 9 pm on Tuesday, the eight most prominent candidates brought unique talents and ideas to their hard-fought campaigns. It would be a shame to waste all that positive brainpower in the next chapter of the city's history. 
As has been noted incessantly the past 15 months, New York City is facing unprecedented challenges coming out of the global pandemic that decimated the city especially badly. Coming back to the pre-pandemic status quo ante would be challenging enough for any leader. 
But as has been noted by almost everyone on the campaign trail, going back to New York circa 2019 is not going to be good enough. The city must be rebuilt more equitably to ameliorate the gaping problems such as unequal education and economic opportunity that the pandemic threw into stark relief. 
So why not harness the collective wisdom of the eight Democratic candidates for mayor in one powerful team of rivals?
Wiley, the former chair of the Civilian Complaint Review Board, has been a civil rights leader for years. Her views on police reform do not seem to have completely won over the electorate, but why not put her in charge of a bipartisan blue-ribbon panel that would recommend to the new mayor ways to shift certain functions like mental health crisis management or low-level traffic stops to more qualified, civilian teams?
Garcia, the former Sanitation commissioner, was undoubtedly the winner of the "competence" lane in the race. Garcia espoused some very good ideas on the campaign trail for cutting red tape and bureaucratic delays for small businesses and restaurants, so they can roar back in the post-pandemic economy. Why not ask her to be deputy mayor for operations so the new mayor can streamline and sync up the various agencies to work together more smoothly so that New Yorkers feel that the government is actually working for them and not against them? 
Former investment banker Ray McGuire may not have done well at the polls, but he's no doubt had an impressive career on Wall Street. He had some bold ideas to create good new jobs for New Yorkers out of work because of the pandemic fallout. Maybe he could be a "workforce czar" to create middle-class jobs in underprivileged communities?
Former U.S. Sec of Housing and Urban Development Shaun Donovan also didn't seem to break through with his message to voters, but his background on affordable housing and reducing homelessness nationally among veterans could be a valuable part of a new cabinet. Put Donovan in charge of cutting homelessness in New York City in half by 2024. He's the person with the best track record to actually make a dent in this five-decade long crisis.
New York City Comptroller Scott Stringer has had an exemplary career in government and knows all the players in the city. Had he not been crippled by a series of sexual harassment allegations, he might have emerged as the clear choice for the progressive left. He was the first out two years ago with an ambitious plan to implement universal child care – an idea that was later echoed in various forms by Garcia and other candidates. Make Stringer the "universal daycare czar" and give him the resources to accomplish this in the first term. 
Diane Morales, a nonprofit executive, had a left-wing message that resonated with some young people early in the race. She was hobbled by her campaign staff dysfunction and rebellion and finished near the bottom of the pack. But her strong voice could be utilized to continue fighting for underprivileged New Yorkers. Maybe she could run a beefed up Office of Immigrant Affairs that works on getting proper benefits for the undocumented and those decimated and left behind the most during the COVID-19 crisis?
Andrew Yang may be a tougher fit because of the rancor between him and Adams in the final days of the campaign and Wiley refused to campaign with him the final weekend because of his seemingly callous remarks about the mentally ill homeless. He did, however, in his presidential and mayoral campaigns, bring attention to the important idea of direct cash benefits, so maybe he could head up a commission to study the feasibility of Universal Basic Income in New York and how the city and state can fund this each year.
Adams appears to be on a path to victory, but with ranked-choice nothing is assured. His unique position as a fierce advocate for both public safety and police reform would give him a chance to help accomplish both if he doesn't ultimately prevail in the primary – maybe as NYPD commissioner?
Disclosure: City & State Publisher Tom Allon's son serves as press secretary for Brooklyn Borough President Eric Adams.