New York City
Barkan: Kathryn Garcia is as moderate as Yang and Adams
Progressives may be turning towards because she is competent, but her ideology doesn't always align with theirs.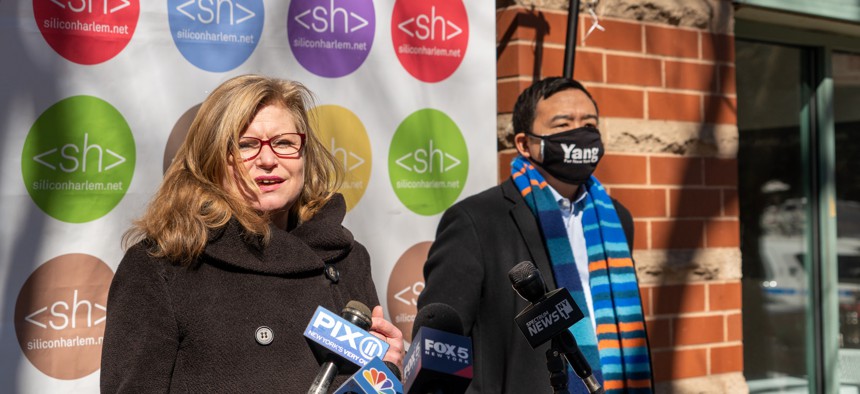 As Kathryn Garcia, the former Sanitation commissioner, rises in the polls, there is hope among some establishment liberals that she can be the candidate who can stop the relatively moderate frontrunners, Brooklyn Borough President Eric Adams and celebrity Andrew Yang.
Since receiving the coveted New York Times endorsement, Garcia has gotten warm receptions at the Union Square greenmarket and on the Upper West Side. "Kathryn Garcia knows her shit," Time wrote approvingly, likening her bid to be New York City's first female mayor to Sen. Elizabeth Warren's and former Secretary of State Hillary Clinton's presidential campaigns. New York magazine later celebrated her in their approval matrix. 
While there may be good reasons for voters to choose Garcia, such as her widely acknowledged competence, experience and integrity, progressives should know that she isn't to the left of Yang and Adams. 
Garcia, a Park Slope, Brooklyn native, worked in both the Bloomberg and de Blasio administrations, but gained notable executive experience in the latter. De Blasio, who was often derided as feckless and indecisive, trusted Garcia to helm the Department of Sanitation and later appointed her interim chair of NYCHA. When coronavirus hit, Garcia was tapped to lead the city's food distribution efforts. 
There are parts of her mayoral platform that are quite progressive. She has proposed building on the universal pre-K and 3-K programs by offering free childcare up to age three for families earning less than $70,000 a year. She promises to create more than 250 miles of new bike lanes, installing thousands of electric car chargers and implementing a version of the Green New Deal for public housing. She wants to build new housing for the homeless. 
But on several important policy positions, she is wholly aligned with Yang and Adams and on one particular education issue, she may veer even further right. 
The most obvious agreement among the three candidates is policing. Garcia, like Adams and Yang, rejects the defund-the-police movement. As NY1 reported, "she wants to increase the size of the NYPD Gun Violence Suppression Division to tackle an increase in shootings." Like Adams, a former police captain, Garcia wants to hold officers accountable for misconduct, require cops to live in the city and dispatch mental-health professionals on the subway, but she offers no radical departure from the de Blasio administration's approach to the NYPD, which was largely deferential. 
Her rhetoric emphasizes the danger of New York City's rising violent crime rate. "I remember not being able to take the subway at night and that you had (to) memorize car service numbers so you could get home safely and had lots of strategies: which street you walked down, how you maneuvered around the city. No one should be in that position again," Garcia said at one recent press conference. "I do support the PD and want to make sure they are the most effective department, that we think of police as a service and that police officers are our guardians, not as warriors."
On housing, Garcia, Adams and Yang all support upzoning in transit-accessible areas to allow the development of more market-rate housing and her plan to abandon single-family zoning would increase equity. However, in an interview with the Real Deal, Garcia did not embrace the idea, championed by her rival Scott Stringer, of forcing all new developments to include affordable units, saying only that affordable housing should be incentivized. 
The strengthening of the rent stabilization laws in Albany didn't seem to thrill Garcia, who has balked, like Yang, at raising taxes on the rich. "We need neighborhoods to be stable, and rent stabilization does that, but we also need to make sure that we're not having unintended consequences of folks of not having the money to do the renovations on vacant apartments," Garcia said, echoing real estate lobby talking points. "We have a lot of small landlords. They control an enormous amount of the rent-stabilized housing stock and they have to be able to make it here as well." For similar reasons, she opposes cancellation of rent during the COVID-19 pandemic. 
When asked by the Real Deal whether the state should pass a pied-a-terre tax on absentee owners of homes worth more than $5 million, she said, "not necessarily." 
Fundamentally, this view is Bloombergian. Garcia is wary of public regulations interfering with a lucrative private market. Invoking small landlords ignores the reality that the rental market is, in fact, dominated by incredibly large and wealthy firms. Perhaps that's why one of Garcia's biggest boosters is Alicia Glen, the Goldman Sachs alum who oversaw de Blasio's housing policy and was an architect of the failed Amazon deal, which sought to offer billions in tax breaks to the richest company on Earth, and which Garcia said she also would have supported.
This Bloomberg-like approach extends to education, where Garcia, like Yang and Adams, has grown quietly enthralled with privately-run, publicly-funded charter schools. Celebrated by corporate America and centrists in both parties, charter schools do not need to recognize teachers' unions, unlike traditional public schools, and can block students with disabilities or language difficulties from attending. 
Though millionaire and billionaire charter school backers are funding super PACs on behalf of Yang and Adams, it is Garcia who has staked out one of the most pro-charter stances in the Democratic primary. Garcia and the former banking executive Ray McGuire are the only candidates who support raising the cap on charter schools in the five boroughs, a top priority in the Bloomberg years. 
"I'm going to stand up for you," Garcia told charter parents at one recent forum. "Because you're a charter school does not mean that I think you're being selfish."
Of course, some progressive voters might define their ideology differently in a municipal election, in which the person they're voting for is responsible for picking up the trash but has no power to raise taxes without permission from the state government. To some, in that context, progressive governance might mean competent, corruption-free and apolitical management, rather than ambitious expansion of the welfare state or advocacy for state policy changes that are ultimately up to the Legislature. 
But with unified Democratic control in Albany, the opportunity is ripe for a mayor who could push state housing, economic and educational policy leftward. Garcia, undoubtedly, would be more experienced and even more qualified than any of the other frontrunners in the field. But there is little indication that she would offer any kind of alternative vision for a city emerging from a once-in-a-century pandemic.