Opinion
Latinas poised to be a force on the City Council
A record 10 Hispanic women won recent New York City Council Democratic primaries.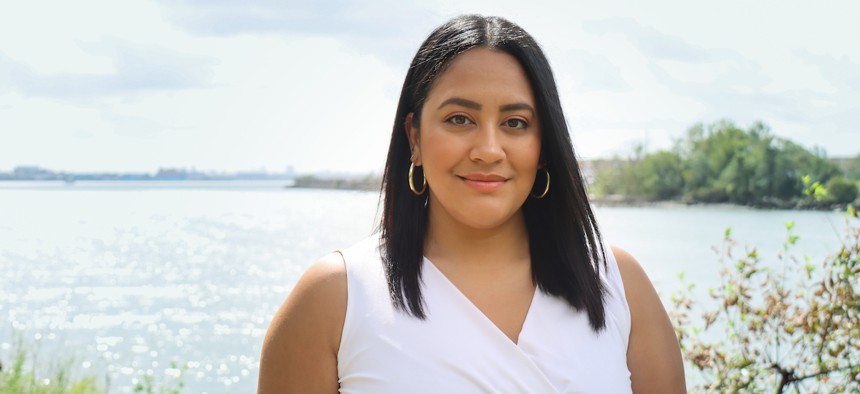 Next year, for the first time in history, women will hold most of the seats in the New York City Council, with Latinas likely to hold 10 of those seats, up from three. This historic tripling of Latina representation on the Council represents a political milestone – and it could also be consequential for issues facing the city's Hispanic community. (For this article, the term Latina(s) and Hispanic women are being used interchangeably. It is worth noting that the term Latina/o/x includes Americans with Latin American ancestry from other linguistic groups as well. Several Latinas of Haitian descent, including Farah Louis, Rita Joseph, Mercedes Narcisse, are expected to be sworn into the Council in 2022.)
It has been 38 years since Rep. Nydia Velazquez became the first Hispanic woman to serve on the City Council. Velazquez was not elected to the Council: on May 24, 1984, she was appointed to represent the vacant seat in Williamsburg and Bushwick. However, this political breakthrough for Latinas was short-lived. That same year, Velazquez lost the seat in a special election. Somehow that was probably the right outcome for Velazquez, as in 1992 she became the first Puerto Rican woman to serve in Congress.
A year earlier, the first Latina was ever actually elected to serve on the Council, when Lucy Cruz won a race to represent Bronx neighborhoods including Hunts Point, Soundview and Parkchester. In 1998, Margarita Lopez joined Cruz and became the first openly gay Puerto Rican politician to serve on the Council, after winning election in a district covering Manhattan's Lower East Side and East Village. Between 2001 and 2017, nine Latinas represented various Council districts, however, by 2018, only two Hispanic women were serving on the Council.
During the period of increasing representation, the Bronx elected three Latinas to the Council, in the northwest Bronx, Maria Baez represented the 14th Council District; in the South Bronx, Annabel Palma served in District 18 and Maria del Carmen Arroyo, who won the special election in 2005, represented District 17. In Brooklyn, Diana Reyna became the first Dominican American woman elected to public office in New York City. In 2002, Sara Gonzalez won the special election in District 38 which includes Brooklyn's Sunset Park and Red Hook. Julissa Ferreras-Copeland was elected to District 21 in 2009, becoming the first Latina elected in Queens and eventually the first person of color to chair the powerful Committee on Finance.
For the last 22 years District 2 on Manhattan's east side has been represented by Latinas. Starting with Margarita López followed by Rosie Méndez and Carlina Rivera. District 8, which includes parts of the Bronx and East Harlem, was represented from 2006 to 2017 by Melissa Mark-Viverito, who was born in Puerto Rico. Against the odds, Mark-Viverito became the first person of color to serve as Council speaker.
Presently, women overall hold 14 Council seats with Latinas representing only three Council districts. There are currently 11 Latinos on the Council, and there will likely be 14 next year, including four men.
Here's where the future Latina lawmakers won their primaries. Once again, the Bronx is likely to bring three Latinas to the Council. Marjorie Velázquez, who in 2017 lost the election to City Council Member Mark Gjonaj, was declared the winner to represent the northeast Bronx. Pierina Sanchez defeated several candidates to succeed Fernando Cabrera in District 14 in the northwest Bronx. Amanda Farias won a close race to represent the South Bronx and to replace retiring Council Member Ruben Diaz, Sr. in District 18.
Brooklyn will also be represented by three Hispanic women. In the 34th Council District which covers parts of Bushwick and Williamsburg, Jennifer Gutiérrez handily won the primary race. In the race to represent District 38 in western Brooklyn, Alexa Aviles was the clear winner. After winning a contentious special election in the 2020, Darma Diaz was elected to represent District 37 and succeeded Rafael Espinal, who stepped down in early 2020. However, in a very competitive primary race, Sandy Nurse, an Afro-Latina, ousted Diaz in her bid for reelection. 
As expected, in Manhattan, Rivera and Diana Ayala, who succeeded Mark-Viverito, easily held onto their respective Council seats. In Upper Manhattan's District 10, the top three candidates were Latinas, with Assembly Member Carmen de la Rosa prevailing in the primary race.
Tiffany Cabán, in northwest Queens, was declared the winner in District 22. In 2019, Cabán ran and lost an extremely competitive race for Queens District Attorney. Community recognition immediately made her the favorite to win the race. District 22 is not considered a traditional Latino district. However, the growing number of Hispanics in Queens and Cabán's success could prompt other Latinas to run in comparable districts in the future.
The anticipated wave of women on the Council, including Latinas, in part, is being credited to the efforts of several groups that have pledged to boost female representation in the legislative body. Groups such as 21 in 21, The Broad Room, Amplify Her, the Road to Justice Coalition, and others played a key role in recruiting and supporting female candidates, increasing voter turnout, providing financial support and building campaign capacity. It now appears that those efforts are paying off.
With three non-Hispanic men holding the citywide offices of mayor, comptroller and public advocate, Latinas on the Council can play a vital role in pushing issues of importance to women and more than two million Hispanics New Yorkers including, but not limited to, pay inequity; finding affordable and quality childcare; domestic violence prevention; better access to physical and mental health care. This goal can be accomplished by appointing Latinas to leadership positions in key Council committees; uniting to form a voting block to push for policies and programs, or ultimately, influence the speaker race. And, as Hostos Community College Professor Howard Jordan aptly put it, "Latinas winning council elections can be the seeds for a longer-term agenda of Latinas running for citywide office."
The path for Latinas' representation on the Council has not been smooth or linear. Nevertheless, after almost four decades since the first Latina served on the Council, the 2021 general election is expected to yield the highest number of Latinas to ever serve in the legislative body. Barring any surprises, 10 Hispanic women will be sworn into NYC Council in 2022, reaching a new historic milestone for women in the Latino community and with the potential to shake up business as usual on the Council.