Editor's Note
Editor's Note: De Blasio's free vaccine money a hit while Cuomo is down
Who knew the mayor's idea to offer a financial incentive in the fight against COVID-19 would get picked up by President Joe Biden.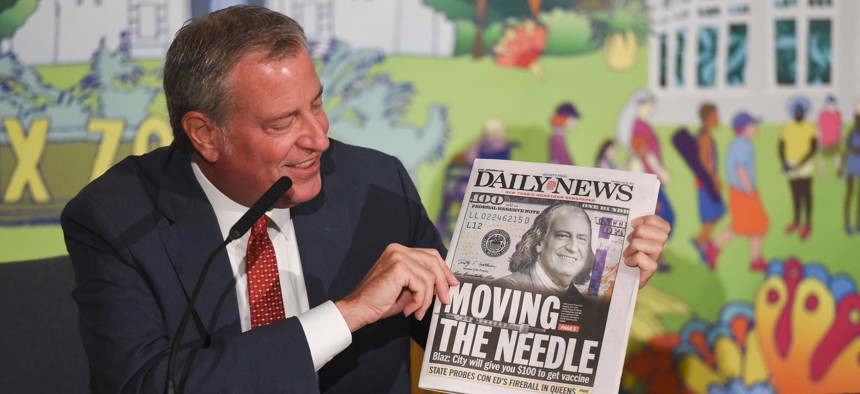 New York City Mayor Bill de Blasio has emerged victorious over Gov. Andrew Cuomo in their long-standing feud to outdo each other.
Cuomo, for all his efforts to outshine the mayor, fell hard last week with the revelations made by state Attorney General Letitia James' 168-page report on the governor's alleged sexual harassment of employees. Recovery seems unlikely for him. Pundits and politicians are calling for his resignation. And when President Joe Biden ultimately called on Cuomo to stand down, the response came after Biden encouraged states to give $100 incentives to anyone who gets the COVID-19 vaccine.
De Blasio had already announced a day earlier that the city was pushing a similar financial incentive for anyone receiving a vaccine. For the mayor, in this case, timing is everything. Whether it was official or not, the president and mayor were on the same page on how to add another incentive for such an important public health vaccination program.
Minnesota Gov. Tim Walz, who gave the president all the credit, tweeted "Good idea, @POTUS." when announcing that his state also would hand out cold hard cash to all who vaccinate.
It may be a case of Democrats standing together on a well-received plan. But it was also an idea that was embraced by de Blasio early on. Don't expect Cuomo to outdo the mayor on this one, and most likely anything else going forward. He's got much worse problems than his downstate rival.