Editor's Note
Editor's note: De Blasio's latest COVID-19 vaccine mandate draws legal threat, of course!
It's no surprise NYPD union president Pat Lynch said he would take the city to court over the requirement that all municipal employees get vaccinated.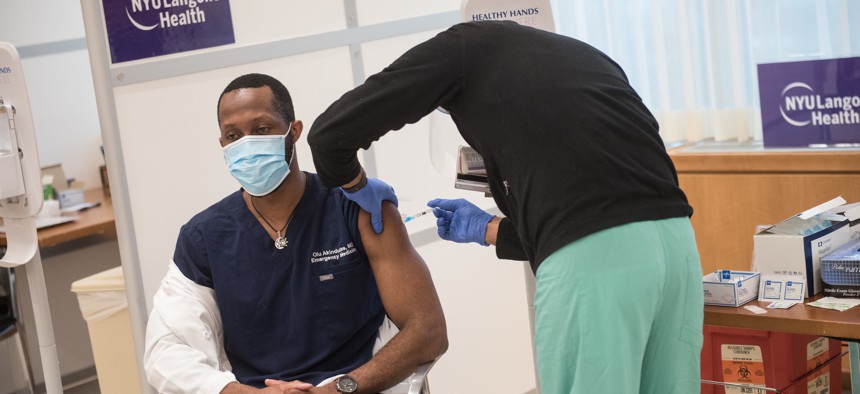 A good rule of thumb is to write about a lawsuit after it's filed, rather than reporting about how someone is threatening legal action. That way you know for sure that the lawsuit actually happens. But hey, this is the age of COVID-19, and requiring anyone to get vaccinated is a surefire way of getting sued. 
That's why I'm putting my money on Pat Lynch's threat of taking legal action to stop Mayor Bill de Blasio's latest vaccine mandate – this time for all municipal employees. 
"We need to reassure all New Yorkers that, if you're working with a public employee, they're vaccinated, everyone is going to be safe," the mayor told MSNBC. 
De Blasio's got the fact that mandates are working on his side. Nevertheless, Lynch, president of the Police Benevolent Association, fired back that since de Blasio's  "haphazard vaccine rollout" began, the union has worked to make the vaccine available its members who wanted it, while "protecting their right to make that personal medical decision in consultation with their own doctor." 
"Now that the city has moved to unilaterally impose a mandate, we will proceed with legal action to protect our members' rights," Lynch said on the union's website. 
Is Lynch bluffing? No way. But you have to wonder how successful a lawsuit will be in stopping de Blasio. Four plaintiffs representing New York City teachers and staff are suing to block the mayor's earlier vaccine requirement for all school employees after several earlier legal challenges to the mandate failed. 
Yet there may be hope for those looking for it. A judge did side with Stephen Crampton of the Thomas More Society and 17 hospital and nursing home workers the group represents after they sought a religious exemption to the rule. "This is America after all, and in America, religious liberty is always a winning argument," wrote City & State's staff when Crampton and the plaintiffs landed on the "winners" side of last week's Winners & Losers.
So we should expect religion and personal choice will continue to fuel these legal fights. Meanwhile, there's still a battle to be won against the virus.