Opinion
Opinion: Make three meals a day, every day, for every NYC child a 2022 resolution
For some New York kids, three meals a day isn't guaranteed. Here's why Mayor-elect Eric Adams should change that harsh reality on Jan. 1.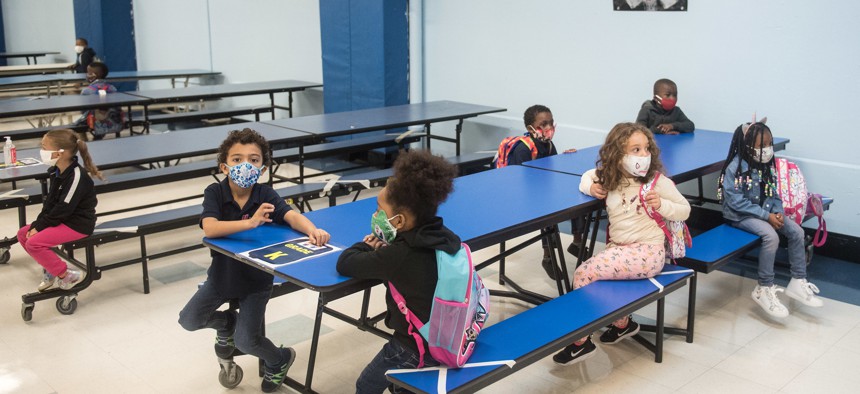 As the days get shorter and the holidays approach, the promise of the new year awaits – as does new city leadership. When Mayor-elect Eric Adams takes office on January 1, he has the chance to usher in a new era of progress for one of the most pressing problems facing New York City: the one in four New York City children at risk of going hungry.
For more than a decade, No Kid Hungry has been working to make sure every child in New York is able to get three meals a day, every day. This goal isn't a pipe dream: it's absolutely achievable. By prioritizing childhood hunger and strengthening nutrition programs, we can make sure that more kids get the food they need across our city – in 2022 and beyond.
New Yorkers are fortunate to have an incoming Mayor who is passionate about nutrition and regular access to food, and is acutely aware from his own life experience where and how government can work better for families in need. 
A mayor's leadership is crucial to any successful anti-hunger campaign. Mayor-Elect Adams can use his platform to set policy priorities, activate resources, and bring together the right stakeholders and solutions. As Mayor-elect Adams prepares to take office, there are four concrete actions he can take to be the leader that helps end child hunger in New York City:
First, with so many of our neighbors facing food insecurity, the City should undertake a new, unified effort to make sure families are enrolled in the newly expanded Child Tax Credit, grocery benefits like SNAP and WIC, and are taking full advantage of meals offered in schools and local organizations. The Adams administration should focus on leveraging every point of contact the City has with families to activate connections and ensure enrollment in every other aid program for which they're eligible.
Second, Mayor-elect Adams should strengthen nutrition programs in our public schools, beginning every morning. Students who start the day with breakfast have higher attendance, better test scores, and fewer chronic health problems. During the COVID-19 pandemic, alternative breakfast models like grab-and-go and breakfast in the classroom were available every day, to every student, in every school. Now, these breakfast options must be made permanent.
Third, the incoming Mayor can make a difference for kids during their hungriest season: summer. Summer meals historically reach far fewer eligible students than meals served during the school year, due to the inaccessibility of meal sites, stigma, and lack of program awareness among families. Mayor-elect Adams should significantly boost promotion of summer meals, ensuring that information regarding meal sites comes from trusted messengers, including schools, local elected officials, principals, parent advisory councils, and faith leaders. He can also work with the Department of Education to expand the number of meal sites and strategically place them to better serve families who struggle with reaching sites—especially if they're not close to home, or when the city is facing extreme weather. 
Finally, the Mayor-elect should establish a Child Hunger Task Force. Every City administration we've worked with has cared about child hunger, but the problem and its solutions are multifaceted. We want an Adams administration to hit the ground running by convening a child hunger task force comprised of high-level representatives of every City agency, elected officials, non-profits, faith-based leaders and other stakeholders. 
The task force could identify the barriers that prevent children from having access to three meals a day, every day, and spearhead policies to address them. It could also create cross-agency partnerships between agencies such as the Departments of Education and Homeless Services, and bridge gaps in existing services. This task force would bring the best reforms to the top levels of the administration and signal to every New Yorker that childhood hunger is a long-standing commitment and priority for the City of New York.
So many of us take something as basic as three meals a day for granted. We are heartened to have a Mayor-elect who is passionate about nutrition, and we are ready and willing to work with Mayor Adams and every city agency to make three meals a day, every day, for every child, a top priority and soon after, a reality. Because nourishing our kids is the smartest investment we can make to ensure that the kids of today are ready to tackle the challenges of tomorrow.
Rachel Sabella is the director of No Kid Hungry New York, a campaign of Share Our Strength.
Editor's note: This opinion piece originally appeared in NYN Media, City & State's nonprofit news site.
Powered By
NEXT STORY: Editor's Note: No MTA fare hike provides welcome relief to New Yorkers