Opinion
Opinion: Are schools the safest place for our children?
After students and teachers walked out of classes to voice safety concerns in schools amid the rise of COVID-19's omicron variant, New York City now has the chance to craft and perfect a remote learning option.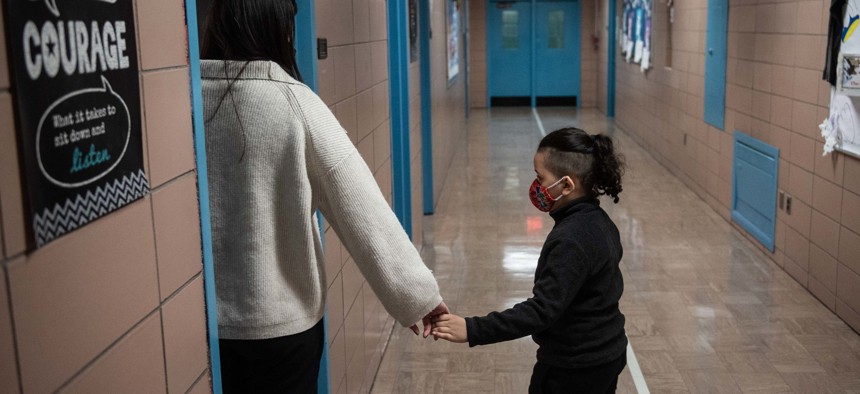 As we approach the end of New York City Mayor Eric Adams' first month in office, it's time we talk about what's really going on in our public schools. 
In mid-January, New York City students and teachers protested the inadequate safety measures taken to protect against COVID-19 and the lack of remote options offered by the New York City Department of Education. The youth involved in the walkout articulated that they felt compelled to protest because they do not feel safe at school. 
As a lifelong New Yorker, I have deep ties to the city and its education system. I am a former student of the public school system and have family members who are teachers, so I have seen first hand the great toll on teachers over the past two years. I am also a research fellow at the Institute for Urban and Minority Education at Teachers College at Columbia University, and I am constantly thinking about ways to improve the current conditions in our schools. Because of my personal and professional connections to schools in the city, I am passionate about ensuring we develop a more comprehensive and coherent policy that addresses the needs of our students and teachers. 
Since the start of the pandemic, the New York City Department of Education, like most school districts around the country, has struggled with how to maintain schools as safe learning communities. In March 2020, former New York City Mayor Bill de Blasio announced plans to suspend in-person instruction. Soon after, the Department of Education would move to remote instruction for the rest of the school year. During the fall 2020 and into last spring, the former mayor attempted to provide both remote and in-person options for students, but the realities of maintaining both proved to be more difficult than imagined. School closures continued as the Department of Education struggled to continue to operate amid the rise in coronavirus cases.
Despite the rhetoric of Adams calling schools "the safest place for our children," many teachers claim they are not given enough protective equipment and that the Department of Education has "cut back on PCR testing." Even with the reduced school closures during this school year, there is still a lack of stability with student and teacher absences as a result of the omicron surge. 
While teachers have been striving to provide students with a sense of normalcy throughout the pandemic, teaching during this public health crisis has taken an immense emotional and physical toll on teachers and students alike. Teachers are expected to provide physical safety, address the emotional needs of students and deliver exceptional instruction, despite feeling unsupported and unsafe themselves. With two years of this unimaginable labor, it is no wonder many feel fatigued and disillusioned. 
I have no doubt about the importance of public schools in our community. Nonetheless, maintaining our schools open without providing the necessary precautions is reckless. It not only endangers our teachers, but also our children, those who are entrusted in our care.
I do not want to see our schools closed, but I implore us to not let our interest in trying to get "back to normal" impede the care and safety of our children. 
On the most basic level, school leaders have failed to implement adequate testing protocols or provide sufficient protective equipment to staff and students. Currently, the Department of Education has an opt-in policy where only 20% of students whose parents have given consent are being tested. 
School leaders must instead mandate required testing of all students and adults within the school building. They must also supply masks daily, rather than the one to two masks per week currently distributed. 
In addition to addressing these "common-sense" recommendations, Adams also has the opportunity to do something transformative in this moment and support a research-driven online option for the city's public schools. Rather than attempting to replicate in-person instruction online, school leaders should invest in training teachers specifically on remote instruction, as they do with other subjects and grade levels. These teachers would be trained on the most effective practices, and school leaders would oversee the efficiency of their instruction as with in-person classrooms. 
Reinstituting a remote option for parents and teachers would also directly address the concerns over in-person instruction that students and teachers have so clearly articulated. Doing so would not only provide more choice for these stakeholders, but would also work to reduce class sizes, allow for greater social distancing and reduce exposure to everyone in the building.   
As the impact of omicron wanes and the crisis point in New York City may soon be passing, this is an opportunity to prepare for the next surge. We cannot be complacent. If this pandemic has taught us anything, it's that we must prepare to pivot and change course for the sake of our students and educators.
Alexa Rodríguez, Ph.D. is a Research Fellow in the Edmund W. Gordon Institute for Urban and Minority Education at Teachers College, Columbia University and a Mellon Postdoctoral Research Associate in the School of Education and Human Development at the University of Virginia.
NEXT STORY: Opinion: Why it's time to pass the Adult Survivors Act