Opinion
Opinion: Sending out an SOS for NYC's hotels
The city needs to help the industry with lower taxes, among other relief measures, if tourism is expected to bounce back after COVID-19.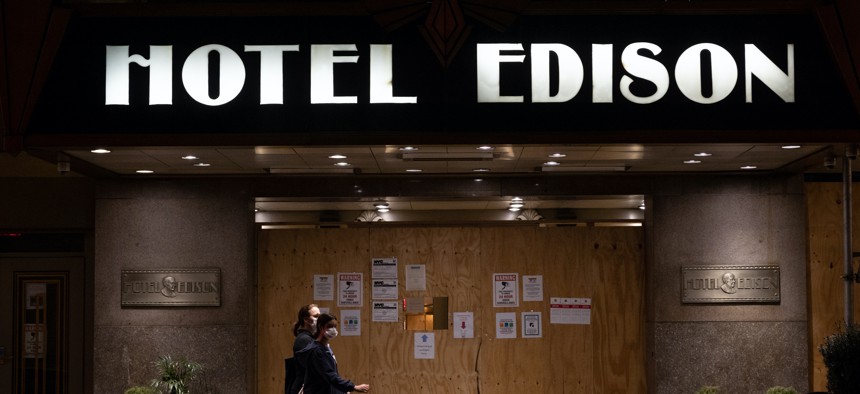 The tourism industry in New York reliably added more than $20 billion annually to the city's economy prior to the COVID-19 pandemic, which reduced it to a fraction of what it was. And when tourists began to return last year, the Omicron variant brought our recovery to a grinding halt, prolonging the economic uncertainty of the hundreds of thousands of New Yorkers who work in the restaurant, entertainment and hospitality industries.
Tourism isn't just about Times Square: It's also about restaurants and bars, sight-seeing tours and historical attractions, and family businesses in the outer-boroughs – all devastated by the lack of visitors. And the backbone of the tourism industry – hotels –  have suffered so much loss over the last two years, without government relief or a real uptick in business. There is now a real question as to whether or not hundreds of businesses will survive, unless government steps up to save them.
According to the Hotel Association of NYC, more than 112 hotels across the city have permanently closed through COVID-19, and of the 50,000 good-paying jobs the hotel industry once represented, only 20,000 have returned. Those jobs were a path to the middle-class, supporting families and, by extension, communities in our boroughs of Brooklyn and Queens. And hotels contributed $3 billion in tax revenue annually – that's money that our schools, public safety and our hospitals are losing out on. 
Conservative projections before the arrival of the omicron variant estimated a full recovery for hotels in 2025. But now, without help, hotels may never recover. That's because late last year, the struggling industry was dealt a huge blow when then-Mayor Bill de Blasio signed the "Severance Law," which requires hotels shuttered by COVID-19 to pay out millions of dollars more in severance – effectively enhanced, privately funded unemployment – to furloughed workers that it simply doesn't have after two years of reduced business.
The hotel industry had already paid out an unprecedented half-a-billion dollars in unemployment and benefits to furloughed workers during the height of the pandemic, in addition to federal unemployment and enhanced unemployment provided by the state. Even more, hotels in New York face a property tax burden that is double that which hotel owners in other major markets must pay – and the debt interest on those taxes accrues at an annual rate of 18% on late payments. 
Without relief from City Hall and the City Council, hotels across the city will continue to be forced to close, cutting more jobs as all the federal and state protections for families through COVID-19 have long expired. 
Without a more common sense approach to reviving our tourism economy, we also will become far less competitive as we compete with other cities for tourists and investment in the industry. We can't afford to be a hostile business environment right now –  especially to businesses that provide a source of good wages and benefits for a workforce predominantly made up of people of color and immigrants. 
Helping hotels is a down payment on our recovery – plain and simple. To offer real relief for hotels that will rescue our tourism industry, the city must reduce property tax assessments to match reality, forgive interest payments on hotels that can't pay their taxes for the next few years, and lower the tax rate visitors pay on their rooms to make New York more competitive as a destination. Otherwise, our City will not be very hospitable to the hospitality industry – and we will lose thousands of jobs and billions in tax revenue, forever.