Editor's Note
Editor's Note: Go ahead, stomp the spotted lanternfly
New Yorkers may find relief from some of the frustrations that have hit the city this summer by doing their civic duty and killing this pest on sight.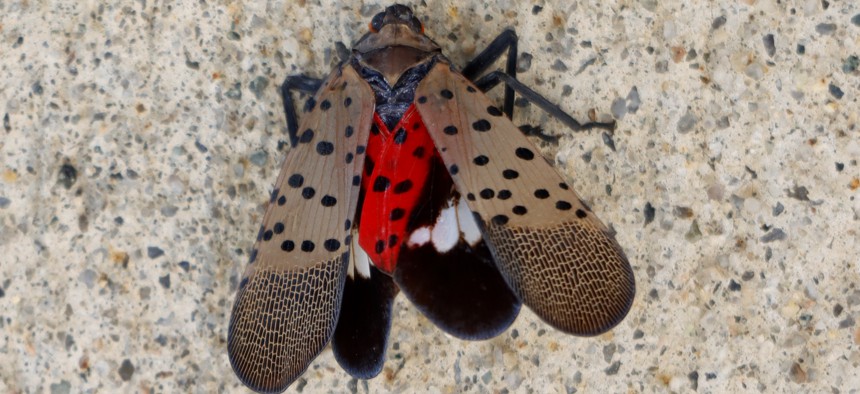 The summer of 2022 will be remembered for more than just a few frustrations in New York City: The spike of intakes in public shelters (blamed partly on an influx of asylum seekers, including those bussed from Texas after crossing the border into the U.S.), the botched monkeypox vaccine rollout, the return of polio, the fight over school budget cuts, and the debate over congestion pricing exemptions. 
Fortunately, New Yorkers have a way to vent their frustrations over these unresolved problems: permission to kill the spotted lanternfly. Yes, the invasive pest is back, threatening agriculture and trees, including Ailanthus altissima, known as the "tree of heaven," which is the same one growing out of the sidewalk in the book "A Tree Grows in Brooklyn." If there was ever a call to defend the city, then New Yorkers have it from the Parks Department. "If you see a spotted lanternfly, please squish and dispose of this invasive pest," the department writes on its website. The state Department of Environmental Conservation warns that this insect could "impact New York's forests as well as the agricultural and tourism industries." Environmentalists have urged people to kill the bugs since they first arrived in Pennsylvania in 2014 and in New York City six years later. New Yorkers are even finding that it's fun, killing dozens at a time – yes you can come across that many in one encounter. 
Now, if we could only stomp out the causes of the city's frustrations with effective solutions, that would be a real relief.