New York City
As New York City seeks contractors to aid asylum seekers, advocates decry continued mismanagement at shelters
The intake center is short of Spanish-speaking staff and some families are being shuffled between shelters and hotels, Legal Aid said Monday.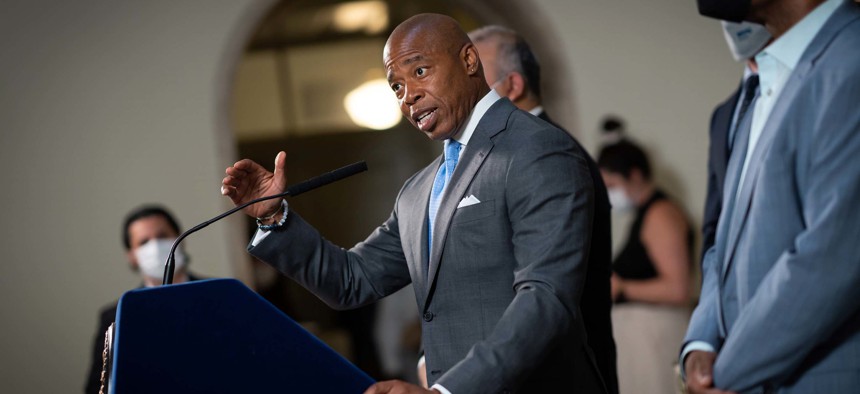 The New York City Department of Social Services has issued an emergency request for contractors to assist the increasing number of asylum seekers who have entered the city's shelter system in recent months. 
The emergency procurement order seeks legal advocates who can handle asylum cases, along with a nonprofit to set up an "Asylum Seeker Referral Center" that will help families enroll children in school, if needed, and link them to other community services, such as health care. "While the City conducts intake and referrals for specific categories of services, there are no providers who currently provide this comprehensive and specific type of assessment, and the city does not have sufficient staff available to staff the center itself," DSS Commissioner Gary Jenkins wrote in a letter to New York City Comptroller Brad Lander and Corporation Counsel Sylvia Hinds-Radix on Friday.
"To fulfill our city's legal and moral mandate to provide quality shelter to anyone experiencing homelessness, and to ensure we are providing appropriate services to asylum seekers, we are immediately issuing an emergency procurement declaration to rapidly procure additional shelter and services to serve these individuals and families," Mayor Eric Adams said in a statement released Monday.
The city last month began raising alarms about the increasing number of migrants from Latin America – what Adams said was, in part, a result of the governments of Texas and Arizona sending people who have recently crossed the border to New York. The claim generated criticism from the governors of both states, who denied they were deliberately sending people to New York. Homeless advocates also cast doubt on Adam's claim that more than 3,000 asylum seekers have entered the shelter system in recent months. Jenkins, in the letter, said that figure is a "conservative estimate based on comprehensive interviews of people entering the City shelter system." The city is unable to tally the real number, because "the federal government is unable to provide an estimate of families and individuals assigned to New York City for their asylee hearings," he wrote. 
The city's shelter population has increased approximately 10% over the past three months, and City Hall and homeless advocates are at odds over the explanation for the rising census. The Adams administration attributes the surge to the asylum seekers, while advocates say it is a result of the city's lack of affordable housing, rising eviction rates, staffing shortages at the Department of Homeless Services and bureaucratic delays related to the application process for shelter residents seeking permanent subsidized housing. 
Legal Aid and the Coalition for the Homeless, two groups who led criticism of City Hall for attributing the rising shelter population to asylum seekers and questioned the mayor's numerical claims, expressed ongoing frustration on Monday. 
"While we are glad to hear that the City is working to fulfill its legal mandate to provide quality shelter placements to anyone experiencing homelessness, the devil is in the details," the groups said in a statement. "We call on Mayor Adams to release specifics around his plan to rapidly procure additional shelter beds and resources for incoming asylum seekers." 
Legal Aid said Monday it is still awaiting data showing a full accounting of the estimated number of asylum seekers entering the shelter system. 
"We have been waiting since this problem first emerged for them to provide some data that would explain their estimates. After we see that, maybe we'll have an opinion about their claim that virtually an entire increase in the shelter system is because of asylum seekers, but to us it sure looks like (people) are coming in because they were evicted or couldn't afford their apartment," Legal Aid Homeless Rights Project Staff Attorney Joshua Goldfein said. "So I think the burden is on them to demonstrate that the problem is partly attributable to (asylum seekers)."
The city also does not have enough Spanish-speaking staff at the DHS' Prevention Assistance and Temporary Housing intake center in the Bronx to process applications, Goldfein said, adding that the application process is unnecessarily lengthy and includes questions that are not applicable to asylum seekers, such as a full accounting of their recent residencies. 
"We would like for them to make changes in the eligibility process to make it faster and smoother for clients, because they're wasting a lot of time," Goldfein said. 
New York City is one of few states with a right-to-shelter mandate, meaning anyone who presents to a city homeless shelter by a certain time of day must be given access to housing. The city failed to meet that requirement for several migrant families last month, forcing some to sleep in the city's intake center, often referred to by its abbreviation, PATH.
Legal Aid has also identified families, not all of which were migrants, who were illegally shuffled between hotels and shelters, because the city could not process their applications quickly enough and find space for them at shelters, Goldfein said. 
"They can't just keep shuttling people back and forth to the intake office and then these overnight places," Goldfein said. "It's not as debilitating on people as spending the night in an office with their children, but it's really disruptive." 
Adams' office did not immediately respond to questions about the ongoing issues identified by Legal Aid.
Powered By
NEXT STORY: NYPA head says no thanks to building public renewables