New York City
In stunning admission, NYC officials say they left migrant families stranded without shelter
The admission came after days of criticism over the city's handling of asylum seekers – and Mayor Eric Adams' narrative surrounding the issue.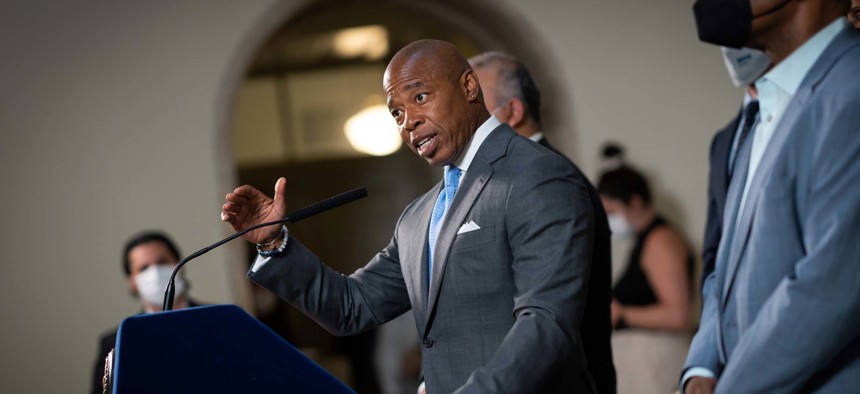 New York City officials admitted Thursday they not only "failed" to provide legally mandated shelter placements to four immigrant families this weekend – but also confessed their declaration that "2,800 asylum seekers" had entered city shelters in recent weeks was an "estimate." Mayor Eric Adams refused, however, to fully reverse course on his claim that the asylum seekers were sent to New York City by the governments of Texas and Arizona, even after their governors denied the accusation. 
The surprise press conference was called on Thursday after a report surfaced in NBC 4 on Wednesday evening revealing a family from Venezuela had allegedly slept on the floor of a Prevention Assistance and Temporary Housing intake center for five days this week because they were denied admission to a city shelter. Under the city's right to shelter laws, it is required to offer emergency housing to anyone who seeks it. 
"Because of the large increase in families coming into our system, we did not meet that mandate for four families," Department of Social Services Commissioner Gary Jenkins said from the City Hall rotunda on Thursday. "We recognize where we failed."
Jenkins said the four families the city identified spent less than 24 hours at a city intake center and were placed into shelters on Tuesday morning. 
Following the press conference, Legal Aid and the Coalition for the Homeless released a joint statement revealing it had identified an additional eight families who were stranded at a city intake center Wednesday night.
"The Mayor isn't speaking the whole truth. We spoke to eight families with children this morning who slept on the floor last night at the city's shelter intake center in the Bronx, in addition to the four families the Mayor acknowledged who had slept there Sunday night," both organizations said. "This humanitarian crisis shows no sign of abating anytime soon regardless of how many press conferences the Mayor holds to conceal the reality."
The NBC 4 report followed claims made on Tuesday by Adams that "2,800" asylum-seekers had entered the shelter system in recent weeks, some of whom were sent by bus by the governments of Texas and Arizona. The governors of both states reportedly denied the claim. Texas, however, has been sending volunteer migrants who have been admitted to the U.S. following a reversal of a Trump-era immigration policy that allows officials to refuse them at the border, to Washington, D.C. in a bid to get President Joe Biden's attention. The family from Venezuela featured in the NBC report said that they traveled from Texas to Washington, D.C., where they boarded a bus to New York City. But the trips were paid for by churches, not the Texas government, NBC 4 reported.
When asked by City & State on Thursday to explain the discrepancy, Adams honed in on "the mere fact that they sent people out of their state," and suggested, without explicitly saying, the Republican governors were lying. 
"The people who are sending people away – they tell you they did something differently and automatically you believe them. I wish you would treat me that way. You believe them? The mere fact that they sent people out of their state, people who are seeking refuge in our country, they sent them away. Did they deny that?" Adams said.
On Tuesday, advocates with Legal Aid and the Coalition for the Homeless seized on Adams' claim that thousands of migrants from Latin America had been admitted to shelters in recent weeks, billing it as an excuse for his administration's failure to offer permanent housing to current shelter residents. They also cast doubt on the numbers. 
"It's definitely an estimate," Jenkins said, before telling reporters he would get back to them on the number of people who seek shelter in the city on a daily basis.